Free Group Fitness Classes at a Fitness Studio near Me
Are you a little wary of trying a new gym? If gyms have let you down in the past, we understand. We've been there too. That's why we designed Sweat440 fitness studios to provide what's missing in the fitness industry. Maybe your last gym was overcrowded, with wait lists for classes or machines. Or maybe you spent hours doing cardio without seeing measurable results. Maybe you felt invisible or intimidated by other members or the equipment. Or maybe it was downright boring, with the same classes every day, or repetitive sessions on a treadmill.
Sweat440 offers the cure to the common ailments of fitness studios, with small classes that start every 10 minutes, so everyone has plenty of access. Our trainers assist in every class so you aren't left to your own devices. Our HIIT method ensures results in half the time of other gyms, and our classes are different every day, so you never get bored of the routine. Best of all, your first class is free, so you can come try the #1 HIIT gym with no financial obligation!
Our Free Group Fitness Classes Are for All Fitness Levels
Are you eager to try a group fitness class but also a little nervous? Maybe you're afraid you'll have two left feet, or won't be able to follow along. Maybe you're concerned that you won't be able to keep up, or that it won't provide a full body workout. We only have so many hours in the day, so when we schedule time for fitness, we want it to meet our needs. That's why Sweat440 classes are designed for beginners and pros alike, with personalized training in every class.
Each Sweat440 "fitness studio near me" allays concerns of trying a new gym or trying group fitness classes by making fitness accessible to everyone. Whether you're training for a triathlon, or aiming to shed those 10 stubborn pounds, our classes will exceed your expectations.
Our HIIT classes are divided into 4 10-minute stations with 3 sets of 3 exercises each. In between each 45-second session, you get 15 seconds of rest. This ensures 3 important things: first, beginners can catch their breath; second, elite athletes can perform at max capacity for the duration; and third, all classmates hit their VO2 Max, so they burn the most possible calories. Our proprietary intervals of intensity are uniquely designed to provide the best workout for people of all fitness levels.
But you don't have to take our word for it! Since your first class is free, you can try it out for yourself risk-free. Come see how Sweat440 does fitness differently, and finally get the results you've been waiting for!
Why Fitness Studios With Group Fitness Classes Work Better
Multiple studies confirm that group fitness classes are superior for achieving faster results, a commitment to exercise, and a higher quality of life. When you hit a plateau or run out of steam, it's easy to skip a set or skip the gym altogether. But group fitness classes keep you going with inspiration, motivation, accountability, and encouragement. If you're meeting a friend for class, you're much less likely to cancel! Classmates provide assistance, enthusiasm, and energy when your own reserves are running low.
But best of all, classmates make fitness fun, so the class flies by before you know it! When you're having a blast, you're more likely to push a bit harder, or go a bit longer without being phased. At Sweat440, we combine uplifting classmates with motivational trainers for the ultimate fitness combo. Our members can't wait to get to class! And thanks to our 10-minute class schedule rotation, they always get a spot in class!
Where to Try Free Group Fitness Classes:
In Miami– Visit Sweat440 Brickell at 25 SW 9th St., Suite G100, near the Bank of America Financial Center; Sweat440 Kendall at 4293 SW 152nd Ave., near Lakes of the Meadow Branch Library; or Sweat440 Palm Beach at 3201 N. Miami Ave., Suite 10, near The Shops at Midtown Miami.
In Miami Beach– Visit Sweat440 Miami Beach at 1916 Bay Rd., near Sunset Harbour Yacht Club.
In Coral Gables– Visit Sweat440 Coral Gables at 301 Altara Ave., Suite 111, near The Shops at Merrick Park.
In Doral– Visit Sweat440 Downtown Doral at 8403 NW 53rd St., near Downtown Doral Park.
In New York City– Visit Sweat440 Chelsea at 600 6th Ave., near the Flatiron Building; or Sweat440 FIDI at 80 John St., near The New York Stock Exchange.
In Austin– Visit Sweat440 Austin at 507 Pressler St., near Edible Arrangements.
In Montréal– Visit Sweat440 Montréal at 5000 Rue Jean-Talon O, near The SPCA of Montréal.
Sweat440 favors multiple smaller fitness studios over giant gyms where members are lost in the crowd. We're popping up in cities around the world, so check Sweat440.com to see when we're opening a "fitness studio near me" in your town! We can't wait to meet you and show you why our group fitness classes are the best workout on earth!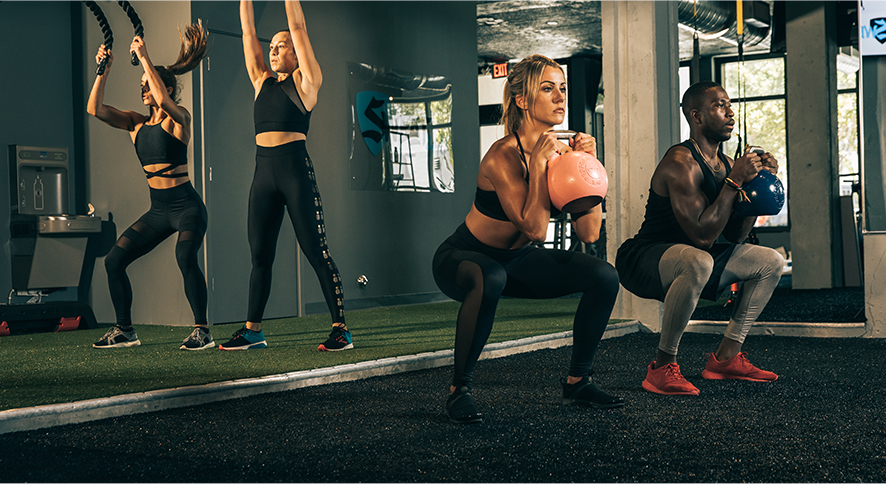 Try Free Group Fitness Classes at Sweat440 Today!
Fitness Studio Near Me for Free Classes
Sweat440 Chelsea– 600 6th Ave., NYC
Sweat440 FIDI– 80 John St., NYC
Sweat440 Brickell– 29 SW 9th St., Suite G100, Miami
Sweat440 Miami Beach– 1916 Bay Rd., Miami Beach
Sweat440 Kendall– 4293 SW 152nd Ave., Miami
Sweat440 Coral Gables– 301 Altara Ave., Suite 111, Coral Gables
Sweat440 Downtown Doral– 8403 NW 53rd St., Doral
Sweat440 Palm Beach– 3201 N. Miami Ave., Suite 10, Miami
Sweat440 Austin– 507 Pressler St., Austin
Sweat440 Montréal– 5000 Rue Jean-Talon O, Montréal
What Our Free Group Fitness Classes Include
Full body HIIT workout in every class
Free personal training in each class
4 10-minute stations with 3 sets of 3 exercises
40-minute calorie torching workout
Different classes each day
Core work daily
Varied targeted muscle group focus
Small classes for personal instruction
Compound cardio to build muscle & blast fat
Diverse, high-tech equipment