Best Group Fitness Studio Near Me
Traditional gyms can only take you so far. When you join a gym, you may be unsure about what you should do. Should you lift some weights? Maybe hit the treadmill? How about those punching bags — they look inviting! So many options, so little knowledge! And you can't just go berserk and hop between those options, that's a recipe for disaster. To make the most of your workout, you need structure, plan, and long term dedication.
That's why group fitness classes are ideal. They allow you to work out with a group, which includes a social element that keeps you going. And they have a structure you can follow for optimal benefits. Furthermore, group fitness classes encourage you to push yourself harder because of the Köhler Effect, a psychological term that examines how no one wants to be the weakest link in a group. As such, the presence of a group automatically encourages you to do your best.
Now, you may wonder, "what's the best group fitness studio near me?" Well, we believe Sweat440 offers the best group fitness classes, especially because our classes are scalable for different fitness levels. In this article, we discuss why Sweat440 is the "best group fitness studio near me."
What happens in Sweat440 group fitness classes?
Sweat440 is the best studio for group fitness classes because our module nullifies some of the greatest hurdles of group fitness classes. One of the greatest drawbacks of group fitness is their inflexibility, which manifests in two ways.
First, group fitness classes follow a strict schedule. You have to book a class well in advance, and then show up on time or miss your slot. In most cases, you can't even reschedule a class if you don't show up. However, most modern work hours are extremely flexible, and you don't know when you may have the time to get a workout in.
Second, group fitness classes also have extremely specific goals. For example, SoulCycle only focuses on HIIT and cardiovascular workouts. Another group fitness class may focus on strength workouts. As such, they're not suitable for full-body holistic physical development.
Sweat440 group fitness classes, however, address both of those problems. Sweat440 group fitness classes consist of four fitness stations, each lasting for exactly 10 minutes. You start with fitness station A, follow the onscreen prompts to complete three sets of three exercises within 10 minutes. Following that, you move on to fitness station B, while the next group takes your place. This format continues as you move through all the fitness stations, a new group joining every ten minutes.
As such, Sweat440 group fitness classes have been designed to ensure that a new group can join every ten minutes. Consequently, you don't have to meet strict time slots or schedule your class in advance. You can show up for your fitness class whenever it suits you, making it extremely flexible.
Are Sweat440 classes suitable for different fitness levels?
Sweat440 classes address every single fitness goal you may have. Our group fitness classes have been designed to appeal to different fitness levels. Depending on your comfort, you can make each set last 45 seconds, 50 seconds, or 55 seconds. Furthermore, we have a wide range of weights of different categories suitable for different fitness levels.
The Sweat440 schedule is also designed to target each muscle group at least once or twice every weak. Furthermore, we have four types of days — Shape, Shred, Sweat, and Conditioning. Each category of workout focuses on a different fitness goal, be it conditionings strength training, cardio, or all of the above.
The following is Sweat440's weekly workout schedule:
Monday: Shape — Lower Body
Tuesday: Shred — Upper Body/Core
Wednesday: Sweat — Core/Conditioning
Thursday: Shred — Lower Body/Core
Friday: Shape — Upper Body/Core
Saturday: Warrior — Total Body Conditioning
Sunday: Warrior — Total Body Conditioning
Does Sweat440 offer personal training?
Sweat440 doesn't offer personal training. But we do have certified fitness experts who monitor your every movement, correct your form, and encourage you to push yourself. As such, even though they don't provide personal training, the small groups ensure you have their undivided attention.
Where can I find a Sweat440 group fitness studio near me?
You can find a group fitness studio in several parts of New York and Florida.
In New York, we have two Sweat440 group fitness studios in Chelsea and the Financial District. Our New York group fitness gyms are located near iconic landmarks, such as the Flatiron Building and the New York Stock Exchange.
If you're in Florida, you can find a "group fitness studio near me" in Miami Beach, Coral Gables, Brickell, or Downtown Doral, near locations such as the Downtown Doral Park or the Merrick Manor.
We also offer a trial session for all first-timers, so come over and claim your free group fitness class today!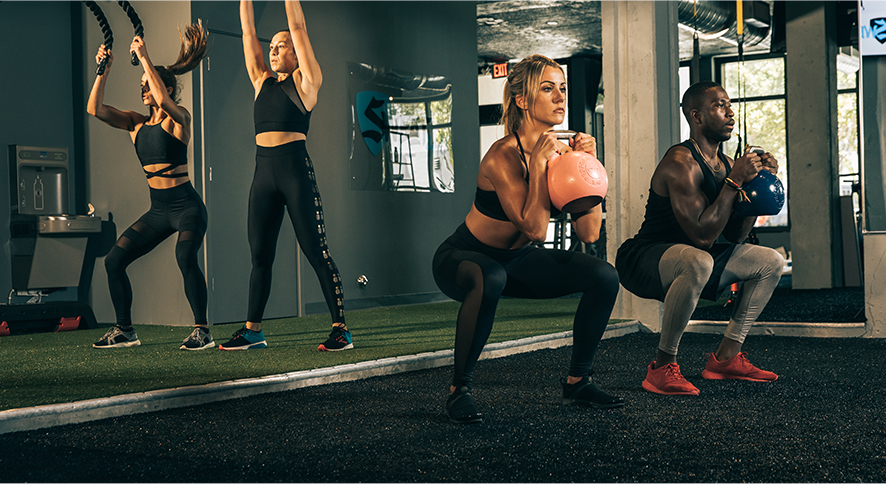 Sweat440 Group Fitness Studio
Sweat440 Group Fitness Schedule
Monday: Shape — Lower Body
Tuesday: Shred — Upper Body/Core
Wednesday: Sweat — Core/Conditioning
Thursday: Shred — Lower Body/Core
Friday: Shape — Upper Body/Core
Saturday: Warrior — Total Body Conditioning
Sunday: Warrior — Total Body Conditioning
Sweat440 Group Fitness Studio Near Me