Fitness Near Me in Miami That Researchers Call a "Miracle"
Are you looking for a fitness center near you in Miami? You've probably heard lots of recommendations. Some people promote cycling gyms like OrangeTheory. Others choose dance classes at a Youfit location or pay extra for personal trainers. For some, heavy lifting is the goal, so they pick bodybuilding at Miami Iron or Steelhouse Fitness. And some just look for the cheapest gym they can find, choosing Planet Fitness or 24 Hour Fitness.
Are you confused yet? Everyone has their own idea of what makes the best gym. But the real determining factor of superior fitness is what scientific research reveals. Opinions are just opinions, but science is unbiased. That's why you should choose the gym founded on exercise science and medical research. The only gym that offers the best workout all day, every day is Sweat440. We're Miami's new favorite gym, with thousands of 5-star reviews. Our high-intensity interval training (HIIT) gyms specialize in the workout researchers call a "miracle." 
Why Researchers call Sweat440's HIIT Method a "Miracle"
Sweat440's Classes Improve Your VO2 Max
HIIT workouts are known for superior calorie burn. The intervals of intensity between high-exertion and rest help your body reach its VO2 max, or maximum rate of oxygen consumption measured during incremental exercise. VO2 max is commonly used to test the aerobic endurance of cardiovascular fitness of athletes before and after training. It is measured in milliliters of oxygen consumed in one minute per kilogram of body weight (ml/kg/min). Many workouts don't help you reach this max, or come anywhere close. HIIT workouts not only help you reach your max, they also help you increase that max, thereby improving physical fitness.
Sweat440's Classes Increase Your EPOC
After a workout, your body enters a state of recovery. Interval exercises like HIIT create an elevation in metabolism referred to as excess post-exercise oxygen consumption (EPOC). In other words, workouts that target your VO2 max and use effective intervals help you burn calories long after your workout ends. Improved EPOC equals improved metabolism and calorie burn around the clock. Other workouts stop burning calories once you're done, but our HIIT classes work on your fitness around the clock!
Sweat440's Classes Strengthen Your Heart
HIIT workouts have long been touted as not only safe for people with heart disease, but also helpful in protecting everyone's hearts. One study of 5,000 people with heart disease found that HIIT protected participants from future heart problems better than traditional cardio workouts without interval training. And another study found that HIIT is effective for cardiac rehab patients at regaining cardiac strength quickly.
Sweat440's Classes Burn Belly Fat
Countless studies comparing HIIT workouts to other forms of cardio show that HIIT burns more calories, in almost half the time. But even more exciting is that HIIT helps you lose belly fat. In one study of sedentary women, 20 minutes of HIIT exercise was compared against subjects performing 40 minutes of steady-state exercise. Only the HIIT group lost fat, most notably in the belly area.
Sweat440's Classes Boost Youthful Hormones
A Study of 22 men in their 60s who led sedentary lifestyles found that adding exercise with HIIT intervals performed regularly increased testosterone levels by 17 percent in 3 months. While burning fat and building muscle, they also increased this vital hormone which improved their overall health.
Sweat440's Classes Slow Aging
A Mayo Clinic study revealed that people between ages 65 and 80 who started HIIT workout programs produced more protein for mitochondria that create energy. In other words, they slowed aging at even the cellular level. The beauty of HIIT is it can be adapted to any age and level of fitness. Don't let the phrase "high-intensity" scare you- the intervals are completed in alignment with your abilities.
Sweat440's Classes Promote Fitness Longevity
A Japanese study found that 70% of the 696 middle-aged to elderly people who began HIIT training were still doing it 22 months later. Interval work allows you to work harder and accomplish more quicker. Sweat440 combines the intervals with personalized training and small group classes for camaraderie and accountability, making our members even more likely to stick with their HIIT routine.
Sweat440's Classes Work for Everyone
Very few workouts are aimed at all fitness levels. You can't just pop into a Zumba, Pilates, Crossfit, or SoulCycle class and feel like a pro on day one. In fact, many gyms aren't welcoming to beginners and leave them to figure things out on their own. At Sweat440, our certified instructors circulate through every class to make sure you know exactly what to do. We couple that with animated demos at every exercise station for added instruction. And our intervals only last 45 seconds, with 15 seconds of rest in between. You work to your own level with plenty of breaks, so you can start today, no matter how fit you are. Make no mistake, you'll get a killer workout, but unlike other gyms, you don't have to be a pro before you go. Stop into Sweat440 Miami today, conveniently located near all of your errands, including your Brickell Publix.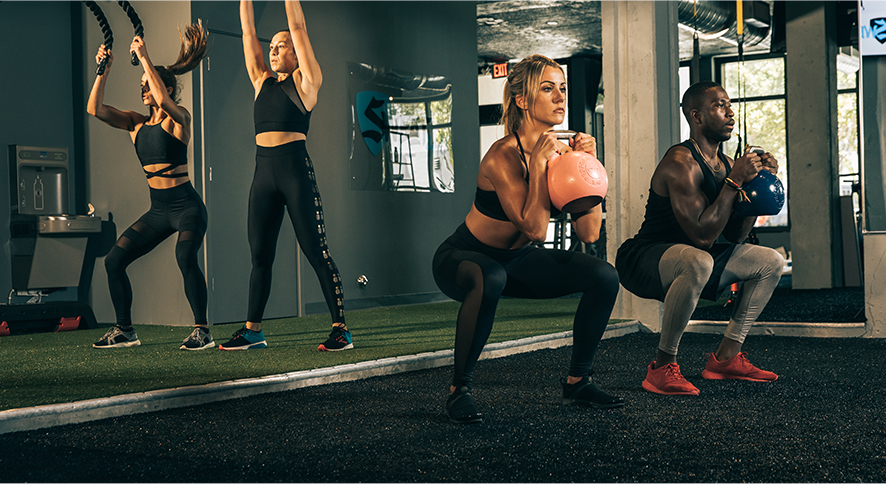 How Sweat440 Makes Miraculous Fitness a Reality
Sweat440's Miraculous Methods
Sweat440 increases your VO2 max, improving your fitness.
Sweat440 enhances your EPOC, boosting your metabolism.
Sweat440 strengthens and protects your heart.
Sweat 440 slows aging and increases youthful hormones.
Sweat440 burns fat, especially in the belly area.
Sweat440 uses compound cardio to burn calories and build muscle.
Sweat440 promotes longevity of life and persistence with exercise.
Sweat440's Helpful Methods
Sweat440 offers free fitness classes for the first week.
Sweat440 doesn't use contracts or high enrollment fees.
Sweat440 includes personal training in a small group setting.
Sweat440 has gyms in Brickell, Doral, Miami Beach, and Coral Gables.
Sweat440 has classes every 10 minutes to fit your schedule.
Sweat440 lets you book one class at a time or multiple classes.
Sweat440 has several membership options to suit everyone.