Sweat440: Best Boutique Fitness Near Me in Gables
Fitness has seen its share of trends. From hula hooping, to vibrating belts, to Jazzercize, to Richard Simmons' "Sweatin' to the Oldies," each decade has tried to find the secret to fitness. Behind each attempt are three driving factors: people want something that works fast, with minimal effort, and with fun as part of the equation. But each of those trends has faded away since they don't offer the perfect solution.
While marketing companies try to sell you on fitness fads- from grapefruit diets to Thighmasters, the secret is in the science, not the silly gimmicks. Exercise science has proven two components to truly work: HIIT classes and small group training. Both are most effective when delivered in a boutique fitness center with personalized training included. Sweat440 delivers this perfect formula, which is why our gyms get the best results. Take a look at why boutique gyms are your best path to fitness, and why Sweat440 offers the best boutique fitness near the Gables!
Why Boutique Gyms Work Better
Class Availability– Have you belonged to a gym where you can't get into any of the classes? If you live in Coral Gables or the Miami area, the answer is probably, "yes." There's nothing more frustrating than paying membership fees for a gym where you can't work out. At Sweat440, we provide small classes that start every 10 minutes, so you always find a spot in the class.
Personalized Training- If you're new to the gym, you need someone to show you the ropes. Some of the equipment might seem foreign to you, and you might not know where to begin. But even for fitness pros, personal training is key to performing at optimal levels, banishing plateaus, and guaranteeing a safe workout. At Sweat440's boutique gyms, personalized training is included for free in every class!
You Aren't Lost in the Crowd- Big gyms make you feel like a number, especially when they keep you waiting in line. Whether you're waiting for a treadmill or a spot in a popular class, some gyms make you feel irrelevant. Many make you book classes months in advance, still charging if you have to cancel. Others, like spin classes, stick beginners in the back of the class where you can't even see what to do. At Sweat440 in Coral Gables, we welcome new members and assist you throughout every class.
Customized Workouts– Big gyms teach generalized classes that don't cater to preferences, injuries, or limitations. Sweat440's classes are divided into 4 10-minute stations with 3 sets of 3 exercises each, so there's plenty of room to customize. You work at your pace and level throughout each station, and our trainers correct and adapt form as needed.
Classmate Accountability- It's proven that having a workout buddy not only makes you work harder, it also helps you stick with exercise long-term. At Sweat440, our classes are full of upbeat instructors and classmates who give high-fives and help each other reach their goals. If you want serious results, partner with our group of diverse individuals who want fitness success just like you do.
Why Sweat440 is the Best Boutique Fitness Near Me in Gables
Not all boutique gyms deliver the same results. Some promise an elevated experience but only provide elevated membership fees and elevated wait times for classes. Sweat440 is unique in its commitment to offering classes every 10 minutes at affordable rates, so every member is a VIP. Check out Sweat440 in the Gables, just across from The Shops at Merrick Park to see how we stand out from the crowd.
All Classes are HIIT Classes- High-intensity interval training (HIIT) is proven to burn the most calories in the shortest amount of time safely for all fitness levels. It also continues to burn calories long after your workout is done. At Sweat440, every one of our classes is a HIIT class, so you get the best workout whenever you come.
No Contracts or Hidden Fees- Boutique fitness offers more personal attention, so some gyms use that to demand more money from you. But at Sweat440, we don't believe in locking you into sticky contracts or charging astronomical fees. We never charge for classes if you can't make it; we just put you into the next available one.
Free Training and Free Classes– All of our classes include free personalized training, which is something you won't find in any other boutique gyms. The expert instruction takes your fitness to a level you can't reach on your own. We also offer free classes so you can see what you think before signing up. You can buy as little as one class at a time, or as many as you like, so it fits both your budget and your schedule.
State of the Art Equipment- Personal attention is helpful, but some trainers only have minimal equipment if they work alone. Our gyms are full of high-tech equipment and the latest technology to get you fit. From ski ergs, to versa climbers, to assault bikes, we stand out from the rest with our innovative tools. We also offer animated demos at every exercise station, scheduling apps, and a selfie station to simplify and enhance your fitness.
Our Classes are Super Fun– Persistence is key to seeing results in fitness. When workouts are repetitive, boring, isolating, too hard, too easy, or too ineffective, people are prone to quit. At Sweat440, our classes are different every day of the week, so we always keep you guessing! And our classes are just 40 minutes of power-packed fitness, so you don't even have time to get bored. Our upbeat music and enthusiastic instructors keep members coming back for more. Try a free class today and you'll see!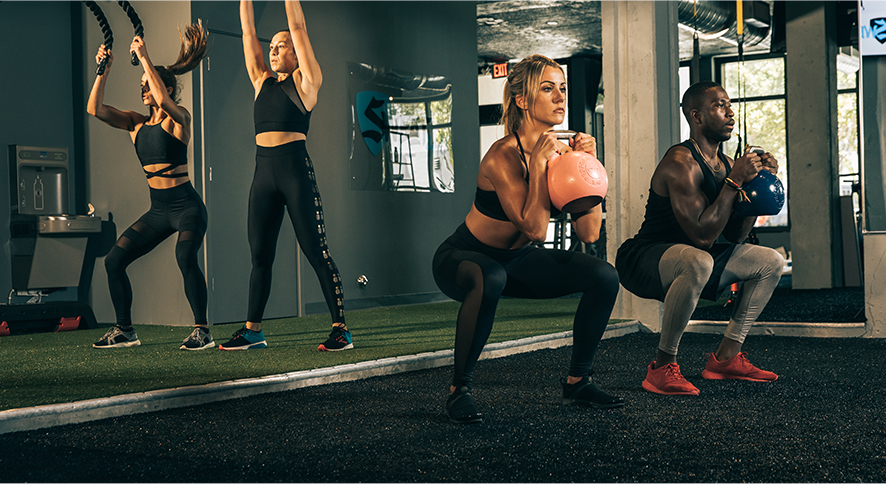 Join Sweat440 for Optimal Fitness Near Me in the Gables
How Sweat440 Makes Boutique Fitness Near Me Simple
Sweat440 offers classes every 10 minutes.

Sweat440 has 4 convenient locations near Miami, FL.

Sweat440's classes are just 40 minutes so you can fit one in.

Sweat440's classes change every day, so you only need one gym.

Sweat440 has no contracts and free classes so you're in control.
How Sweat440 Makes Boutique Fitness Near Me Effective
Sweat440 only teaches HIIT- the most effective method.

Sweat440's instructors assist throughout every class.

Sweat440's classmates welcome and inspire each other.

Sweat440's classes target each part of the body.

Sweat440 is designed for all levels of fitness.