Best Group Fitness Near Me in FiDi: Sweat440
Group fitness classes have recently established themselves as some of the most popular trends in fitness. People have grown wary of traditional gyms in which you pump iron for a few hours a week without any guidance or direction. In recent years, more and more people have been drawn to the structured and social benefits of group fitness classes. If you live in New York's Financial District, you may be wondering where you can find the best group fitness near me in FiDi. In this article, we discuss the benefits and drawbacks of group fitness classes, following which we introduce you to the best group fitness near me in FiDi.
Benefits of Group Fitness Classes
Motivation

: Training with other like-minded individuals can be fun and inspiring. But most importantly, training in a group gives you the motivation you need to push yourself. People who go to traditional gyms often give up because boredom seeps in, especially if they can't work out with others. Group fitness classes have other participants, which automatically holds you accountable.

Structure

: Traditional gyms lack structure, which is one of the major reasons people quickly hit a plateau while training in isolation. In order to meet long-term and consistent fitness goals, you must train in a structured manner. Group fitness classes have workout programs developed by fitness experts, and those programs are designed to train all of your muscle groups. As such, you don't need to create a workout plan for yourself or hire a personal trainer — just follow the group!

Form

: Another crucial aspect of working out is maintaining the correct form. People training in traditional gyms often have terrible form, which means they don't reap the benefits of all their efforts. If you want to maximize the benefits of your workout, you need a personal trainer who can monitor your movements and correct your form. Group fitness classes have trainers who correct your form if you're going wrong.

Social

: Working out shouldn't be a dour thing that you begrudgingly plod through once a day with the hope of improving your fitness. In fact, if you don't enjoy working out, you will eventually give up. The only way to ensure long-term growth is to really love your workout. That's why it's important to opt for group fitness classes — they come with an inbuilt social element! After the workout, you can engage with the other members of the class, maybe even get some protein shake together!
Drawbacks of Group Fitness Classes
Inflexible

: The greatest issue with group fitness classes is the lack of flexibility. Group fitness classes start at specific times. As such, you have to schedule your class ahead of time, usually a day or two in advance. That means you have to structure your daily life around your group fitness class rather than the other way around. If you're late for the class, you forfeit the class. As such, group fitness classes are often incompatible with erratic schedules.

Large Groups

: Group fitness classes are usually extremely packed. Sometimes, group fitness classes squeeze dozens of individuals into a single room with barely any space to navigate without getting in someone else's way.
Sweat440: Best Group Fitness Classes in FiDi, New York
Sweat440 has the best group fitness classes in FiDi, New York. We provide a full-body workout plan that comprises elements of cross-training, core training, strength training, and HIIT. The greatest advantage of Sweat440 is the structured workout that incorporates the benefits of traditional group fitness classes while neutralizing their usual drawbacks. In fact, Sweat440 classes are extremely flexible, and you don't have to worry about large groups, thanks to our structure.
Sweat440 group fitness classes consist of 40-minute sessions that take you through four 10-minute fitness stations. Each fitness station consists of 3 sets of 3 exercises performed in a loop. You start from fitness station A, complete the 3 sets of 3 exercises within 10 minutes while following the on-screen prompts, and then move to fitness station B. When you move to station B, the next group will come to station A. This cyclical structure ensures that a new group can join the class every 10 minutes. Furthermore, because new members join every 10 minutes, you can rest assured that there won't be too many people in a single group.
Sweat440 also has one of the most versatile group fitness classes out there. Most group fitness classes focus on one aspect of fitness, such as strength training, cardio, flexibility, endurance, or others. However, Sweat440 provides holistic physical fitness by incorporating all of those methods. Our workout plan is divided into the following modules — Sweat, Shape, Shred, and Warrior.
Sweat days are dedicated to endurance and HIIT workouts to lose calories and lose weight. Shape days are dedicated to conditioning exercises and strength training. Shred days are dedicated to HIIT and weight training to build muscle mass. Warrior days are full-body workouts that incorporate all of those fitness elements.
Claim Your Free Trial!
Sweat440 is the best gym for group fitness near me in FiDi. Our gym is located on 80 John Street, close to the New York Stock Exchange. We offer free trials to first-timers, so drop-in and claim your free sweat session today!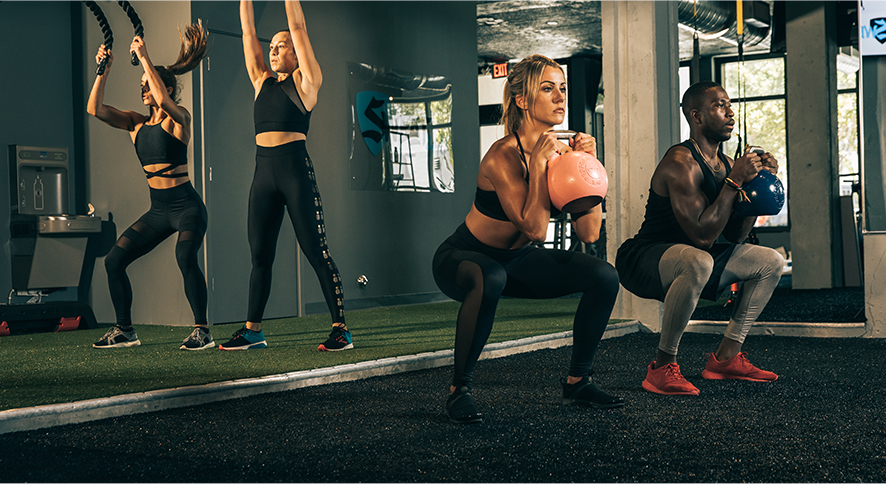 Sweat440 Group Fitness Classes in FiDi
Drawbacks of Traditional Group Fitness Classes
Inflexible timings, which means you have to schedule your day around the fitness classes.

Each session is packed with large groups because of which you don't have enough space to move about.

They focus on one aspect of fitness and can't meet all of your fitness goals.
Benefits of Sweat440 Group Fitness Classes
The presence of a group motivates and encourages you.

We have fitness experts who ensure you follow the correct form.

Our workout plan has been structured by experts.

We provide an avenue to socialize with fellow fitness enthusiasts.

You're never late because a new class starts every 10 minutes.

Each group only has a few members, which makes them more manageable.

We offer free trials.