Top 5 Gyms for HIIT Fitness Near Me in Doral
Are you looking for the best HIIT gym in Doral, FL? We've got you covered! It's hard to find the best gym without joining them all and trying them out, so we've done the research to help you find the best fit. Whether you like personal training, small groups, fitness classes, or HIIT workouts, Doral has a new HIIT gym that offers something for everyone under one roof! Sweat440 in Doral packs the most powerful workout into 40 minutes, with classes starting every 10 minutes. Take a look at why it tops the list for fitness near me in Doral.
1.  Sweat440 Doral
Doral's newest gym, Sweat440, is taking the fitness world by storm. With popular outposts in Miami, NYC, Montréal and more, Sweat440 is now bringing our fresh fitness concept to our friends in Doral. Sweat440 offers HIIT fitness classes that start every 10 minutes, so there's always a class that fits your schedule. All of our classes hold small groups with free personal training, unlike gyms that charge a fortune for training. You no longer have to be stuck on waiting lists or choose classes that don't fit your schedule.
Each of our workouts burns the most fat in town, in only 40 minutes! We provide 4 10-minute stations with 3 sets of 3 exercises each to keep you moving and burning calories long after you're done. Our trainers are experts in HIIT (high-intensity interval training) and welcome all fitness levels in every class. Each exercise station is equipped with animated demos so you always know what to do. Come see why our members give us 5-star reviews! Try a class free today and join with no activation fee or contract!
2.  Blue Print Fitness Doral
Blue Print uses some elements of HIIT, but their classes are divided into 2 tracks: either strength and conditioning, or cardio and conditioning. At Sweat440, we utilize compound cardio circuits, so you don't have to choose one or the other. You are always building muscle while burning fat and calories at Sweat440, unlike Blue Print Fitness.
Blue Print's classes run on an hourly schedule, instead of starting every 10 minutes. So, you have to book in advance and may not get the time you choose. A month of unlimited classes can run $160 or more at Blue Print. But at Sweat440, our Founder's Rate gets you unlimited classes for just $99 a month! That's roughly $3 per class, and your first one is free! You can't beat Sweat440's deal for HIIT classes with training in Doral!
3.  Legacy Fit Doral
Unlike Sweat440 where trainers guide you through the class, Legacy Fit pairs you with partners for a HIIT workout. This is not ideal for everyone, since it can be awkward, intimidating, or even unsafe. It's safer and more effective to work at your own pace and fitness level, while spurred on by classmates and instructors, rather than trying to match someone else's pace.
Legacy Fit claims to continue burning calories for 21 hours after your workout. But Sweat440's interval system with customized training allows you to burn calories for 48 hours after you work out. Like most gyms, Legacy Fit's classes start hourly, unlike Sweat440's 10-minute class rotation. For a convenient class time without a required partner, stick with Sweat440.
4.  CrossFit Doral
While CrossFit includes the intensity component of HIIT, it doesn't include proper intervals; and experts frequently warn of the dangers of CrossFit. Heavy lifting and pushing through pain are common beliefs in the CrossFit community, leading to injuries, and even fatal conditions like Rhabdomyolysis.
At CrossFit Doral, pricing is not transparent on the website, which is a red flag for a gym. The classes are only offered hourly, with a big gap between 11 am and 5 pm, which may not work for your schedule. Join Sweat440, where we always have a class ready for you, with affordable pricing options and trainers who know how to push you, yet keep you injury-free.
5. RZone Fitness Doral
RZone is a gym for women only that implements some elements of HIIT. They utilize different intensity, but not in ideal intervals, or with the right variations of intensity. At Sweat440, each 45-second high-intensity exercise is followed by 15 seconds of rest, to target your VO2 max (maximum oxygen consumption during exercise). So, the results you get with HIIT at Sweat440 are quicker and more comprehensive than at RZone.
At RZone, you either get cardio, strength, or resistance depending on which day you come, instead of the ideal combo of each that Sweat440 provides. If you can only come to RZone certain days of the week, you won't get a complete workout. At Sweat440, we provide a total body workout every day, with specific emphasis on certain body parts on different days, so you can safely work out at Sweat440 every day.
If you want the best HIIT workout in Doral, look no further than Sweat440, right near Downtown Doral Park. Our convenient schedule, affordable pricing, certified trainers, and innovative equipment yield quicker results and happier gym members than any other gym in Doral. Come sweat with us for free today! No need to call ahead or sign up in advance like other gyms. Stop by our front desk today and join a free class right away!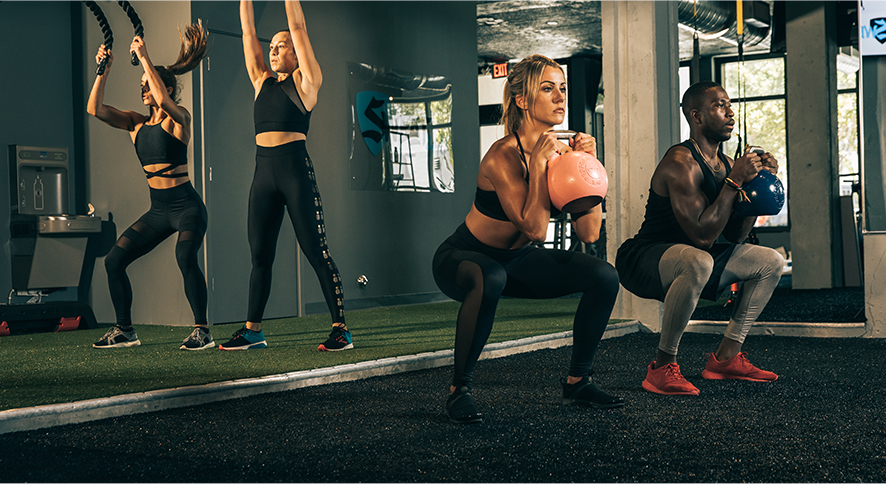 Pros and Cons of HIIT Fitness Classes Near Me in Doral
Pros of Sweat440 Fitness Near Me in Doral
Classes start every 10 minutes
No contracts or activation fees
Free in-class personal training
Multiple membership options
First class is free
Founder's Rate includes unlimited classes
Safe for all fitness levels
Full-body workout daily with varied emphasis each day
Shorter workout with quicker and more lasting results
High tech, diverse, and innovative equipment
Multiple locations near me in FL
Cons of Other HIIT Gyms Near Me in Doral
Classes are hourly, and not every hour
Contracts and activation fees apply
Personal training is absent or costs extra
Membership rates are higher and lock you in
First class requires prior registration and scheduling
Classes are overcrowded or sell out too quickly
Often unsafe for beginners
Not a total body workout each day
Longer workouts with slower and varied results
Equipment is often outdated, minimal, or unsafe
Often just one cramped location