Top 5 Gyms for Fitness Near Me in Coral Gables
If you live in Coral Gables, you know two things for sure. 1) You want to be fit for Miami Beach. 2) You need a gym nearby for it to work. Miami is known for a lot of things- beautiful beaches, beautiful people, endless sunshine, and also some crazy traffic! For a workout that fits into your schedule, look for a gym nearby that won't make you fight the traffic. Check out these top 5 gyms near Coral Gables, and learn why Sweat440 ranks #1!
1. Sweat440 in Coral Gables: If You Want the Total Package
Sweat440 has multiple convenient locations in South Florida and in major cities around the world. If you want to squeeze in a quick workout without fighting traffic, step into our Coral Gables location near you. We offer classes every 10 minutes, with small-group personal training included! Our trainers use the HIIT method (high-intensity interval training), so every fitness class burns the most possible calories in the shortest amount of time. In just 40 minutes, we take you through 4 10-minute stations with 3 sets of 3 exercises each. Before you know it, your workout is done, but your calorie burning isn't! Our HIIT classes target your VO2 max, so you burn calories long after you're done. Our classes are designed for all fitness levels and our animated demos keep you on track. Stop by for a FREE class today! 
2. Legacy Fit: If you Don't Mind a Random Partner
Legacy Fit uses some of the components of Sweat440, such as interval training, but rather than personal trainers assisting your workout, you are paired with a workout partner for boot camp style workouts. The idea is that a partner will inspire competition and accountability, but in actuality, for some people, it's intimidating or awkward. After all, you're running alongside them, pulling them with resistance bands, and doing exercises that are intense and involve personal space. At Sweat440, our classmates high-five each other and cheer each other on, but we leave the assisting to the trainers who know how to keep you in proper form. 
3. RZone Fitness: If You're a Woman with a Flexible Schedule
RZone is only for women, so some of you can stop reading here. They only offer classes once per hour in their small studios, and classes fill up quickly. So, you might join RZone and not be able to work out consistently. Your workout is dictated by heart rate monitors and scores are posted on screens for others to see. Results will vary since the classes include things like a 30-minute treadmill section where you determine the intervals and intensity. At Sweat440, our classes start every 10 minutes, so you don't have to miss one or come at a time that's inconvenient. We don't broadcast scores or achievements; we just inspire, rather than intimidate. 
4. F45 Training: If You're Okay with Just Cardio or Resistance
F45 implements interval training like Sweat440, but their classes are only offered at the start of each hour. So, it's tough to work them into your day if you lead a busy life. Often, meetings run long, kids get sick, traffic hits… you need a gym like Sweat440 with classes available around the clock. F45 also divides cardio and resistance between different days of the week, so you don't get a complete workout. For example, if you like to work out M/W/F, that means you'll only get cardio since F45's resistance workouts are offered T/Th/Sun. At Sweat440, our workouts utilize compound cardio and tools that burn calories while building muscle. They're different every day, so you get a total body cardio/resistance workout, no matter when you come.
5. Epic Interval Training: If You're Cool with Uncertainty
Epic also implements intervals, but like F45, some days focus on cardio, while others focus on resistance. The ideal HIIT workout follows Sweat440's method of combined cardio and resistance for maximum calorie burn. Epic's website doesn't list prices or schedules, and you have to send them all of your contact info to get access to a class. There's no way to know how many classes they offer, or when, or for what price without giving them personal info. At Sweat440 we believe in transparency, listing our prices, class times and what to expect in each class clearly on our website. There's enough uncertainty in the world- choose a gym with clear intentions.
If you want the best workout for the best price, choose the HIIT classes at Sweat440 in Coral Gables. Our fitness club accommodates every schedule and offers a comprehensive workout in half the time of many gyms. Our founders keep fitness affordable and convenient with 4 locations throughout South Florida. Try a free class today at Sweat440 Coral Gables, near Merrick Manor. We can't wait to show you why our members rank us #1 with consistent 5-star reviews. Sweat440 will surpass your fitness goals!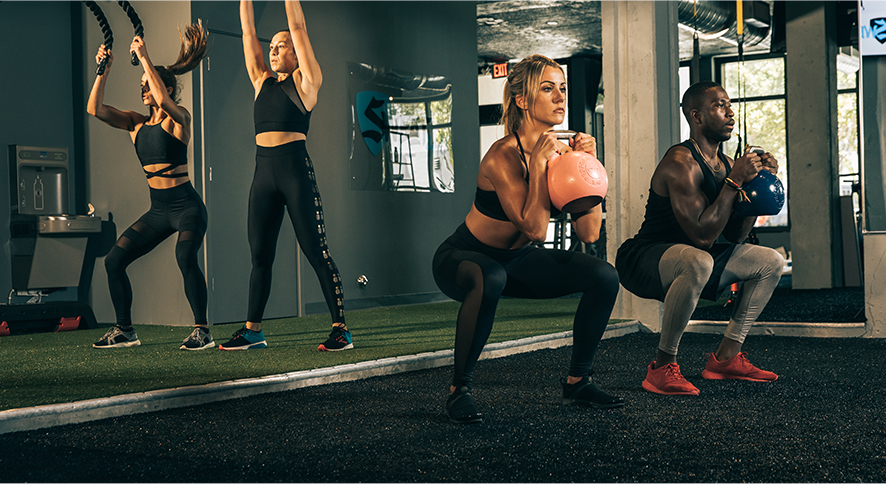 Why Sweat440 is #1 for Fitness Near Me in Coral Gables
Sweat440's Personal Training
Sweat440 includes personalized instruction for free in every class.

Sweat440's instructors help all fitness levels reach their potential.

Sweat440's trainers use state of the art equipment for better results.

Sweat440's trainers keep you safe and in perfect form.

Sweat440 blasts upbeat music to help you rock your workout.

Sweat440's trainers are supplemented by animated demos at each station.
Sweat440's Flexible Schedule
Sweat440's classes start every 10 minutes, so you're always in!

Sweat440's classes vary each day so you only need one gym.

Sweat440's classes combine cardio and resistance for effectiveness.

Sweat440's classes are only 40 minutes so you can fit one in.

Sweat440 has multiple locations so there's always a class near you.

Sweat440's classes repeat all day so you never have to miss one.