Best Group and Solo Fitness Near Me in Brickell: Sweat440
​
When it comes to fitness, experts agree, small group training has some distinct advantages. There's the accountability, the energy, the camaraderie, plus a healthy dose of friendly competition. Not to mention, group training in gyms like Sweat440 includes customized training to help you reach your potential. We admit it, we're partial to small group training.
 That being said, we know that sometimes at the end of a long day, or with a long day ahead, you just want some alone time in the gym. Everyone has different workout preferences, so Sweat440 designed classes with all the group benefits, combined with the ability to work out at your own pace and fitness level. We offer as much or as little help as you like- and we're always there to keep you safe. Sweat440 offers the only group fitness classes that also cater to fans of solo workouts. Let's start by explaining why group fitness is awesome!
​
5 Advantages of Sweat440's Group Fitness Classes
Increased Motivation– Positive peer pressure can be a good thing- prompting you to join a gym, eat better, or push past plateaus in your fitness. A little healthy competition is proven to enhance results of exercise. At Sweat440, our classes are high energy and full of positivity- we even give each other high-fives between stations. If your fitness routine lacks motivation, you have to try Sweat440! Some people think joining a gym with perks like a juice bar, infrared sauna, or scented candles will motivate them. But all you need is a Sweat440 group fitness class! Try it and see!
Friendly Accountability– We all have those moments when we're glued to the couch in an epic Netflix binge. But we also know how much better we feel once we yank ourselves up and get in the gym for a boost of adrenaline and endorphins. Group fitness gives you that accountability you need to get you up and moving. At Sweat440, we even have selfie stations to capture your post-workout glow with workout buddies- proof that you earned a chance to relax.
Professional Training– If you're new to the gym, or a workout like HIIT (high-intensity interval training) it's particularly important to seek instruction. But even if you're a fitness pro, you can learn and seek inspiration from our certified trainers. What sets group fitness classes at Sweat440 apart is that personal training is included in each class for free.
Social Engagement- Life moves quickly and schedules are busy. With group fitness, you can blend social time in with your workout. Grab a friend and blast through one of our 40-minute classes before grabbing coffee or heading to the office. Even better, head to South Beach afterwards, toned and ready to rock! Social engagement isn't just fun, it's crucial for mental and physical health. When it's part of your workout, it's the ultimate combo!
Greater Persistence– Each of the other four reasons combine to create greater persistence with your workout. When you have a great trainer and the accountability and motivation of workout buddies, you don't get discouraged, burnt out, or injured. The number one key to fitness is persistence. So try a group class at Sweat440 today for guaranteed results.
5 Ways Sweat440 Works for Solo Fitness Too!
While we stand behind the research that group fitness is effective, enjoyable, and enduring, our classes offer the perfect combo for solo fitness fans too! If you've tried other fitness classes and found them too crowded, too loud, or too distracting, you will love how our classes are structured.
Small Class Sizes- Sweat440 offers classes every 10 minutes, with small numbers in each class, so they are never overcrowded. You have plenty of space to do your thing without waiting for machines or bumping into other sweaty people.
Animated Demos– Our trainers are amazing, and we know you will love their input. But if you're having one of those days where you want to shut the world out, then pop in your headphones and follow along with our animated demos. Each exercise station has a screen demonstrating what to do. While we don't recommend this for every class, it's a great option for when you need to zone out.
Safer Strength Training– Even the most seasoned lifters have a tale or two about an injury that sidelined them. At Sweat440, you can build muscle with the safety of a professional standing nearby. Had a long day? Blast through aggression by heaving our dumbbells and slam balls or shoving our sleds with the expertise needed to bring you safely back to the gym tomorrow.
Individual Interval Training– Our classes include 4 10-minute stations of 3 exercises performed 3 times each. Each exercise lasts 45 seconds with 15 seconds of rest in between. So, you are essentially working out on your own, with the help of an instructor. You can work to your own pace, speed, and ability, rather than being subject to a generalized pace like in other group classes. It's just you and a piece of equipment for those 45 seconds, with plenty of independence.
No Contracts or Minimum Classes– If you're unsure whether you'll like a group class, Sweat440 lets you try them for free! What's more, we don't require you to sign a contract or buy classes months in advance like other gyms. You can buy as little as one class at a time, or several at once if you prefer. So, it's safe to give us a try and see why our gym is perfect for solo and group fitness alike. Don't take our word for it, check out our 5-star reviews on Google, Yelp, and Classpass! We have many locations in South Florida, including Sweat440 Brickell near the Navy Federal Credit Union.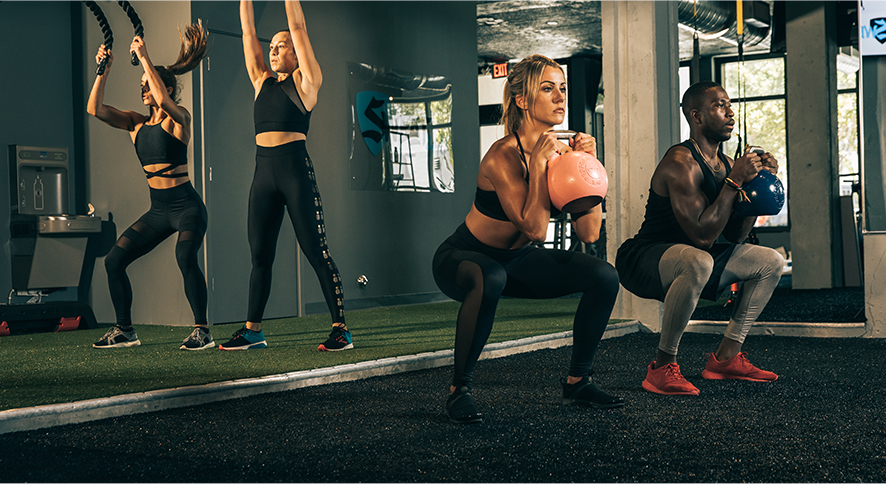 How Sweat440 Works for Both Group and Solo Fitness
Sweat440 offers group fitness that lets you work individually.
Sweat440 is motivating and inspiring, not crowded and intimidating.
Sweat440 provides training and accountability when you need it.
Sweat440 offers small classes for any level of attention you need.
Sweat440 is Located Near You
Sweat 440 has a Brickell location at 25 SW 9th St. in Miami.
Sweat440 has a Doral location at 8395 NW 53rd St. in Doral.
Sweat440 has a Coral Gables location at 301 Altara Ave. in Coral Gables.
Sweat440 has a Miami Beach location at 1916 Bay Rd. in Miami Beach.