Why Boutique Fitness in Miami, FL is on the Rise
The science of fitness has evolved dramatically from the 80s and 90s when big gyms were all the rage. It turns out bigger isn't always better, especially when it comes to getting fit. Miami always has a finger on the pulse of the latest trends in fitness. That's why Florida was one of the first places to jump on the boutique fitness concept, opening Sweat440 in four locations near Miami. Here's why boutique fitness is not just a trend, it's the way to get the best results.
How Boutique Fitness in Miami, FL Beats Big Box Gyms
Luxury amenities and spa treatments are nice, but for Miami residents, a gym is not a place to lounge around- it's a place to get ready for South Beach! You can lay by the pool and sip cocktails on the beach. The gym is what gets you swimsuit-ready to do so. A gym in Miami has to produce results, and many large gyms weren't getting the job done. When Matthew Miller and Cody Patrick opened Sweat440, Miami fitness fans found what they were looking for: a gym with excellent amenities that also delivers personalized, tailored results.
5 Ways Sweat440 is Changing the Fitness Landscape in Miami
1. Availability
Gym-goers found that big gyms had a lot of square footage, but they weren't truly accessible. Classes were often full or required wait lists that booked out months in advance. Many found the parking lots full, or the equipment always in use. The herd mentality that led people to join a big gym also led many to be locked out of actual usage.
At Sweat440, we offer classes every 10 minutes, with no long wait lists or penalties if you miss. We have 4 Florida locations, and we are opening new gyms, so there's always a gym near you with classes available.
2. Unique Group Fitness Classes
Our classes are highly effective because they combine group fitness with personal training. You get the benefit of other classmates motivating you and cheering you on, while being taught by certified instructors who provide individual assistance and instruction throughout the class.
Unlike spin classes or yoga classes where teachers sit at the front of the room, our world class coaches circulate throughout the class, so you are never left to figure things out alone. The best part is, our personalized training is part of every class- free of charge, unlike big gyms that charge astronomical fees for personal trainers.
3. No Contracts and Varied Monthly Memberships
Most gyms in Miami, large or small, have iron-clad contracts that are very hard to get out of. Many also charge an initiation fee and hefty monthly memberships dues, even if you can't find a spot in a class or on a machine. And some gyms charge for classes that you have to book well in advance of knowing what your schedule will be. So, you lose money on those classes if you can't attend.
At Sweat440, we don't make you sign an annual contract, and we have multiple monthly memberships to choose from. Our classes can be purchased one a time or in packages for your convenience. And our low monthly fees let you work out as often as you want, unlike gyms that allow one or two classes per week. We always let you work out for free at first, to see what you think, even though we know you will love it- our 5-star reviews speak for themselves.
4. Each Workout is the Best Workout
At a larger gym, you get lost in the crowd. And you also have to be your own trainer, unless you want to pay a fortune and wait forever for an appointment with their personal trainers. Instead, you might pedal furiously on a bike for an hour and only burn 150 calories, or lift weights with the wrong form, and injure your back. The best case when you go it alone at the gym is to burn some calories and avoid injury. But the worst case can be catastrophic to both your body and your bank account. Many gym-goers quit big gyms because they don't get results, so their money feels flushed down the drain.
At Sweat440, every one of our classes uses high-intensity interval training (HIIT) for the maximum workout in minimal time. In just 40 minutes at Sweat440, you burn more calories than an hour at other gyms. Our powerful blend of compound cardio circuits burns fat while building muscle and hits your VO2 max, so you continue to burn calories long after you're done. Some gyms offer a HIIT class occasionally, if you can find a spot, but we offer it all day, every day.
5. Amenities That Matter
You can get hot stone massages, facials, or aromatherapy for extra fees at some gyms in Miami. But not one of those things burns fat. At Sweat440, we don't distract you with opportunities to lay around- you can do that at any spa in Miami. We know the reason you came to the gym is to change your body, and we're here to get it done.
We offer amenities that keep you coming back and generate happiness with results. That includes state-of-the-art equipment for cardio and weight training, like versa climbers, ski ergs, assault bikes, suspension trainers, and more. We have locker rooms, bathrooms, and even a selfie station to capture your post-workout glow! We provide the latest technology like animated demos at every fitness station and an app for scheduling classes. We don't waste money on amenities that don't enable fitness- we invest every cent of your membership back into equipment you will use.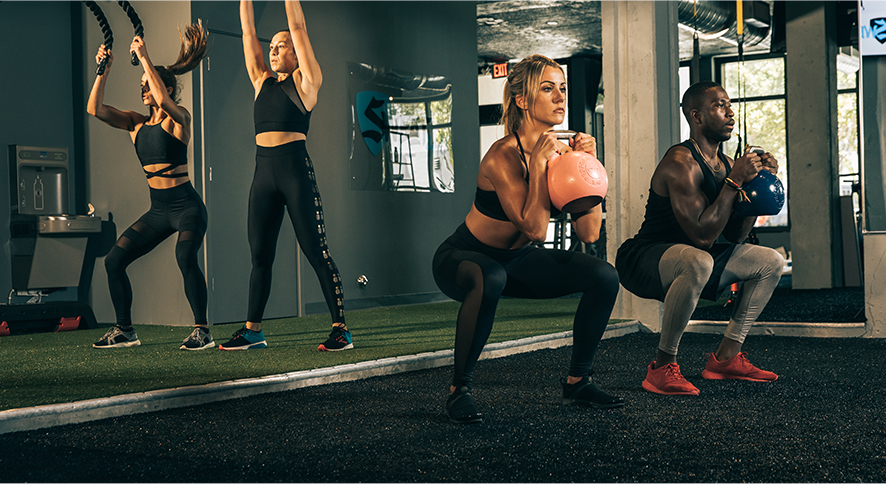 Why Boutique Gyms Like Sweat440 Win
Sweat440's Boutique Gym Benefits:
Tailored workout plans
Welcoming atmosphere
Classes for all fitness levels
Personalized training built into the price
Enough classes for everyone
Multiple membership options
No binding contracts
Varied workout equipment
Guaranteed results
Customized workouts cost extra
Classes are overcrowded
Personal training is not included
Intimidating atmosphere
Costly memberships and initiation fees
Contracts that are hard to get out of
Unnecessary upcharges and features
Inconvenient class times
Results vary widely without instruction