Best Fitness Class Near Me
When looking for group fitness classes, you may search for "best fitness class near me." When you do that, Google will probably recommend some of the most popular group fitness classes and fitness studios in your location. However, Google often recommends the closest studios rather than the best or most unique ones. Below, we've listed some of the best group fitness classes across various specializations, including dance fitness, strength training, and total body workout. Please continue reading to find the "best fitness class near me."
#7. 305 Fitness (Dance Fitness)
305 Fitness is one of the most popular group fitness classes for high-energy dance fitness, suitable for young adults and older adults alike. This dance fitness class, designed by Sadie Kurzban, is suitable for both experienced and beginner dance fitness enthusiasts because the movements are highly scalable. 305 Fitness has more of a nightclub feeling about itself than a traditional fitness studio, complete with a live DJ setting the tunes for your dance fitness sessions.
#6. CorePower Yoga (Yoga Group Fitness Classes)
CorePower Yoga provides the best group fitness classes for yoga enthusiasts. This is a traditional yoga studio, combining elements of mindfulness into their yoga practice. CorePower Yoga is still incredibly challenging, driven by free-weight or body-weight exercises that incorporate elements of strength training, stretching, and conditioning. CorePower Yoga is ideal for older adults who want to remain limber and fit.
#5. P.volve (Strength Training for the Glutes)
P.volve provides some of the most unique group fitness classes because they're focused entirely on the glute muscles, i.e., the booty. These group fitness classes have been designed by Victoria's Secret trainer, Stephen Pasterino. Their goal is to focus on strength training to activate your glutes and get you a well-sculpted booty.
#4. CITYROW (Rowing Group Fitness Classes)
Rowing is one of the most physically challenging activities because every row activates every major muscle group in your body, from your arms to your calves. Furthermore, rowing incorporates elements of cardiovascular training and strength training. CITYROW provides group fitness classes focused entirely on rowing for an optimal full-body workout. The only issue is that it can get pretty monotonous.
#3. Mile High Run Club (Running Group Fitness Classes)
Mile High Run Club is similar to SoulCycle and CITYROW, i.e., it's a cardiovascular-based group fitness class focusing on one specific movement. They provide treadmill-based cardiovascular group fitness classes where you have to run as much as possible, either opting for long marathons or short sprints. The classes are scalable to your preference. However, Mile High Run Club isn't suitable for strength training, and their classes can get monotonous.
#2. Dogpound (Strength Training Classes)
Dogpound is a combination of a traditional gym, personal training classes, and group fitness classes. Dogpound is ideal for those who want to build strength while getting shredded through engaging and high-activity drills and classes. You can opt for personal training sessions, or join their high-intensity group fitness classes focusing on strength training. Dogpound incorporates all aspects of full-body fitness, but they specialize in strength training.
#1. Sweat440 (Group Fitness Classes for Overall Fitness)
Sweat440 is the #1 group fitness class for total body workouts and overall fitness goals, suitable for young adults and older adults alike. Sweat440 believes that no aspect of fitness is more important than others, so the ideal training program must incorporate elements of strength training, core-training, cross-training, and high-intensity interval training.
At Sweat440, our full-body workout sessions are designed to target all core aspects of training and all major muscle groups. Our training schedules are divided into four categories — shape, shred, sweat, and warrior. Shape days focus on conditioning workouts. Shred days focus on strength training to get ripped. Sweat days focus on high-intensity interval training to burn the maximum calories. And warrior days are focused on total body workout, including all the other modules.
Monday: Shape — Lower Body
Tuesday: Shred — Upper Body/Core
Wednesday: Sweat — Core/Conditioning
Thursday: Shred — Lower Body/Core
Friday: Shape — Upper Body/Core
Saturday: Warrior — Total Body Conditioning
Sunday: Warrior — Total Body Conditioning
Sweat440 is also one of the most unique group fitness classes because of its #neverlate principle. Most group fitness classes are strict about timing — you have to join the class at the right time or can't enter. However, Sweat440 is designed such that a new group can join the class every 10 minutes, so you're never late for class! We achieve this with a rotation system of fitness stations where you have to move to a different "station" every 10 minutes.
Our group fitness classes are located in parts of New York and Florida. In New York, you can find our total body workout class near the Wall Street Subway Station in Fidi or near the 18th St. and 14th St. Metro Stations in Chelsea. In Florida, you can find our group fitness classes in Brickell, Coral Gables, Downtown Doral, or Miami Beach. We also offer a free trial for your first sweat session!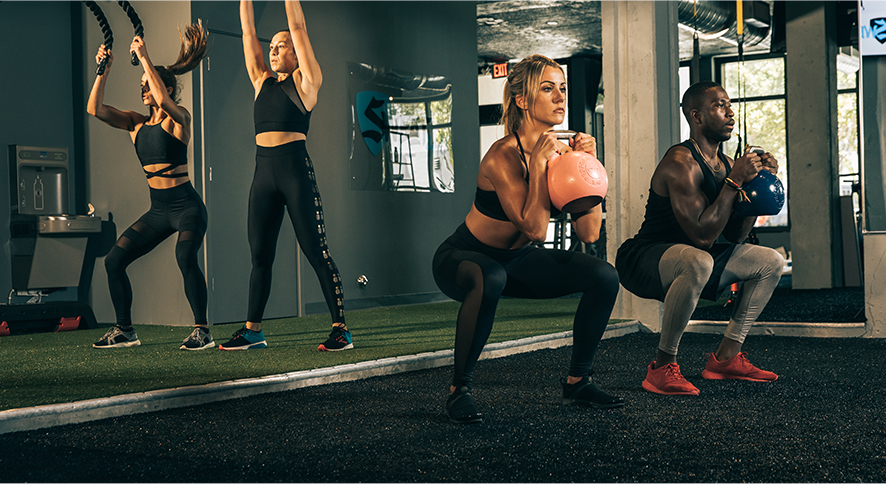 Best Fitness Class Near Me
Best Group Fitness Classes
#7. 305 Fitness(Dance Fitness)
#6. CorePower Yoga(Yoga Group Fitness Classes)
#5. volve(Strength Training for the Glutes)
#4. CITYROW(Rowing Group Fitness Classes)
#3. Mile High Run Club(Running Group Fitness Classes)
#2. Dogpound(Strength Training Classes)
#1. Sweat440(Group Fitness Classes for Overall Fitness)