Try the #1 HIIT Fitness Center Near Me on Jean Talon Free!
Have you tried HIIT yet? High-intensity interval training (HIIT) is the exercise method that fitness experts, researchers, and doctors agree is most effective. It's the perfect blend of strength training and cardio, packed into various intervals of intensity for rapid results. One of the main benefits of HIIT is that it's as effective at blasting fat as it is at increasing muscle definition. While other exercise routines involve hours on a treadmill or bike, followed by lengthy weightlifting sessions, HIIT yields twice the results in as little as 40 minutes.
 ​
Why Should I Try HIIT at Sweat440?
Are you wondering if HIIT is right for you? While it's an intense workout, the right HIIT gyms are designed for all fitness levels. Sweat440's fitness center on Jean Talon is led by certified trainers who customize each exercise to adapt to all classmates. Our classes are divided into 4 10-minute stations in which you perform 3 sets of 3 different exercises.
We intersperse 15 seconds of rest between each 45-second set, which generates maximum results. Just when you think you can't do one more rep, you're on to something else! This allows you to max out each muscle group without overdoing it, thereby performing at your highest level for the duration of the workout.
Steady-state cardio and traditional weight training don't use the proper intervals to generate similar change. Without the correct variations of intensity, your body slips into complacency and plateau. And when you stay at high intensity for the entire workout, you burn out faster, leading to poor form, injury, or exhaustion. To safely maximize your workout, there's no match for Sweat440's expertly paced intervals. Our founders are highly sought-after trainers who understand the advantages and importance of proper intervals.
Why is Sweat440 the Best HIIT Fitness Center Near Me?
Fitness professionals are very aware of the benefits of HIIT. As a result, many gyms are now offering classes they call "HIIT." But there is a huge range of what you'll get at those gyms. Some HIIT classes are led by yoga, cycling, or pilates instructors, who aren't actually trained in HIIT. Many focus only on intensity, or only on intervals, without the proper fusion of both. Working out intensely for too long won't actually develop muscle structure to burn calories at rest. You need a blend of aerobic and anaerobic exercise to sculpt your physique. And simply adding random intervals might actually slow your progress.
Sweat440's proprietary blend of intervals of intensity yields better results faster than other HIIT gyms. What's the secret? First of all, we're a dedicated HIIT gym. That means all of our instructors teach HIIT all day, every day. We don't just dabble in HIIT, or put one HIIT class on the calendar. We teach HIIT classes that begin every 10 minutes, all day long.
If that doesn't show you how much we believe in HIIT, check out our thousands of 5-star reviews for proof! No matter what your fitness goals are, HIIT accomplishes them the quickest. We don't even bother offering inferior workouts. Come reap the benefits of our world-class HIIT fitness center near me on Jean-Talon!
What's Included at Sweat440's Fitness Center Near Me?
Sweat440 is not only the premiere HIIT fitness center near me on Jean Talon. It's the top HIIT fitness center worldwide. We have locations in major cities like NYC, Miami, and Austin where members rave about our gyms. What do our members love about Sweat440? Here are just a few of our perks.
Everyone's first class is free!
Personal training is free in every class!
Sweat440 has NO CONTRACTS or hidden fees!
Members can choose their membership package and number of classes!
Our classes start every 10 minutes so you're never waiting, and  #neverlate!
Our HIIT method burns more calories in 40 minutes than hours elsewhere!
We use assistive technology like animated demonstrations of each exercise!
You can schedule online, call us, use our app, or simply stop by for a class!
We offer showers, locker rooms, and a selfie station!
We're a welcoming, inclusive gym with upbeat music and high-fives!
We have the latest equipment like Ski Ergs, Versa Climbers, and Assault Bikes!
Our classes repeat all day and change each day so you never miss a class!
Our intervals are designed for all fitness levels!
Our instructors teach HIIT all day, every day, so we're HIIT experts!
Our convenient locations around the world make fitness easier to achieve!
Try Sweat440 in Montréal for Free Today!
If you want to give HIIT a try, you're on the right track. But don't just join any fitness center that offers a HIIT class. Sweat440 is the #1 HIIT fitness center near me on Jean Talon, and also throughout the world! We're conveniently located near the SPCA of Montréal, so stop by for a free class today and the body you've always dreamed of!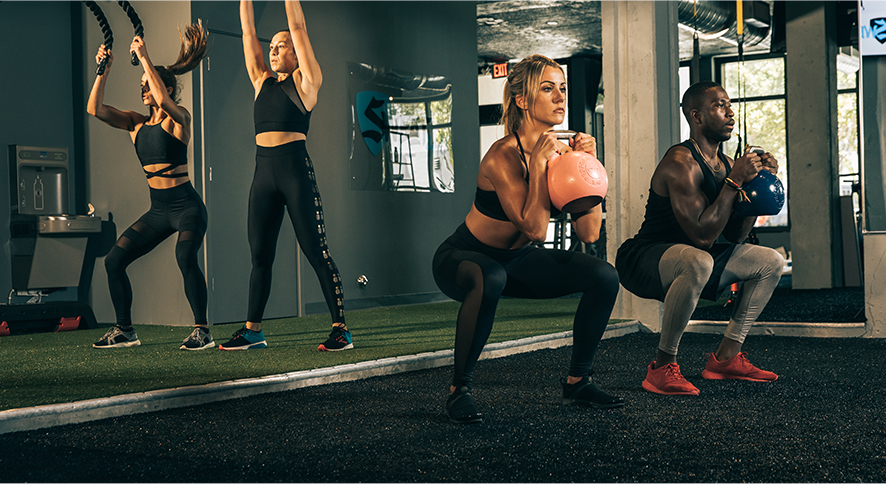 The Perks of Sweat440's Fitness Center Near Me on Jean Talon
Benefits of Joining Sweat440:
First class is free
Free personal training in classes
Expert HIIT instructors
Classes every 10 minutes
No contracts or hidden fees
Showers, lockers, selfie station
Maximum calorie burn in just 40 minutes
Upbeat environment for all fitness abilities
Choose your own membership level
A Few of the Tools We Use at Sweat440:
Versa Climbers
Assault Bikes
Ski Ergs
Rowers
TRX
Slam Balls
Battle Ropes
Sleds & Sliders
Kettlebells & Dumbbells