Fitness Center Near Me in Doral With Free Personal Training
If you live in Doral, FL, every day is potentially a beach day! While that's an amazing feeling, it also means you want your body to stay beach-ready. Some parts of the country try to cram fitness in as a New Year's resolution between January and March. But that never actually works. In the Sunshine State, the beautiful beaches are an incentive to stay healthy year-round.
Free Personal Training Keeps You Beach-Ready Year-Round!
We all want to look like a million bucks, but we don't want to spend a fortune achieving that. Luckily, Sweat440 has a fitness center near me in Doral with free classes for every newcomer, and free personal training in every class! Sweat440 believes overpriced gyms and overcrowded classes are a barrier to health and fitness. And we also know how essential personal training is to reaching your goals. In fact, our founders are renowned personal trainers themselves! That's why we make personal training an integral part of every class. We keep our classes small with start times every 10 minutes, so you always get a spot. And did we mention your first class is free? And every class includes free personal training!
What to Expect in Sweat440's Free Classes With Training
Other gyms might offer a free class, but they won't include free personal training. Often those classes are a specific type, at a specific time, so they might not align with your schedule or current level of fitness. But the biggest drawback is that most gyms only offer free classes after you've joined, at which point, it's too late to back out of your contract if you're unsatisfied. Here's how Sweat440 does things differently to prioritize our members.
● No Contract Required to Try Free Training
Unlike most gyms, you don't have to sign a contract to receive a free class at Sweat440. Some gyms offer things like a free training session or nutritional assessment once you've joined. The problem is, you're then locked into an annual contract, whether you end up liking the gym or not. At Sweat440, we let you try a free class without signing a contract. Better yet, we don't use contracts at all! Your free class with free personal training is legitimately free!
● Free Personal Training Starts Every 10 Minutes
Some gyms let beginners try a class at a certain time and most only offer each class once or twice a week. At Sweat440 in Doral, you can try any of our classes for free, and they all include personal training. Our classes start every 10 minutes, which means there's a convenient time for everyone to give Sweat440 a try. Our classes repeat all day long, and are different each day of the week, so every day is the best day to try Sweat440! Since trainers circulate through every class, you don't have to book an appointment with a personal trainer. Simply show up for one of our classes and personal training is included!
● All Personal Training Includes HIIT Instruction
Not only do you get free personal instruction in each class at Sweat440, you also get trained in the most effective fitness method. Each of our classes and each of our trainers utilize high-intensity interval training (HIIT). Studies have proven HIIT to be the most efficient way to get fit, even when performed less often than traditional cardio. You burn twice the calories in half the time with HIIT, and you sculpt muscle while you shred fat. No more time wasted with an hour on the treadmill and an hour of weightlifting. In just 40 minutes, you'll sculpt, shred, shape, and sweat your way to that million-dollar physique!
● Assistance and Accommodations for all Fitness Levels
Our trainers are passionate about making fitness accessible for all. They're experts at adapting an exercise to work for all different fitness levels. Our compound cardio circuits are designed to perfect your form, regardless of any limitations. Our trainers are also supplemented by animated demonstrations on screens at each exercise station, so you can always see exactly what to do. Recovering from surgery? Rejoining after childbirth? Dealing with a sprained ankle? No matter what you need to work around, we'll get it done safely, and still ensure optimal fitness.
● The Latest Equipment to Accelerate Fitness
Sweat440 is packed with powerful tools to amp up your fitness quickly. Our machines like Ski Ergs, Versa Climbers, and Assault Bikes provide a full body workout that is so invigorating, you'll forget how hard you're working! Our combo of cardio and resistance gets you ripped, with results you'll notice after the first class. With 4 10-minute stations that include 3 sets of 3 exercises each, we keep your body guessing, so it never gets complacent or hits a plateau.
Try Sweat440's Fitness Center Near Me in Doral for Free Today!
Want to see why Sweat440 is ranked the best fitness center near me in Doral? Come try it for free today! Your first class is free and includes state-of-the-art HIIT equipment and personal training. With classes every 10 minutes, there's an inspiring group of diverse members waiting for you to join them! Whether you're training for a fitness competition, or joining a gym for the very first time, Sweat440 in Doral is designed for everyone. We're conveniently located near Downtown Doral Park. Join us for free today!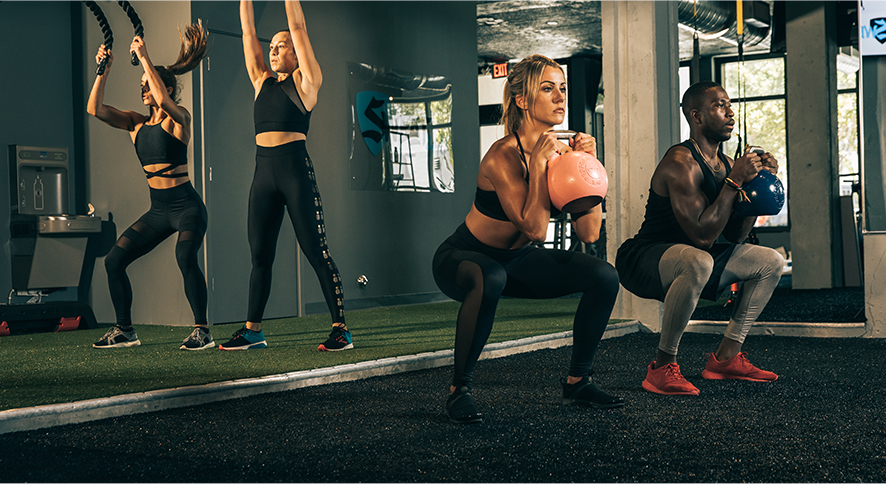 The #1 Fitness Center Near Me in Doral
Why Our Members Love Sweat440 Doral:
Our classes start every 10 minutes.
We're fueled by upbeat music and positivity.
Our HIIT method is the most effective.
Our classes repeat all day so you're #neverlate.
With different classes each day, it's the only gym you need.
No contracts or hidden fees, you can quit any time.
Our trainers maximize your fitness.
We have multiple locations for convenience.
What Your Sweat440 Membership Includes:
Your first class is free with no obligation to join.
All classes include HIIT training.
We provide free personal training in every class.
We offer showers and locker rooms.
We use tech like animated demos and assistive equipment.
We use fun tools like scheduling apps and selfie stations.
We use superior equipment, instruction, and sanitizing methods.
You determine your own schedule, no waiting around for a spot.