Sweat440: Safest Fitness Center in Jean Talon
Sweat440 is a state-of-the-art and conveniently-located fitness center in Jean Talon, Montreal. It's one of the most accessible gyms, located near the Jean-Talon/No 5000 and Jean-Talon/No 5005 bus stops, and a short walk from several iconic landmarks, like the Aréna Bill-Durnan ice rink. As such, Sweat440 is highly accessible to fitness enthusiasts and members from across Montreal. You can pre-book your sweat session in Jean Talon online or call (514) 594-0440.
Now that you know where to find Sweat440, let's talk about what everyone's probably thinking — is it safe? Understandably, fitness enthusiasts and regular gym-goers have avoided fitness centers in the past couple of months because they can be super-spreaders of COVID-19. However, Sweat440 believes being inactive can be just as dangerous as any virus, which is why we encourage the fitness community to resume working out… safely.
Sweat440 has implemented a wide range of social distancing, sanitization, and safety protocols to minimize the risk of COVID-19 contamination. In this article, we discuss why gyms can be super-spreaders of COVID-19 and how we address and negate each of the risks associated with fitness centers.
Why are gyms considered "high risk" of spreading coronavirus?
In the past months, gyms have been identified as "high risk" locations for coronavirus. The following are some reasons gyms are considered to be super-spreaders for the virus:
No Social Distancing: Gyms usually pack a lot of members in narrow or small spaces, so there's little scope for social distancing.
Exposure to Virus Particles: Gym members are constantly engaged in high-intensity exercises in close spaces, exposing everyone to droplets that spread coronavirus.
Poor Ventilation: Some gyms have poor ventilation systems that may trap the virus particles within the gym for extended periods.
High-Touch Areas: Gym members frequently use and touch the same equipment. High-touch areas increase the risk of coronavirus spreading.
Communal Spaces: Gyms have several community areas, like the waiting area and locker rooms, that can spread coronavirus.
How does Sweat440 overcome COVID-19 challenges?
Sweat440 has recently started reopening studios after implementing the strictest COVID-19 safety protocols. The following is an overview of our COVID-19 social distancing and sanitization standards:
Pre-Bookings: We encourage all members to pre-book their classes or slots, allowing us to manage the number of people within the gym. We only accept a certain number of individuals in the gym at any moment to avoid crowding.
No Waiting: We encourage you to show up at the gym just before your workout and leave the premises as soon as your session is up. Even though we love to have you, we want to prevent loitering or crowding in the waiting area.
Temperature Checks: We have touchless temperature checks for all Sweat440 team members before each shift. We also have temperature checks for the members.
PPE Equipment: All members of the Sweat440 team must wear masks and gloves during their shift.
Socially-Distanced Workouts: We have installed social distancing lines and markings on the floor. Each member will be assigned an individual workout pod, so you can sweat within your zone without spreading it to others. We also encourage all members to communicate and express their enthusiasm with a thumbs-up rather than a high-five.
Individual Responsibility: We also provide disinfectant spray bottles and towels to all members, with the expectation that you'll use them on all the equipment after use. We want to foster a collective sense of responsibility towards other members.
Deep Cleaning: Our Sweat440 studios are deep cleaned at least twice a day with hospital-grade equipment. We thoroughly clean all high-touch zones, like equipment and door handles.
No Communal Spaces: We don't encourage loitering in the waiting area, and we've also briefly closed our locker rooms and showers. We encourage you to carry only the essentials and leave immediately after the workout. We also encourage you to bring your own water bottles to refill from the water fountain.
What makes Sweat440 unique?
Sweat440 is one of the most unique fitness centers in Montreal. It follows an innovative circuitous structure that allows new members to enter the class every 10 minutes, so you're never really late for a class. Each 40-minute Sweat440 class is divided into four 10-minute fitness stations that take you through 3 sets of 3 exercises, each performed with clockwork accuracy. Once you're done with a fitness station, you move to the next station, vacating the previous station for the next group. This circuitous workout style allows new groups to enter the group class every 10 minutes. As such, Sweat440 provides extremely flexible group fitness classes that you can easily fit into a versatile and dynamic schedule.
Sweat440 also eschews contractual and legally-binding memberships in favor of flexible memberships that you can join or leave whenever you want. We provide free trial sessions for all first-timers, so you know exactly what you're enrolling into. If you're ready to resume your fitness journey, claim your free sweat session from Sweat440 Jean Talon today.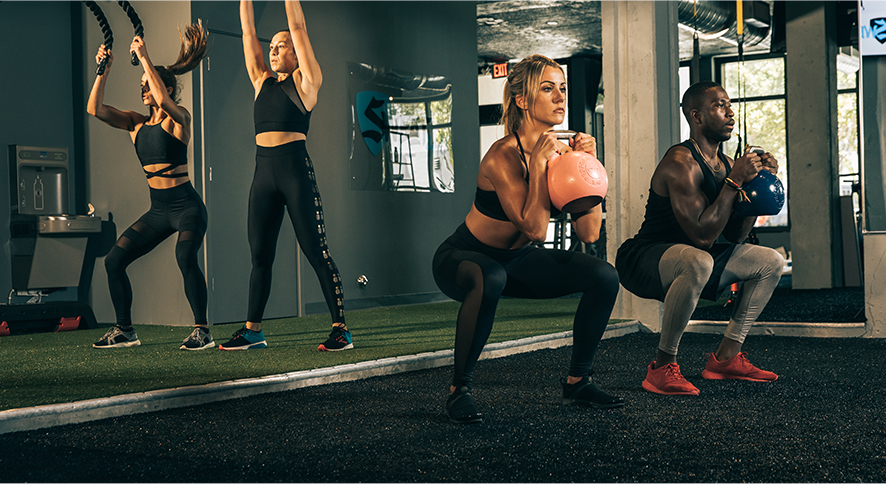 Fitness Center in Jean Talon
Sweat440 Location in Jean Talon
Sweat440 Safety Protocols
Pre-bookings for classes.
No loitering in the waiting areas.
No communal spaces, like lockers and showers.
Mandatory PPE and temperature checks.
Social distancing during workouts.
Deep cleaning of all equipment.