Top 5 Fitness Boutique Studios
In the past, all gyms and fitness studios were the same. You went in, lifted some weights, maybe opted for personal training, and returned. Fitness studios were structureless and passive spaces with weights and machines. However, in recent years, fitness studios have adopted a
more active approach to fitness
.
Instead of simply providing space and equipment, fitness studios now have engaging group fitness classes that guide you through structured and scalable workouts. As such, you don't have to do your own research to curate a workout schedule, you can let experts and professional trainers do all of that, so you can focus solely on the physical training.
In this article, we discuss the benefits of working out at fitness boutique studios, and we introduce you to the top 5 fitness boutique studios in the US.
What are boutique fitness studios?
Boutique fitness studios are relatively-small gyms that focus on group fitness, with one or two specialty areas. All boutique fitness studios have a specific identity and ethos, whether it's their general atmosphere, the kind of music they use, their aesthetic sensibilities, or the type of workouts they provide.
What are the advantages of working out at boutique group fitness classes?
Boutique fitness studios are better than traditional gyms or solo workouts because they make group exercise fun! Instead of painstakingly plodding through an hour of your day, they help you engage with the fitness program. Group fitness classes are fun, engaging, and they carry a sense of camaraderie. After the group exercise, you can also get together with others to socialize or grab some healthy drinks.
The social component of boutique fitness studios serves two purposes. First, they make working out fun, so you're less likely to give up out of boredom. Second, there's a healthy peer pressure component that encourages you to continue and do your best without giving up. As such, the group exercise component of fitness studios can help you meet your fitness goals without the attempt seeming like a pain.
What are the best fitness boutique studios?
#5. SoulCycle: Indoor Cycling Group Exercise
SoulCycle is one of the most popular group fitness classes based on an indoor cycling premise. They specialize in spinning classes for high-intensity interval training. While they incorporate some strength training elements, such as push-ups on the cycling handlebars while riding, they're mostly meant for cardiovascular fitness.
#4. OrangeTheory Fitness: Group Fitness Studios
OrangeTheory Fitness is a group fitness studio with a unique proposition. They believe all exercises should focus on increasing your heart rate, improving cardiovascular health. They have group exercises led by personal trainers who monitor your heart rate and guide you through the five heart rate zones — gray, blue, green, orange, and red. The intensity of the workout changes as you move through the zones.
#3. Work Train Fight: Boxing Group Exercise
Work Train Fight is a group fitness studio focused on boxing classes. They have 55-minute boxing classes that take you through all core aspects of fitness, including strength training and cardiovascular exercises, through boxing movements. Each boxing class includes shadow boxing, mitt work, bag work, and high-intensity interval training components.
#2. CITYROW: Rowing Group Fitness Classes
CITYROW is a group fitness studio focused on rowing machine-driven group exercise. Crew-style rowing is one of the best means of achieving full-body fitness because each row triggers every single muscle group in your body, from your arms and torso down to your legs and calves.
#1. Sweat440: Best Overall Group Fitness Classes
Sweat440 is the best fitness boutique studio for overall fitness goals. Sweat440 doesn't specialize in one or two core movements or aspects of physical fitness. Instead, the Sweat440 module incorporates strength training, cross-training, and high-intensity interval training, ensuring overall fitness.
Furthermore, Sweat440 is the only flexible group fitness class with a #neverlate principle. Our group fitness classes consist of four 10-minute fitness stations taking you through three sets of three exercises. As you move through the fitness stations, the next group takes your previous position. This module allows a new group to join the class every 10 minutes.
The following is Sweat440's schedule for group fitness classes. As you see, we target all muscle groups and mix all crucial components of fitness. As such, if you schedule Sweat440 classes, you don't need to find other fitness boutique studios.
Monday: Shape — Lower Body
Tuesday: Shred — Upper Body/Core
Wednesday: Sweat — Core/Conditioning
Thursday: Shred — Lower Body/Core
Friday: Shape — Upper Body/Core
Saturday: Warrior — Total Body Conditioning
Sunday: Warrior — Total Body Conditioning
Sweat440 also provides a free trial class for all first-timers. If you're in New York or Florida, you can visit one of our fitness studios closest to your location for a free sweat session. Our New York's FiDi fitness studio is located near the Fulton Street Station, making it highly accessible. You can go through a complete overview of the addresses and numbers of our fitness studios below.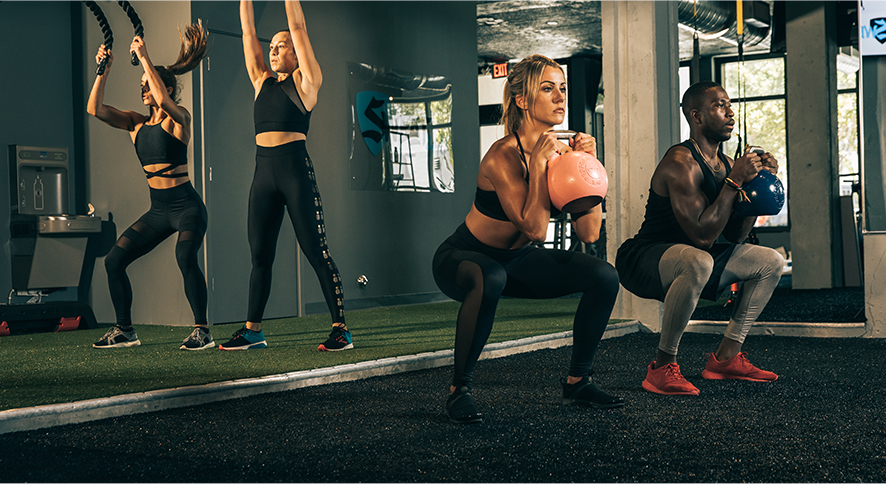 Top Boutique Group Fitness Studios
#5. SoulCycle: Indoor Cycling Group Exercise
#4. OrangeTheory Fitness: Group Fitness Studios
#3. Work Train Fight: Boxing Group Exercise
#2. CITYROW: Rowing Group Fitness Classes
#1. Sweat440: Best Overall Group Fitness Classes