What is the Best Gym for Fitness Around Me?
If you're considering getting in shape or furthering your fitness goals, you may wonder, "what is the best gym for fitness around me?" In recent years, there has been a massive outcrop of gyms and fitness studios, putting their unique spin on fitness. You don't have to choose between a series of identical traditional gyms with weights and machines anymore.
Instead, boutique fitness gyms often bring their own unique spin on fitness. Some only focus on strength training. Some only provide high-energy group fitness classes. Others provide personal trainer-driven classes. And others still focus on specific exercises, such as treadmill resistance training, rowing resistance training, etc.
With so many group fitness classes, 24 hours traditional gyms, and personal training sessions, finding the best "gym for fitness around me" can be challenging. Which type of gym should you attend? Which form of exercise do you need? Well, in this article, we review some of the best fitness studios in the United States for various fitness needs.
#4. Dogpound — Personal Training/ Strength Training
Dogpound is one of New York's elite personal training and strength training gyms for Instagram influencers, supermodels, and actors. This is where New York's elite go to get fit, ripped, and shredded in the watchful supervision of a personal trainer. Dogpound focuses primarily on strength training, and you can opt for individual personal trainer sessions or group fitness classes.
#3. CITYROW — Resistance Training/ Group Fitness Classes
CITYROW is one of the leading resistance training and group fitness classes in New York. Rowing is one of the most effective full-body workouts because it incorporates elements of strength training and cardio training. It simultaneously targets all major muscle groups, including your biceps, triceps, shoulders, core, quads, hamstrings, and calves. You can also adjust the machine's resistance level according to your preference. CITYROW is the ideal resistance training module for those who want to master a single movement for optimal fitness benefits. The only drawback is that it can get pretty monotonous because you're doing the same thing every day.
#2. OrangeTheory Fitness — Group Fitness Classes
OrangeTheory Fitness provides group fitness classes that include cardio, strength training, and rowing. They have personal trainers who monitor the group fitness classes, making sure you're doing your best. Their group fitness classes are based on the premise that you must go through five heart rate zones for specific periods — gray, blue, green, orange, and red. While the group fitness classes are engaging, monitoring your heart rate can be annoying and distracting.
#1. Sweat440 — Best Group Fitness Classes with Personal Trainer
Sweat440 provides some of the most innovative group fitness classes led by personal trainers. Furthermore, unlike most group fitness classes with strict schedules, Sweat440 has a #neverlate system that ensures you get a spot within a group fitness class within 10 minutes. Sweat440 has 40-minute group fitness classes separated into four fitness stations, each taking you through three sets of three exercises. Once you complete a fitness station, you move to the next station for the next set of exercises. As such, the next gym can take your place in the previous fitness station. This allows a new group to join the class every ten minutes. Sweat440 also takes you through all the core components of strength training, cross-training, and cardio training, ensuring complete physical fitness.
Schedule your first free session at Sweat440 today!
Sweat440 is undoubtedly the best gym for group fitness classes for those living in New York City or Florida. Our New York fitness gyms are located in Chelsea and Financial District, within a short walk of iconic landmarks like the Flatiron Building and the New York Stock Exchange. Our Florida gyms are located around Miami Beach, including Coral Gables, Brickell, and Doral. Sweat440 also provides a free trial fitness class, so claim your free sweat session today!
You can show up to any of the following Sweat440 group fitness classes or call ahead of time: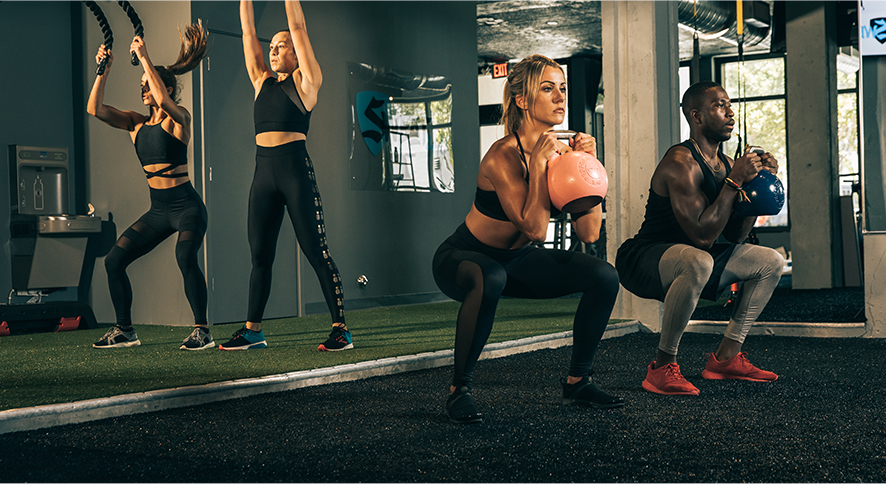 Gyms for Fitness Around Me
Top Gyms for Fitness Around Me
#4. Dogpound: Personal Training/ Strength Training
#3. CITYROW: Resistance Training/ Group Fitness Classes
#2. OrangeTheory Fitness: Group Fitness Classes
#1. Sweat440: Best Group Fitness Classes with Personal Trainer
Sweat440 Group Fitness Classes Schedule
Monday: Shape — Lower Body
Tuesday: Shred — Upper Body/Core
Wednesday: Sweat — Core/Conditioning
Thursday: Shred — Lower Body/Core
Friday: Shape — Upper Body/Core
Saturday: Warrior — Total Body Conditioning
Sunday: Warrior — Total Body Conditioning