Max Out Your Fitness Miami! Join Sweat440 Today!
Are you so far away from your target weight that you don't even know where to begin? Are you battling the same 10 pounds that don't seem to budge no matter what you do? Are you a pro athlete trying to take your game to the next level? No matter what your fitness goals are, there's a new gym delivering better results.
Sweat440 is designed for all fitness levels and starts working the very first time you step in the gym. Our proven fitness concept is delivered in an unmatched package- with affordable memberships and classes that start every 10 minutes. Don't let frustration block you from reaching your goals- our certified trainers are here to help!
What Makes Sweat440 Different Than Other Miami Gyms?
You might feel like you have tried it all and still aren't where you want to be. Have you spent a fortune on personal trainers, meal delivery plans, boot camps, spin, or barre classes? Don't worry, our fitness plan doesn't include draining your bank account. Maximum fitness doesn't have to cost a fortune or take up all of your time. Take a look at how Sweat440 gets it done, and see why Miami residents can't get enough.
Sweat440 Doesn't Rip You Off
Many Miami gyms are looking to turn a profit before they go out of business or sell out to corporate investors. They charge huge initiation fees, sky-high membership dues, and extra fees for each amenity they offer, including personal trainers. Sweat440 believes that everyone deserves to be fit, so we don't charge ridiculous fees. In fact, we offer multiple membership options and allow you to buy classes one at a time if you prefer. We put all of your hard-earned money back into perks for you, like elite trainers and state-of-the-art equipment. All of our classes include personalized training at no additional fee.
Sweat440 Works Around You
Did you get stuck in traffic? Did your meeting run long? Did your kid wake up with the flu? We understand how unpredictable life can be- that's why we offer group fitness classes that start every 10 minutes so you are #neverlate. We offer the same classes all day, so you can always fit in your workout. And we never charge for classes you have to miss, we just fit you into the next one. We're the only gym in Miami that tries to accommodate your schedule, rather than offering minimal classes that are always booked.
Sweat440 is for Everyone
Ever felt intimidated in a gym? What's that about? Why do so many gyms strive for an elitist attitude or a vibe that beginners aren't welcome? Fitness is a human pursuit, regardless of demographics. Sweat440 welcomes people of every fitness level and seeks to make fitness affordable for all. Our high-intensity interval training (HIIT) classes are designed so that you work to your own abilities, which makes them ideal for professionals and beginners alike.
Sweat440 also accommodates any limitations. Whether you've just had a baby, had surgery, or sustained an injury, our trainers provide alternate solutions for everyone. We don't leave you to figure things out on your own- safety is our first priority. We even supplement our training with animated demos at every station, so you always know how to work out safely.
Sweat440 is on Your Team
Ever felt like your gym was trying to scam you- charging hidden fees, or locking you into contracts you can't get out of? Sweat440's founders created Sweat440 with members in mind- and we are transparent in our mission and pricing. Your health and fitness matter to us, and we're run by trainers, not silent investors. Our trainers circulate through every class to assist you with each exercise. We provide upbeat music and inspiration to exceed your fitness goals.
Sweat440 Actually Works
Here's the part you've been waiting for- unlike other Miami gyms, Sweat440 gets the job done. Our fitness philosophy is to deliver the best workout every single time, and to do it in just 40 minutes. Our high energy HIIT classes consist of 4 10-minute stations that pack 3 sets of 3 exercises into each station. The combo of cardio and resistance burns fat as quickly as it builds muscle. Our high-tech equipment like assault bikes, ski ergs, versa climbers, and suspension trainers keep your body guessing with varied movements and intervals so it never cruises on muscle memory or settles into a plateau. Research shows HIIT to be a far superior way to get results in record time. And we specialize in HIIT all day, 7 days a week.
How Do You Join Sweat440?
Sweat440 lets you try classes for free- we don't lock you into contracts without knowing if it's a fit. Gyms who aren't confident in their brand try to get your money before you have a chance to change your mind. But we know you will love our gyms- just check out our 5-star reviews!
We offer multiple membership options for every budget and schedule. Contact us, or stop by one of our 4 South Florida locations to learn more. We're conveniently located in Miami Beach, Brickell, Coral Gables, and Downtown Doral. We can't wait to meet you and take your fitness to the next level!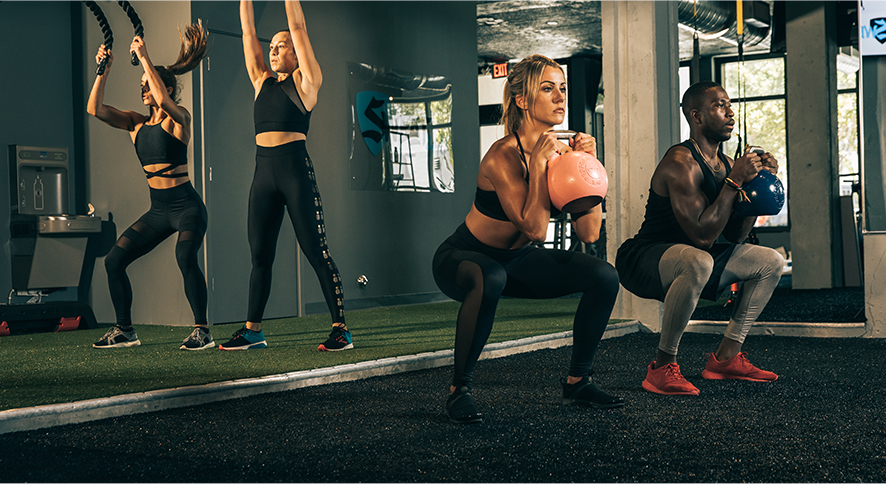 Why Sweat440 Gets You More Fit
Sweat440 uses the only workout guaranteed to deliver the quickest results.
Sweat440 is a fun place to be, with no air of intimidation or elitism.
Sweat440 trains you throughout every class so you always max out results.
Sweat440 fosters inclusion and enthusiasm so you love your workout.
Sweat440 prices fitness fairly so you don't go broke in pursuit of health.
Sweat440 works with your schedule, not the other way around.
Other Miami Gym's Secrets
 

Other gyms prefer when you don't show up- it costs them less money.

Other gyms charge hidden fees including class fees when you miss.
Other gyms get varied results due to no focused instruction.
Other gyms can feel exclusive or lock you out of classes.
Other gyms charge extra for training and increase your risk of injury.
Other gyms run like a business maximizing profit, not focusing on your health.