Where Can I Get a Strength Training First Class Free near me?
"Where can I get a strength training first class free near me?" If you're asking that question, you're in luck. At Sweat440, we provide a free strength training class that allows you to see if you like our fitness classes before taking a membership.
Sweat440 provides no-contract and flexible fitness classes.
In recent years, there has been considerable outrage about how gyms and fitness classes trap you into expensive contracts that you can't leave. If you go online, you'll find long and detailed articles explaining how you can leave fitness classes. With growing awareness of these shady techniques, people have been growing suspicious of memberships.
At Sweat440, we want to turn that around. Our fitness classes are designed to be enjoyed by all without fear of being "trapped" into legally-binding contracts. We do everything we can to display our sense of transparency, and that starts with a free strength training class.
You can simply walk into any of our fitness classes in any location and claim your free sweat session. We will ask you to sign a basic form consisting of the most basic details, like your name and email address. That's it! With that, you're free to join our 40-minute strength training class!
After your free strength training class, you can take membership to our gym. We also provide incredibly flexible payment structures. You can purchase a fixed number of classes, whether that's one class, three classes, seven classes, or more. Alternatively, you can join our monthly membership for unlimited fitness classes throughout the month.
At Sweat440, we don't believe in legally-binding contracts. In fact, contracts are against our very ethos. As such, we provide no-contract memberships that you can quit at any time. After your existing gym period is up, don't renew your membership. That's it! You don't even have to show up in person.
How are Sweat440 fitness classes designed and structured?
Sweat440 provides some of the most unique strength training and HIIT fitness classes around. Sweat440 provides 40-minutes group fitness classes that take you through four "fitness stations."
Each fitness station lasts for 10 minutes, taking you through three sets of three exercises, executed in clockwork fashion for specific durations. You have to simply follow along with the video on the screen. Each set lasts for 45 to 50 seconds, with 10 to 15 seconds of a rest period. The three sets of three exercises finish in 9 minutes, giving you 1 minute to catch your breath and move into the next fitness station. You repeat the same structure in the next fitness station, focusing on another set of exercises for 9 minutes, followed by a 1-minute transition period.
We have on-site personal trainers who ensure you complete all exercises with high-energy, preventing you from slacking off. Once you complete a fitness station, you move to the next fitness station, while another group takes your place in the previous station. This structure keeps the group fitness class moving, allowing a new group to join every 10 minutes.
Sweat440's primary drive is to ensure you have access to flexible group fitness classes. You don't need to schedule group fitness classes in advance. You don't need to schedule your life around your strength training class. All you have to do is show up and join the upcoming class within 10 minutes. Our rotating structure of fitness stations ensures you'll get a slot within 10 minutes.
What's the schedule for Sweat440 fitness classes?
Sweat440 has a highly-scalable and professionally-designed schedule that addresses all of your fitness needs, including strength training, high-intensity interval training, cross-training, etc. Furthermore, our schedule targets different muscle groups every day, ensuring that you address all your muscles at least once throughout the week.
Sweat440 fitness classes take you through four types of fitness days — shape, shred, sweat, and warrior. Shape days focus on conditions and body toning. Shred days focus on strength training and cross-training to get ripped. Sweat days focus on high-intensity interval training to get you sweating out those toxins! Warrior days are supercharged days that take you through all the previous modules.
The following is our Sweat440 schedule:
Monday: Shape — Lower Body
Tuesday: Shred — Upper Body/Core
Wednesday: Sweat — Core/Conditioning
Thursday: Shred — Lower Body/Core
Friday: Shape — Upper Body/Core
Saturday: Warrior — Total Body Conditioning
Sunday: Warrior — Total Body Conditioning
Does Sweat440 provide yoga classes?
Sweat440 doesn't provide yoga classes, but our fitness schedule incorporates all forms of exercise, including stretching. Even though we don't have yoga classes, you can rest assured that our strength training classes will provide the requisite stretching and body resistance workouts.
Where are Sweat440 fitness classes located?
Sweat440 fitness classes are located in New York's Chelsea and Financial District, Florida's Miami Beach, Coral Gables, Brickell, and Downtown Doral, and Canada's Montreal. In New York, our Chelsea location is near the 18th St. and 14th St. metro stations. If you're in any of these cities, please visit our fitness classes and claim your free sweat session!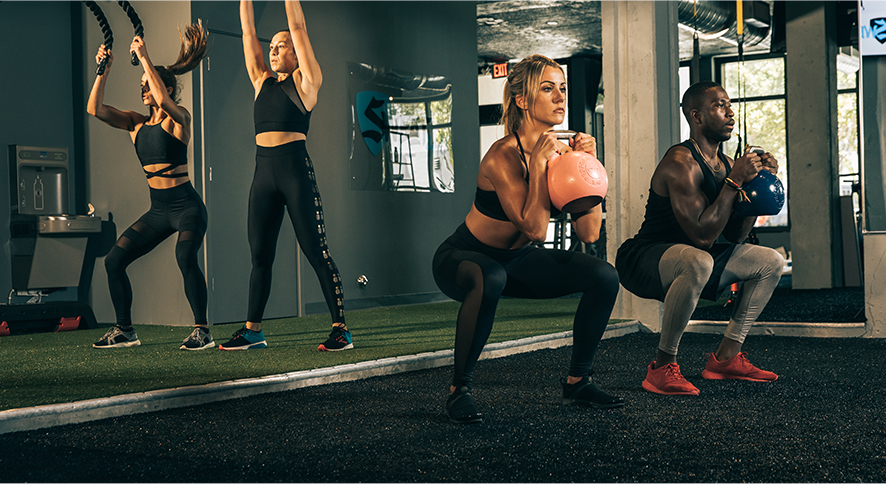 Sweat440 Strength Training Schedule
Monday: Shape — Lower Body
Tuesday: Shred — Upper Body/Core
Wednesday: Sweat — Core/Conditioning
Thursday: Shred — Lower Body/Core
Friday: Shape — Upper Body/Core
Saturday: Warrior — Total Body Conditioning
Sunday: Warrior — Total Body Conditioning
Sweat440 Fitness Classes Locations