World Famous Gyms and the Gym Making History in Your Town
There are some gyms that people will travel thousands of miles to capture a photo of or try to work out in. Whether it's celebrity clientele, a notorious regimen, or a unique design, some gyms are famous around the world. In fact, some gyms in America are even infamous, due to lawsuits, injuries, or scams. Are there any gyms on your must-see list? Check out these famous gyms for inspiration. And if you want to work out at a groundbreaking gym without circling the globe, you're in luck! Sweat440 is joining the ranks of famous gyms with its innovative concepts. Try a free class at Sweat440 today to take part in our fitness revolution!
Gold's Gym Venice, CA
Many strength training enthusiasts place Gold's Gym in Venice, CA at the top of the must-see list. While the gym itself is nothing spectacular to see, the clientele and history of athletes is its draw. Strength training greats like Arnold Schwarzenegger, Franco Columbo, and Tom Platz lifted in this gym founded by Joe Gold in 1965. True to its non-nonsense origin, it plays no music and has no air conditioning. Dubbed the Mecca of the bodybuilding world, it's a fusion of history with modern-day fitness, containing original equipment and photos of legends, but also packed with new equipment and current celebrities.
Oxygen Gym Kuwait
Oxygen Gym in Kuwait is known for turning out Mr. Olympia frontrunners like Big Ramy and Ahmad Ahkanani. In fact, some athletes move to Kuwait to take advantage of the premiere weightlifting equipment. Housing a supplement store, spa, swimming pool, and restaurant, it's no wonder professional bodybuilders like Roelly Winklaar from the Dutch Caribbean, Nathan De Asha from the United Kingdom, and William Bonac from Holland, spend substantial time training there.
Metroflex Gym Arlington, TX
Fitness home of multiple Mr. Olympia pros like Ronnie Coleman, Branch Warren, and Johnnie Jackson, Metroflex is considered by some in the Generation Iron community to be the most serious bodybuilding gym in the world. Brian Dobson founded the gym in 1987 to avoid commercial gym restrictions and offer something more intense. This grueling gym is no place for an amateur.
City Athletic Club Las Vegas, NV
So where do all of those Mr. Olympias win their titles? Vegas, of course! It's only natural that Las Vegas would offer one of the most luxurious gyms on the planet. Famous athletes flock to City Athletic Club for Mr. Olympia competitions, where they utilize luxury fitness equipment. True to its name, City Athletic Club was designed to look just like a club, and has restricted membership too.
Gym Jones Salt Lake City, UT
This gym is more notorious than famous, since it's founded on the principle of the "Art of Suffering." This gym is no joke, and there are no perks or frills to be found. Owner and co-founder Lisa Boshard, a Brazilian jiu-jitsu enthusiast, rejects comfortable seating, televisions, mirrors, and those who are faint of heart. Members are accepted by application and invitation only, often requiring a referral from a current member.
CrossFit Gyms in America
This is one gym to cross OFF the must-see list, since its infamy is derived from danger. CrossFitters have their own mascot, Uncle Rhabdo, named for the serious condition, rhabdomyolysis, acquired in their gyms. The heavy weights lifted in fast reps without rest at CrossFit triggers this condition where muscle breakdown releases myoglobin into the bloodstream, causing kidney damage. CrossFit has faced countless lawsuits from members getting critically and fatally ill from "Uncle Rhabdo."
Sweat440: The Gym Making History in Your Town
If you want to be part of fitness history, there's a gym changing the blueprint of fitness in your town. Sweat440 has several revolutionary concepts that are improving the way members experience fitness. Our gyms consistently rank #1 for results and member satisfaction. Best of all, our world-class gyms are located in convenient cities near you! Take a look at how we're breaking new ground in fitness.
Sweat440's Innovative Ideas for Gyms in America and Beyond
● No Contracts
Yes, you read that right. One of the first ways we rewrote the gym concept is by getting rid of contracts. Unlike Planet Fitness and gyms that are difficult to quit, we want our members to show up because they want to be there, not because they're bound by an ironclad contract. We understand that people move, finances fluctuate, health changes, and we never want anyone to be burdened by a contract. We have no minimum purchase and no hidden fees. You only pay for what you actually get, and that's an awesome high-intensity interval training (HIIT) class with free personal training included!
● Classes Every 10 Minutes
Our founders are personal trainers who heard the complaints of clients at other gyms. Classes were full, machines had wait lists, and they were charged for classes they couldn't make it to. Sweat440's classes start every 10 minutes, so you are #neverlate! Imagine a gym where no matter when you arrive, you can hop into a class! If your favorite class starts at 4:50, guess what, it starts again at 5:00 too, so you never have to miss a workout. That's just one revolution Sweat440 created to make class schedules fit members' schedules, not the other way around.
● Your First Class is Free + Free Personal Training Forever
That's right, everyone gets a free class! No "invitation only" memberships or referrals required. We make sure everyone has space to work out through our innovative scheduling, rather than excluding members. You can try a free class at any time, which includes free individualized instruction. Then buy as few or as many classes as you like, and the personal training is free in each one! Cancel at any time- but trust us, you're going to want to stick around!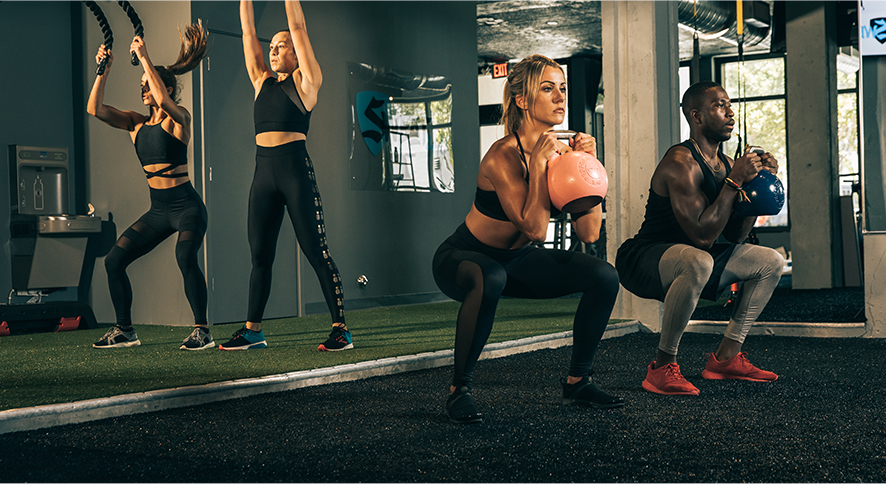 The Most Popular Gym for the Right Reasons: Sweat440
Why People Love Strength Training at Sweat440
Strength training fused with cardio for better results
High-intensity interval training (HIIT) burns more calories
Innovative equipment provides injury-free strength training
No contracts, minimum purchase, or hidden fees
Convenient locations with classes every 10 minutes
First class is free
Free personal training in every class
Popular Strength Training Gyms Near Me
Sweat440 in New York, NY (2 locations)
Sweat440 in Miami, FL (3 locations)
Sweat440 in Miami Beach, FL
Sweat440 in Coral Gables, FL
Sweat440 in Doral, FL
Sweat440 in Austin, TX
Sweat440 in Montréal, QC