Brickell - Miami, FL
25 SW 9th St. G100 Miami FL, 33130 (888) 507-9328
*First class free for local residents only.
Coral Gables - Miami, FL
301 Altara Ave. Suite 111, Coral Gables, FL 33146 (888) 507-9328
*First class free for local residents only.
Miami Beach - Miami, FL
1916 Bay Rd. Miami Beach FL, 33139 (888) 507-9328
*First class free for local residents only.
Miami Lakes - Miami, FL
6766-6774 Main Street Miami Lakes Fl 33014 (888) 507-9328
*First class free for local residents only.
Chelsea - New York, NY
600 6th Ave, New York, NY 10011 (888) 507-9328
*First class free for local residents only.
Financial District - New York, NY
80 John St, New York, NY 10038 (888) 507-9328
*First class free for local residents only.
Montreal - Canada
5000 Rue Jean-Talon O Suite 110 Montréal, Quebec, H4P 1W9 (514) 594 0440
*First class free for local residents only.
Madison - Alabama
10878 County Line Rd Madison, AL 35756 (888) 507-9328
*First class free for local residents only.
Austin - Texas
110 Jacob Fontaine Ln Austin, TX 78752 (888) 507-9328
*First class free for local residents only.
No studios available near you
Unfortunately we were not able to find any studios in , .
The Best Exercise Places Near Me for Younger & Older Adults
When it comes to fitness, age is just a number! We're all on individual fitness journeys which may not correlate to the number of candles on our birthday cakes. Whether you want to be fit for your age, or as fit as someone half your age, the right program can help you reach your goals. It starts with finding the ideal gym.
If you search for "exercise places near me," you'll turn up all kinds of things. A yoga studio, a cycling gym, a bodybuilding warehouse… which gym has what you need to optimize your health? There are essential things to look for in a gym, which increase in importance as we age.
6 Things Both Younger & Older Adults Should Seek in a Gym
1. Group Fitness Classes
One of the keys to staying fit is actually going to the gym! Group fitness classes make your gym experience 10 times as fun, and also more effective. Classmates provide accountability, camaraderie, inspiration, and encouragement. They help make the harder parts of the workout fly by, and offer a helping hand if needed. Sweat440 has exercise places near me with group fitness classes providing energy that fuels you to try harder than you would alone. Classes create essential social connection, forming friendships that lead to lunch after your workout, or coffee before your class.
2. Personal Trainers
Our bodies are constantly changing, as are our capabilities. Certified trainers know how to target your optimal heart rate and exertion levels, without you overdoing it. Trainers also know when we're just mailing it in and could be giving more effort. They sense when we need a break and encourage rest and hydration. They consider our overall health, nutrition, and limitations, and devise a safe plan to reach peak fitness. Trainers also ensure proper form, which is paramount for avoiding injury. As we age and experience things like disc degeneration and spinal wear and tear, proper form is essential to prevent things like strained muscles and herniated discs. At Sweat440, personal training is included for free in every class, so you always work out with supervisory expertise.
3. Flexible Schedules
We all know how unpredictable life is. Your child gets sick, your meeting gets rescheduled, your doctor's appointment runs long, traffic is a nightmare… there are endless disruptions to our days. That's why the best gyms have flexible schedules so you never have to miss a class. At Sweat440, you can book classes in advance, or stop by and we'll fit you in. We never charge for classes you have to miss, and our classes start every 10 minutes! Whether you're a morning person, a night person, or anywhere in between, there's always a class starting within minutes at Sweat440!
4. A Variety of the Latest Equipment
Fitness centers like cycling gyms or yoga studios are too one-dimensional for lasting fitness. Not only do our bodies acclimate, and therefore plateau, when we do the same thing, but they are also prone to injury when we don't mix things up. Rather than overusing the same muscles in a spin class or dance class, shake things up with high-intensity interval training (HIIT) at Sweat440 to keep your body guessing. Our state-of-the-art equipment like Ski Ergs, Versa Climbers, and Assault Bikes keep your workout fresh so you never get bored and your muscles never get complacent. Our variety of equipment also ensures that every member gets a full-body workout, regardless of any physical limitations.
5. Affordable Memberships
One of the bummers about being an adult is we have to pay our own bills! But, the advantage to that is we get to choose how we spend our money! Don't waste money on a gym that charges for a large plot of real estate or services and amenities you won't use. Instead, choose Sweat440, where every square inch is designed to max out your fitness, plus provide the luxuries you actually want like showers and locker rooms. We don't use contracts, and we offer multiple affordable memberships options so you can buy as few or as many classes as you want. Don't get locked into a gym with an ironclad contract that you can't get out of even if you don't like the gym.
6. Free Fitness Classes and Trainers
Staying fit is about sticking with your routine, so make sure your gym is the one you want! At Sweat440, we offer free classes for everyone, so you can see how you like it. Many gyms lock you in before you see what they're like, but we would rather you love it than feel stuck! Our classes all include free training for individual attention. We don't stick newcomers in the back of the class or leave them to figure out the machines on their own. Our trainers will help you with each exercise, and they're supplemented by animated demonstrations on screens at each exercise station. Trust us, you're going to love Sweat440! But we'll let you see for yourself, rather than charging fees before you even give it a try! We have no hidden fees, and offer frequent discounts and specials. We're passionate about enabling both younger and older adults to exercise, regardless of income or fitness level. Try a free fitness class at one of our convenient locations below!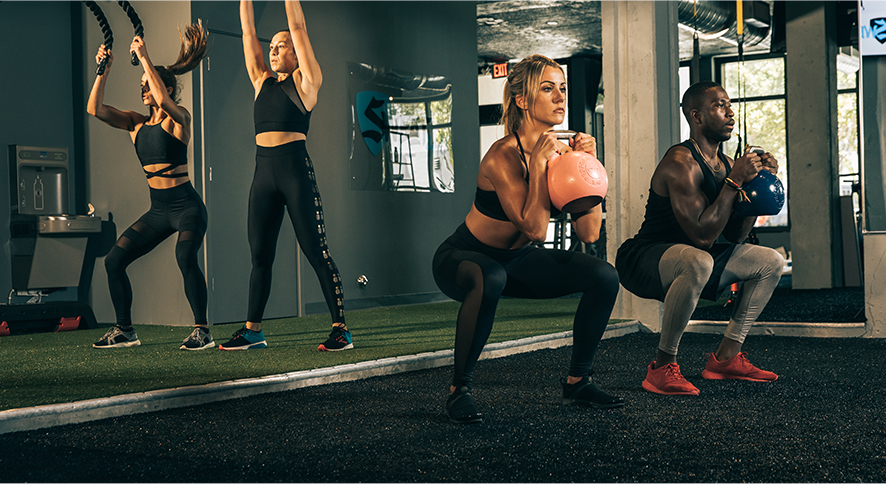 Exercise Places Near Me to Try Free Group Fitness Classes
Sweat440 Has Free Group Fitness Classes at These Gyms
Sweat440 Brickell in Miami, FL
Sweat440 Kendall in Miami, FL
Sweat440 Miami Beach in Miami Beach, FL
Sweat440 Palm Beach in Miami, FL
Sweat440 Downtown Doral in Doral, FL
Sweat440 Coral Gables in Coral Gables, FL
Sweat440 Chelsea in New York, NY
Sweat440 FIDI in New York, NY
Sweat440 Austin in Austin, TX
Sweat440 Montréal in Montréal, QC
Perks of Group Fitness Classes for Younger and Older Adults
Social connection
Encouragement and motivation
Proper form and execution with trainers
Accountability and inspiration
Persistence and attendance
Affordable individualized instruction
Fun and uplifting atmosphere
Inclusive environment
Variety to prevent boredom
Diverse equipment to avoid plateau