Are Exercise Gyms Near Me Dropping SilverSneakers?
If you're a fan of SilverSneakers, or you're looking to join, you might want to reconsider. One of the trademarks of Tivity Health, SilverSneakers is an extension of Medicare and Medigap, which covers gym membership expenses for qualifying seniors. But as of January 2020, AARP, United Healthcare, and other participants have dropped SilverSneakers from their plans. Individual gyms have also declined to renew contracts, including multiple YMCAs. The primary reason behind the cut is that 90% of members who are eligible for SilverSneakers don't actually use the benefit, making it a poor investment.
Which Gym Membership Includes SilverSneakers?
While some gyms still partner with SilverSneakers, the numbers are decreasing. Insurance companies continue to drop the program as well. It's important to check with your individual insurance plan to see if it's included for you. Don't just join a gym that offers SilverSneakers, without knowing if your policy covers it. And be aware that if your insurance plan decides to drop the program, you'll be left paying the monthly dues. Since the AARP no longer backs the program, many insurance companies will follow suit.
Is There a Fitness Program to Replace SilverSneakers?
Some companies like United Healthcare are offering a different fitness program, but it isn't as advantageous overall. It offers some discounts, but not the same coverage, and is aimed at a larger percentage of age ranges and policyholders, rather than just seniors. So, where does that leave older adults who want to stay physically active? For many, they're left to their own devices to find "affordable gyms near me" that suit their specific needs.   
Some large chain gyms haven't dropped SilverSneakers yet because they get paid even though participants don't show up. But gym owners that care about their members' health would rather have happy and active participants who use their gyms. Your best bet is to look for a gym founded by people who are passionate about health, with a particular emphasis on individualized instruction, so you get a safe and effective workout, regardless of your fitness level. Check out Sweat440's exercise gyms near me for free certified trainers, affordable rates, and flexible membership plans, so you can stay physically active, no matter what changes your insurance makes.  
Sweat440's Exercise Program is the Better Choice
The founders of Sweat440 are highly sought-after trainers who are passionate about making fitness accessible for all. That's why they offer free classes, free personal training, and individualized attention at each station to customize your workout. Whether you are stepping into a gym for the first time in a decade, or training for your next marathon, our trainers will customize a unique plan for the optimal workout to reach your desired goals.
How Sweat440 Prevails as the Fitness Center for All Ages
Sweat440 is unlike other gyms in many positive ways, including our inclusive atmosphere. Some gyms are overcrowded, intimidating, exclusive, or unwelcoming. But Sweat440's team meets you at the front desk to welcome you, explain how things work, and add you to a class. Our trainers stay with you throughout the entire class, so you always know what to do. Our members are a diverse group of all ages and abilities, so you'll fit right in. Take a look at some reasons our members rank our fitness program #1!
● Sweat440's Fitness Program is Completely Customizable
Our classes include 4 10-minute stations with 3 sets of 3 exercises each. This means you work to your own fitness ability and at your own pace, to safely get fit. Each set lasts for 45 seconds, with 15 seconds of rest in between. Go as hard as you want, or take it easy; trust your body and know that our gyms are uplifting places, where no one judges your abilities.
● Sweat440's Fitness Center Accommodates Limitations
Our classes are led by highly qualified trainers who adapt exercises for individuals. We can accommodate any limitations, from seated positions at cardio machines, to leg-only work if your upper body is achy. Our Ski Ergs, for example, offer a total body workout, and can be performed from a seated or standing position.
● Sweat440's Exercise Program is Highly Assistive
      Not only do our trainers assist you throughout each class, but we also have animated demonstrations of each exercise on screens at each station. Our classmates are encouraging and helpful, and ready to lend a hand. You can schedule classes online, or simply call or stop by.
● Sweat440's Locations Offer Amenities Like Showers & Lockers
Whether you want to take your time at the gym, or rush off to a meeting, Sweat440 accommodates your schedule. Our locations offer showers, lockers rooms, and plenty of space to work out, so you can get in and out quickly, or relax after your workout.
● Sweat440's Classes Start Every 10 Minutes for All Members
Are you an early bird, a night owl, or a midday fitness buff? Sweat440's classes start every 10 minutes, so fitness is always available to you. You can book in advance, or just stop by, and our front desk team will fit you into a class within minutes.  
● Sweat440 is Consistently Excellent
With other gyms, amenities vary by place, as does the level of customer service and instruction. SilverSneakers classes have a huge range in quality of instructor, facilities, and amenities. You might get a yoga class, a karate class, or a swim class. At Sweat440, our amenities, trainers, and customer service are always top-notch. Tivity Health has multiple registered trademarks like NutriSystem and South Beach Diet to focus on, but Sweat440 is solely focused on members, not corporate agendas.
Choose Sweat440 for Affordable Exercise Gyms Near Me
One of the best reasons to choose Sweat440 is the affordable pricing. We don't use contracts, so you're never locked in. Your first class is FREE, and you can buy as little as one class at a time. Unlike other gyms, we put members in charge of their membership, with multiple flexible plans, and no hidden fees. Try Sweat440 for free today to stay physically active, no matter what your insurance plan covers.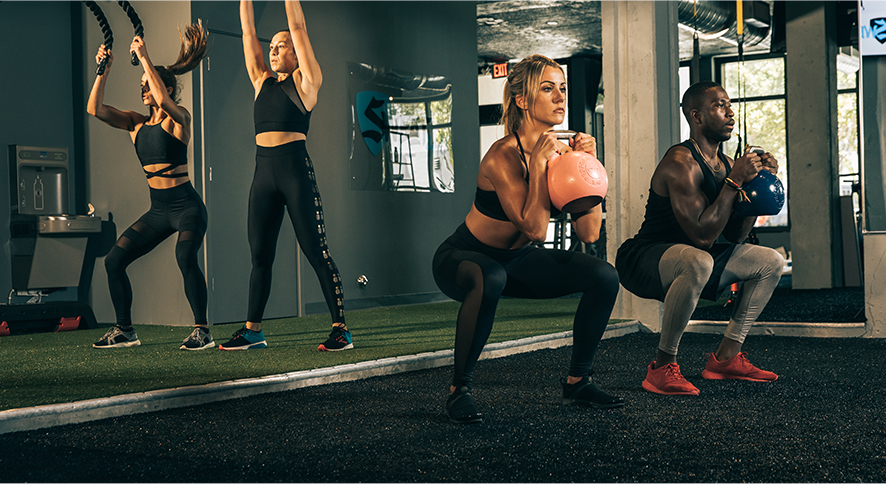 Stay Physically Active Within Your Budget at Sweat440
How Sweat440 Saves You Money
No Contracts
First class is FREE
Free training in every class
Multiple membership options
Buy as little as one class at a time
Showers and locker rooms onsite
Convenient locations to save gas
How Sweat440 Assists All Fitness Levels
Certified trainers in every class
Instructors circulate for personal attention
Accommodations for abilities
Alternate exercises at each station
Brief sets with periods of rest
Classes every 10 minutes for all schedules
Classes booked online or in person