Uplifting Exercise Classes Near Me for All Fitness Levels
Need a little positivity in your life? Exercise provides the endorphin boost we all need for optimal happiness. But some group fitness classes actually undermine that happiness with their approach. 
Sweat440's Group Fitness Classes Are Designed to Inspire You
Exercise is meant to make you happy! It's like medicine for your mental health, as well as your physical body. When you finish a workout, you should feel proud, inspired, strong, and healthy! That's why Sweat440 does fitness differently! Our group fitness classes are infused with positivity, to encourage you while you work out. Since our classes are designed for all fitness levels, we welcome everyone and gladly show you the ropes. We're fueled by upbeat music, classmate encouragement, and even high-fives between stations! We love celebrating milestones together, whether it's improved muscle strength, accelerated weight loss, or enhanced endurance. With convenient locations around the world, an uplifting exercise class is just outside your door!
Does Your Dance Fitness Class Lack Results?
If you're a fan of upbeat fitness, you may have tried a dance fitness class like Zumba, only to find disappointing results. That's because dance is a form of steady state cardio, which means it lacks intervals of intensity. For optimal calorie burning, you need variations of intensity, performed at intervals that target your VO2 max. This is the point at which your body uses the maximum amount of oxygen during a workout, which means you burn the most calories during, as well as after, your workout.
So, what's the solution to a dance fitness class that leaves you disappointed? Sweat440's group fitness classes! Our HIIT classes have the inspiring music you love and the high energy pace where you move quickly from one station to another. But rather than burning moderate calories and building minimal muscle, like in Zumba, you'll max out both calorie burn and muscle strength! Party your way through our fast-paced circuits and get that dancer's physique you're seeking!
Do You Qualify for Silver Sneakers but Want Something More?
If you're in the "Silver Sneakers" age range, you might wonder if Sweat440 is right for you. If you're eligible for the "Early Bird Special" at restaurants, do you only eat dinner at 4:00 pm? Of course not! Just because you CAN do Silver Sneakers, doesn't mean you should limit yourself to that option. Sweat440's classes are adaptable to all fitness levels, and you always work at your own pace and comfort level. Sweat440's gyms are an inclusive environment of participants of all ages. There's nothing more uplifting than a community of diverse people working together for better health!
Unlike other classes for seniors which are often led by community volunteers, Sweat440's classes are led by certified trainers who circulate through every class for individual attention. They'll find your optimal heart rate, positioning, and pace, and make sure your workout is both safe and effective. In fact, our classes are enjoyed by everyone from elite athletes to those in cardiac rehab. Our state-of-the-art equipment is designed to accommodate everyone's needs and can be performed sitting or standing, with adaptations at each station. Our trainers are pros at making sure you stay within the proper exertion, hydration, and pulse ranges for your body.
Sweat440 Has Exercise Classes Near Me That Inspire Everyone
Whether you favor group fitness classes, strength training, calorie burning, or dance fitness classes, Sweat440 is designed for you. Each of our high energy classes utilizes the high intensity interval training (HIIT) method for cross circuit training. That means that each movement builds muscle as well as it blasts fat.
For example, our Ski Ergs burn calories as you pull down, but also build muscle with resistance. They can be performed from a seated position, making them suitable for all fitness levels. Our Assault Bikes work both your upper and lower body, unlike typical spin bikes. Since they create resistance based on your effort, they're customizable for each participant.
Each exercise is performed for just 45 seconds, followed by 15 seconds of rest. So, you can crush serious reps with high resistance, or move slowly with less resistance. Whether you are pregnant, recovering from surgery, or mending an injury, our workouts can be performed with your doctor's approval. And if you're training for an IronMan, marathon, athletic recruitment, or bodybuilding competition, there's no better place to max out your fitness. Our instructors customize each training class as needed to provide an environment that's suited for all.
Class Focus: Results, Convenience, Inclusivity, Positivity
At Sweat440, we forego the typical gym's focus on things like profits, exclusivity, and locking members into contracts. Instead, we offer multiple convenient "exercise classes near me," no matter where you live. We don't use contracts or hidden fees, and we treat newcomers as the welcome guests that they are. Come try a free class today and see why Sweat440 consistently ranks #1! Our HIIT method is indisputably superior, but we have no air of superiority. Instead, we are an inclusive group whose focus is on better health for everyone! Find "uplifting exercise classes near me" below!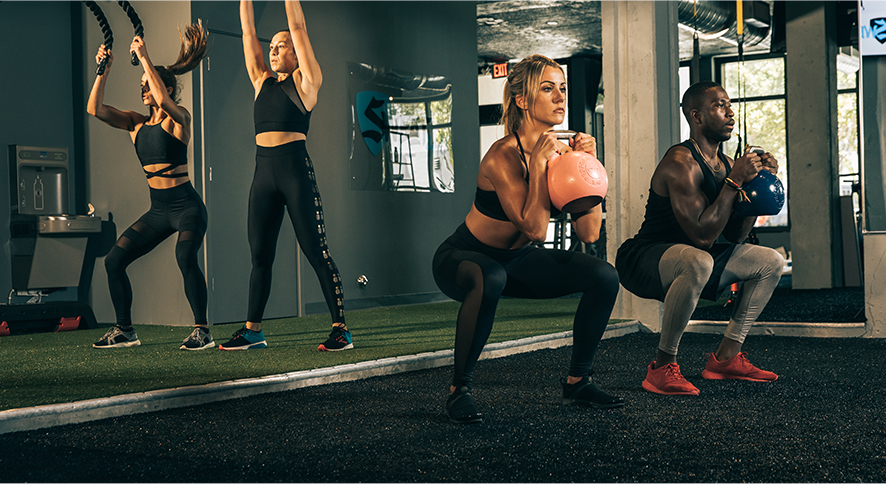 Try an Uplifting Exercise Class for Free Today!
Sweat440's Exercise Classes Near Me
Brickell– 25 9th St., Suite G100, Miami, FL 33130
Coral Gables– 301 Altara Ave, Suite 111, Coral Gables, FL 33146
Doral– 8403 NW 53rd St., Doral, FL 33166
Miami Beach– 1916 Bay Rd., Miami Beach, FL 33139
Kendall– 4293 SW 152nd Ave., Miami, FL 33185
Palm Beach– 3201 N. Miami Ave., Suite 10, Miami, FL 33127
Chelsea– 600 6th Ave., New York, NY 10011
Financial District– 80 John St., New York, NY 10038
Austin– 507 Pressler St., Austin, TX 78703
Montréal– 5000 Rue Jean-Talon O, Montréal, QC H4P 1W9
How Sweat440 Spreads Positivity
Membership options + no contracts = happy members
Classes every 10 minutes so everyone can join
Upbeat music and high energy
Classes designed for all fitness levels for inclusion
Adaptations and video demos to accommodate all
Certified trainers in each class for safety and motivation
Intervals of 45 seconds to keep your body happy
Calorie burn that lasts for hours for positive results
Encouraging classmates who give high-fives
Conveniences like showers and lockers to simplify fitness