Sweat440 Miami vs. Dynamic Health and Fitness Miami
Dynamic Health and Fitness in Miami is owned by a trainer who offers bootcamps and personal training. The small space holds weight racks and a few pieces of equipment but advertises equipment that isn't even there. The website suggests you can use the treadmills anytime, even when you aren't training, but also says they are "coming soon." It boasts of a restroom and a shower with toiletries, but those are also "coming soon." It's not really clear what you actually get at Dynamic Health and Fitness. In fact, the owner has multiple websites that all say different things. But one thing is clear, there are some things you definitely don't get. Take a look at 5 things the gym lacks, and see how Sweat440 provides them.
What Dynamic Health and Fitness Lacks:
1. Transparent Pricing
The Dynamic Health and Fitness websites are very confusing- even the domain names seem wrong. The owner promotes services and equipment that aren't yet available, and doesn't disclose pricing for most of them. He claims to offer online training and personal training, but there are no fees to be found. A former LA Fitness staffer, he seems to be trained in the vague pricing and tricky contracts that gym uses.
At Sweat440, our pricing is completely transparent, and you know exactly what everything costs. We don't lock you into a contract and we offer free classes and multiple membership levels. We provide tons of videos to show you what we're about, as well as the latest fitness news. Our workout stations are equipped with animated demos so you always know what to do. We stick with you throughout every workout so you are never confused.
2. Sufficient Equipment
Dynamic Health's space is quite small and cramped, and only a few pieces of equipment line the walls. It's not much different than equipment you could buy yourself, so it lacks the value of membership. The trainer provides both indoor and outdoor bootcamps, so in some ways, your fees are paying for the gym, even if you only do outdoor bootcamps.
At Sweat440 we utilize countless state-of-the-art tools and innovative equipment you won't find anywhere else. Versa climbers, ski ergs, assault bikes, and slam balls are just the beginning. We have not one, but four locations in Florida, and we are steadily growing. You will find what you need at Sweat440, as well as things you've never seen but can't wait to try.
3. Flexible Schedule
The bootcamps at Dynamic Health and Fitness are only offered in two indoor morning timeslots or two outdoor evening timeslots. So, if they don't fit your schedule or you're running late, you have to miss the class. Due to the cramped quarters, the bootcamps only allow a small number of participants, so you may not get a spot at all. Then you're left paying extra for personal training or owning a membership you can't use.
Sweat440 has classes that start every 10 minutes, around the clock. We can fit you in no matter when you show up, and at Sweat440, you're #neverlate. We prioritize your schedule, rather than making you fit into ours. Our founders designed Sweat440 to fit everyone's schedule, and they're the only gym that actually does.
4. A Full Staff
When the owner is the trainer and there are no other employees, problems occur. If he is sick, injured, or away on vacation, your session is cancelled. Without a front desk staff or multiple trainers, there's no one to answer your questions when he is training. Trying to balance the training, managing, paperwork, and headaches leads to disaster, which has caused many personal training facilities to shut down. Dynamic Health and Fitness relies on outdated methods like emailing the trainer to find a spot in the class. It's a recipe for disaster.
Sweat440 employs multiple certified instructors as well as front desk support, and digital help via apps and online scheduling. We don't rely on one trainer to cover all of our classes, we're fully staffed day and night. Your classes won't be cancelled if an instructor is out, we have a strong team of support in our gyms. We update our social media like Instagram regularly, so you are aware of our special events and updates. At Sweat440, we are prepared to meet all of your needs with our comprehensive team.
5. A Proven Method
When you work out with an individual trainer, you rely on their insight for the best path to fitness. At Dynamic Health and Fitness, there is no evidence of certifications, education, or methodology for the workouts. While there are claims of results and outcomes, it's not even clear what equipment the gym includes. And bootcamps often vary widely in effectiveness and individual outcomes.
Sweat440 uses the method proven by medical and scientific research to deliver the most efficient workout available. Our high-intensity interval training (HIIT) classes combine compound cardio with weight resistance and interval variations that burn the most calories while building muscle. We maximize oxygen consumption which leads your body to burn calories even after the workout is done. The best part? All of our classes are done in just 40 minutes! The four 10-minute stations pack in 3 exercises each, repeated 3 times, for a diverse workout that keeps your body on its toes.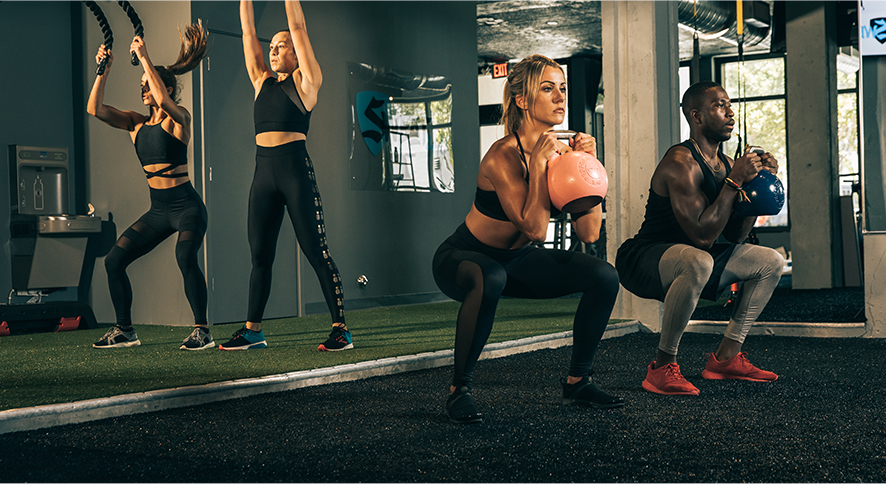 Why Sweat440's HIIT Outmatches Dynamic Health's Trainer
The Cost of Personal Trainers
Personal trainers charge a premium because of limited availability.
Personal trainers cancel classes when they have a schedule conflict.
Personal trainers draw on limited resources and biased methods.
Personal trainers can't accommodate your schedule or fit you in as needed.
Personal trainers often switch gyms or go out of business.
The Value of Sweat440's HIIT Classes
Sweat440 provides affordable pricing with multiple membership options.
Sweat440 has classes every 10 minutes so you always find a spot.
Sweat440 uses the method proven to deliver the best results the fastest.
Sweat440 employs a devoted team to meet all of your fitness needs.
Sweat440 doesn't cancel classes or force you to work around their schedule.