Discover Top Group Fitness Classes Near Music Row, Tennessee
Are you on the hunt for outstanding group exercise classes near Music Row, Tennessee? Search no more! SWEAT440 brings you lively, energetic workout sessions suitable for both novices and seasoned fitness enthusiasts. Offering a diverse range of fitness classes, cutting-edge facilities, and a welcoming community, SWEAT440 is the ultimate destination for your fitness needs. And with a complimentary initial class for newcomers, you've got nothing to lose!
The Unique SWEAT440 Experience: How Our Collective Exercise Classes Stand Out
SWEAT440 distinguishes itself from other fitness centers and studios in the Music Row vicinity. Here's what makes our group exercise classes exceptional:
Efficient 40-minute workouts: Our high-intensity interval training (HIIT) and cross-training sessions are crafted to be both effective and time-saving, delivering optimal results in just 40 minutes.

Every 10 minutes a new class begins: SWEAT440's innovative class structure allows newcomers to join every 10 minutes, ensuring you'll never miss a workout.

Skilled instructors and support: Our expert trainers guide you through each session, providing motivation, assistance, and modifications as required.

Advanced facilities: Our fitness centers boast top-notch equipment, including treadmills, rowing machines, assault bikes, sleds, battle ropes, suspension training, and more.

All-inclusive community: The 440 Squad embraces individuals of all fitness backgrounds and levels, fostering a supportive and motivational atmosphere.
Diverse Group Exercise Classes at SWEAT440
SWEAT440's collective exercise classes are designed to offer variety and challenge, keeping you engaged and progressing. Some of the classes you can expect at our Music Row location are:
HIIT: High-intensity interval training alternates short bursts of intense exercise with rest periods or low-intensity activity, maximizing calorie burn and improving cardiovascular fitness.

Strength training: Develop and sculpt your muscles with our strength training sessions, utilizing resistance exercises to target different muscle groups.

Functional training: Enhance your daily life with functional training, focusing on exercises that simulate everyday movements and build overall strength and stability.

Cardio: Increase your endurance and heart health with our cardio-centric classes, incorporating a variety of exercises and equipment to keep you challenged and engaged.
Try Your First SWEAT440 Class for Free!
Curious about our group exercise classes near Music Row, Tennessee? We invite you to experience a workout for yourself with our free initial class offer. It's the perfect chance to see if SWEAT440 is the right fit for your fitness journey. Just visit our website or contact our Music Row location to reserve your spot and join the 440 Squad.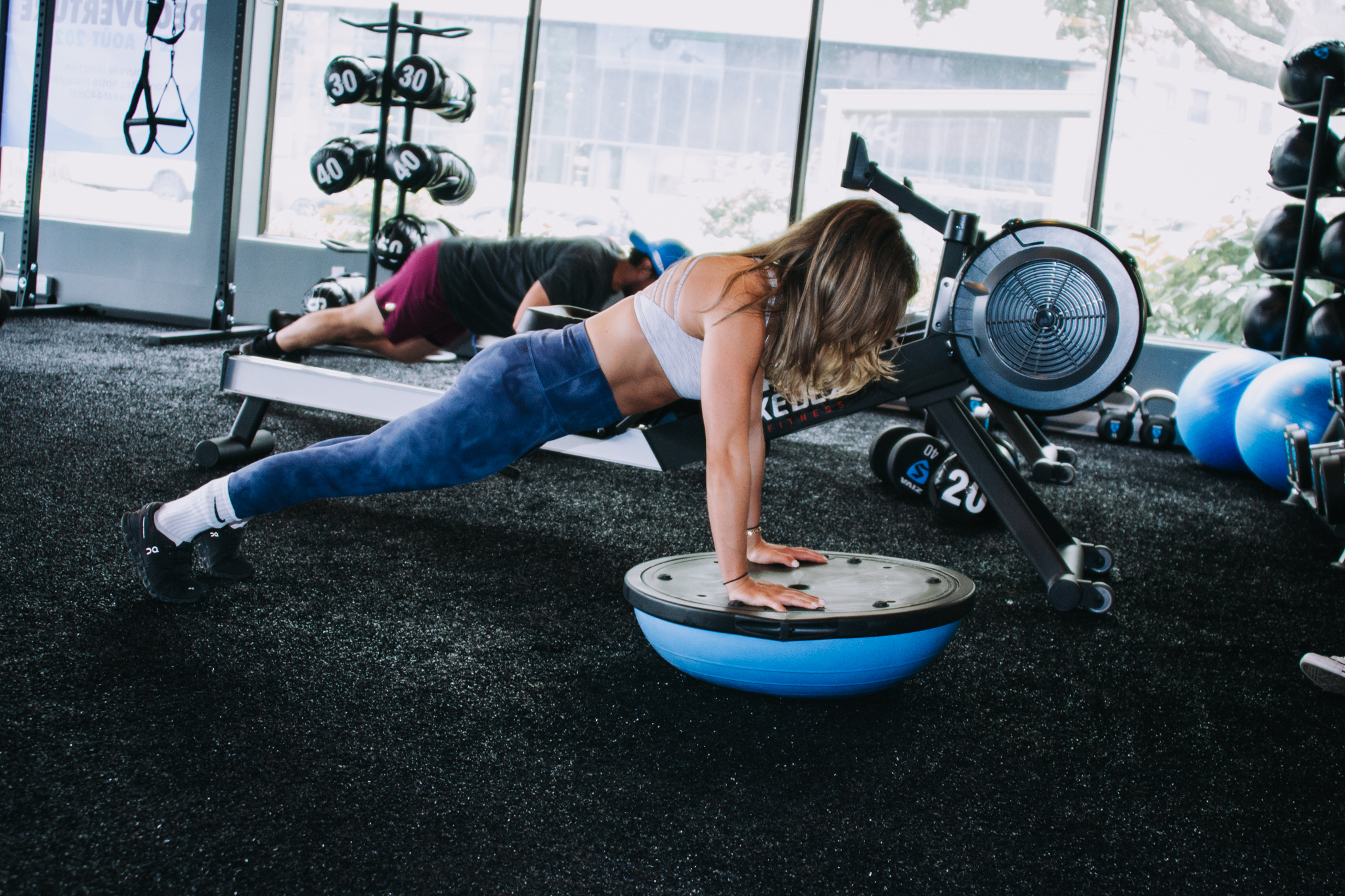 Advantages of Group Exercise Classes at SWEAT440
Participating in SWEAT440's group exercise classes comes with numerous benefits to help you achieve your fitness goals and embrace a healthier lifestyle. By becoming part of the 440 Squad, you can expect:
Motivation and commitment: Group exercise classes foster a supportive environment that boosts motivation and keeps you dedicated to your workouts.

Social interaction: Connect with new people and make friends who share your enthusiasm for health and wellness.

Expert supervision: Our professional trainers ensure you're performing exercises safely and effectively, minimizing injury risk and optimizing your results.

Variety and enjoyment: With a broad range of classes and workout styles, you'll never grow bored and will always have something new to look forward to.

Personalized experience: Our trainers are skilled at offering modifications and adjustments for exercises to suit individual fitness levels and abilities.
How to Begin with SWEAT440 Group Exercise Classes
Eager to join the best group exercise classes near Music Row, Tennessee? Here's how to get started:
Register for your complimentary first class: Visit our website or contact our Music Row location to reserve your spot in our free initial class.

Consult your doctor

: Before starting any new exercise program, it's crucial to consult with your healthcare provider, particularly if you have pre-existing medical conditions.

Come prepared: Bring a water bottle, towel, and wear comfortable, breathable clothing and supportive athletic shoes.

Be open-minded and enjoy yourself: Embrace the challenge and relish the camaraderie of group exercise classes as you embark on your fitness journey with SWEAT440.
Flexible and Convenient Class Scheduling
One of the standout features of SWEAT440 is our adaptable class scheduling. With new classes starting every 10 minutes, you can easily fit a workout into your hectic day, making it more convenient than ever to prioritize your fitness goals.
Attain Long-Lasting Success with SWEAT440
Consistency is vital for long-term success in fitness, and our group exercise classes are designed to keep you engaged and coming back for more. By offering diverse workout styles, expert guidance, and a supportive community, SWEAT440 lays the groundwork for enduring fitness success.
Explore Additional Services and Amenities
Besides our group exercise classes, SWEAT440 offers a range of services and amenities to enhance your overall workout experience. Take advantage of training sessions, nutrition guidance, and post-workout recovery tools to support and accelerate your progress.
Immerse Yourself in the SWEAT440 Community
SWEAT440 is more than just a fitness center – we're a community. Our 440 Squad comprises individuals from all walks of life, united by their passion for fitness and personal growth. By joining our group exercise classes near Music Row, Tennessee, you'll become part of this supportive and empowering community that celebrates success and lifts each other up.
SWEAT440's group exercise classes near Music Row, Tennessee, provide an unrivaled workout experience tailored for all fitness levels. With our dynamic classes, expert trainers, and flexible scheduling, there's no better place to begin or continue your fitness journey. Don't wait any longer to experience the SWEAT440 difference – sign up for your free first class today and join the 440 Squad on the path to improved health and fitness.
Learn more about SWEAT440 Method
The Unique SWEAT440 Experience:
Efficient 40-minute workouts

Every 10 minutes a new class begins

Skilled instructors and support

Advanced facilities

All-inclusive community
Advantages of Group Exercise Classes at SWEAT440
Motivation and commitment

Social interaction

Expert supervision

Personalized experience