10 Different HIIT Exercises You Can Try for Free at Sweat440
High intensity interval training (HIIT) is the hottest trend in fitness for good reason. It delivers superior results in less than half the time! And unlike other fitness trends, this one's backed by scientific evidence, which means it's here to stay! Doctors, researchers, and trainers agree, it's the preeminent workout for people of all fitness levels. One of the best things about HIIT? All of the versatility! It's a dynamic fusion of functional bodyweight exercises, strength training, and compound cardio for a workout that's different every day.
In order to reap the true benefits of HIIT, you need some awesome equipment. But you don't have to spend a dime to give it a try! Sweat440 has the latest equipment so you can try all of the different HIIT exercises under one roof. At Sweat440, your first class is free, and our classes start every 10 minutes! Stop into one of our convenient locations to start HIIT today!
Goodbye Steady State Cardio, Hello Compound Cardio Workout!
Steady state cardio is a real yawn, and it's also super inefficient. You can run on a treadmill for hours without burning many calories or building measurable muscle. At Sweat440, we use different HIIT exercises for interval workouts that maximize calorie burn. Our varied intensity means you can sustain higher levels of exertion for longer periods of time, thereby increasing your endurance. Studies show interval workouts reduce absolute fat mass by 28.5% more than moderate steady state cardio! Best, of all, you never get bored, since our exercises are performed in intervals of 45 seconds! Revive your routine with interval workouts on our state-of-the-art machines.
10 Different HIIT Exercises to Revive Your Workout
Assault Bikes- In typical spin classes, it feels like you're pedaling to nowhere. You might spend hours on a bike and never see tangible results. That's because your body engages in muscle memory and starts to coast through the workout. But Sweat440's Assault Bikes use resistance to elevate your cardio workout. We alternate high intensity intervals with brief rest periods to keep your body guessing. Better yet, our Assault Bikes engage your upper body as well as your legs, unlike other bikes. Stop pedaling to nowhere, and come pedal your way to a better body at Sweat440!
Ski Ergs- Ski Ergs are dynamic machines that build muscle as effectively as they burn calories. With the motion of cross country skiing, you increase your heart rate, blasting fat and calories, while sweeping through a full-body movement that builds incredible muscle. This machine is as fun as it is powerful, and is customizable for limitations like those who need to remain seated during exercise.
Versa Climbers- The Versa Climber is an incredible machine that acts as a lower body stepper and upper body climber combined. The unique arm and leg pushing and pulling action keeps your arms above your heart for optimal circulation, so you can crush your workout for killer results. Not to mention, it's so much fun! What other machine blends a step mill with the thrill of rock climbing, for a quick way to torch your total body? Forget steady state cardio, come take your fitness to new heights!
Battle Ropes– How's your day going? Got a little stress to relieve? Come throw the battle ropes at Sweat440 and feel the aggression melt away. This strength building, fat blasting exercise makes you feel invincible and feel like a kid again at the same time. You might expect definition in your arms and shoulders with this move, but check out your back, abs, glutes, and thighs after throwing these ropes too!
Sliders- Want to sculpt your hips, legs, and glutes while toning your total body? Hop onto our sliders for a fun station that combines the thrill of rollerblading, ice skating, and skiing, and burns calories twice as quickly. Slide your way from left leg, to right leg, for a beach-ready body with our slider circuits.
Sleds- Is life pushing you around? Push back by enhancing your strength and endurance with sled training in our interval workouts. Tap into your internal power and shove our sleds to shove away unwanted pounds. Build strength in both your upper and lower body while torching calories and stress.
Kettlebells- Don't be fooled by their cute shape, these tools are a powerhouse for fitness. Kettlebell swings, squats, lunges, and lifts create the physique you've been waiting for. At Sweat440, we supply a range of weights so everyone from beginners to pros can max out their kettlebell work. Pump up your heart rate and your muscles with kettlebells.
Dumbbells- Want to sculpt your body but don't have the space or budget for a full set of weights? Not to worry, Sweat440 has everything you need to squat, press, and curl your way to an enviable physique. With our variety of equipment and instruction from certified trainers, you can curl your first 5-pounder, or train as a competitive lifter in our gyms. 
TRX- Ready for lean muscles and that coveted 6-pack? Strap into our TRX system for moves that use your own bodyweight to shred fat. Increase strength, flexibility, and endurance simultaneously with these exercises that are more fun than your childhood playground. 
Functional Exercises- You won't believe what your body is capable of with the right training. Russian Twists, Right and Left Leg Burpees, Mountain Climbers, Plank-Ups, Supermans, Plyo Push-Ups, Lateral Lunge Hops … the sky's the limit with Sweat440's interval training.
Try High Intensity Interval Training (HIIT) Free Today!
Want to try everything on this list? Then, what are you waiting for? Sweat440's HIIT classes are free, and they start every 10 minutes! Want a workout that burns calories? Want to target your optimal heart rate? Interested in losing weight? Ready to build muscle definition? No matter what you want to achieve, Sweat440's different HIIT exercises obliterate fitness goals quicker than any other workout. Join us today and see why this trend is here to stay!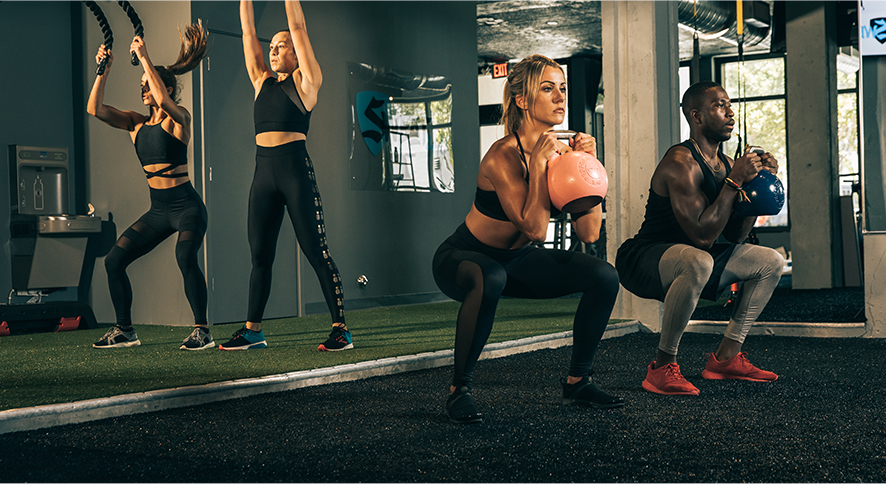 Find a Free HIIT Class Near Me!
10 Places to Try Free HIIT Exercises:
Sweat440- Brickell
Sweat440- Kendall
Sweat440- Palm Beach
Sweat440- Miami Beach
Sweat440- Doral
Sweat440- Coral Gables
Sweat440- Austin
Sweat440- Montréal
Sweat440- Chelsea
Sweat440- Financial District
10 HIIT Exercises to Try at Sweat440:
Assault Bikes
Ski Ergs
Versa Climbers
Battle Ropes
Sliders
Sleds
Kettlebells
Dumbbells
TRX
Functional Exercises