Looking for a Covid Safe Gym Near NYC? Ask These 10 Questions
1) Does the Gym Follow Covid Guidelines for New York City?
Governor Cuomo approved the reopening of NYC gyms by September 2nd, providing they comply with reopening guidelines. This guidance includes strategies like social distancing, face coverings, and sanitation measures, and is subject to change as Covid infection rates increase or decline. Select a fitness studio that follows the guidelines closely, to ensure that you're choosing a Covid safe gym near NYC. Sweat440 has stayed in full compliance with Covid restrictions throughout the pandemic. Certain gyms that didn't comply are now out of business but, unfortunately, there are still some non-compliant fitness centers flying under the radar. Use these questions to sort them out, or just head straight to Sweat440, where safety is our first priority!  
2) Does the Gym Use a Cleaning Protocol & Sanitizer Station?
The CDC recommends frequent sanitizing of all gym equipment, surfaces, and high-touch areas, which some gyms aren't doing. At Sweat440, we clean equipment and surfaces after each use, plus we use Protexus electrostatic spraying devices and antimicrobial defogging procedures on a regular basis for an even deeper clean. We provide sanitizing sprays and cloths to our members, and a sanitizer station is never out of your reach. Since our gyms are staffed at all times (unlike some 24-hour gyms in NYC), there is always a team member overseeing the cleanliness of our facilities.
3) Does the Gym Monitor Capacity and Social Distancing?
If you want to be sure you're joining a Covid safe gym near NYC, look for evidence of social distancing and capacity limits (33% capacity as of August 2021). Some gyms are so eager to recoup their losses that they're packing people in without regard for their safety. At Sweat440, we've always kept capacity low to provide individual instruction to each member. However, we've reduced our capacity even further to ensure that you have ample space. We rotate members out every 10 minutes, thanks to our unprecedented number of classes. We also divided our exercise stations into individual pods with your own equipment, so you aren't touching what anyone else touches. Our gyms are clearly marked for social distancing with guides on the floor and walls, so you don't have to ask anyone for more space.
4)  Does the Gym Require Staff to Wear Masks?
Sweat440 follows all Covid regulations for employees, including the recommendation to wear masks when indoors and less than 6 feet apart. Our gyms are designed to allow plenty of space between members and trainers, but we also wear PPE whenever we're in close proximity. Some gyms don't follow this guidance, so make sure your gym has measures in place to protect its members when they can't be 6 feet apart. We also began offering outdoor classes during the pandemic for members who prefer that option.
5) Does the Gym Have Facilities to Wash Your Hands?
Gyms were advised to pause the use of amenities like showers and locker rooms for portions of the pandemic, to limit congregating and community transmission. However, gyms should still offer a way to wash your hands that aligns with the guidelines for their county. Whether that is access to bathrooms, a hand washing station, or hand sanitizers, make sure there's a way to wash your hands before you head home. Sweat440 has multiple options for sanitizing your hands, because your health is of utmost importance to us.  
6) Does the Gym Ask You to Bring Your Own Water Bottle?
One of the easiest ways to stay hydrated yet avoid illness (including colds and flus, not just Covid-19), is to bring your own water bottle, rather than drinking from a water fountain. Choose a gym like Sweat440 that offers water stations for refilling purposes only, reducing the germs acquired on fountains when people drink directly from them. This requirement has been in place since the beginning of the pandemic at Sweat440, helping keep our members healthy.  
7) Does the Gym Require Face Coverings for Members?
Some NYC gyms require masks for staff but not members, and some don't require them at all. But most are following the government's recommendation that appropriate face coverings be worn by everyone when they're within 6 feet of each other indoors. Sweat440's layout keeps you 6 feet away from others while you work out, and we also advise our members to wear face coverings whenever you're walking through the facility, using the restroom, or less than 6 feet from others. We do this to ensure that you stay healthy and able to exercise with us! We missed you during gym closures, and we don't want any of our awesome members to be sick or stuck in quarantine!      
8) Does the Gym Conduct Health Screens for Staff?
Sweat440 implemented health screens at the onset of the pandemic, and we continue to monitor our staff's health regularly. We use temperature checks and symptom checks, and we ask team members to stay home and get a Covid test when they're experiencing any symptoms or have been exposed. We follow all CDC recommendations for a safe return to work after the period of quarantine. We have the best team in NYC, who seeks to keep each other and our members safe!
9) Does the Covid Safe Gym Near NYC Offer Free Trials?
A gym might claim to be Covid safe, but the only way to know is to check their procedures out in person. Unfortunately, some gyms require you to join, or sign a binding contract before you can try the gym. Look for a gym like Sweat440 that offers a free trial, so you can assess their safety without getting locked in. If a gym is truly compliant, they won't have anything to hide. So, don't agree to a membership before they let you take a test run. Visit Sweat440 Chelsea, near the Flatiron Building for your free class and contract-free membership options!
10) What Are Your Essentials for a Covid Safe Gym Near NYC?
While the CDC and New York City government have suggestions for Covid safety, you should also ask yourself what your essentials are. Do you want a smaller gym where contact tracing is easier? Do you want a gym where instructors are always present to ensure members are socially distanced? Do you want a gym that rotates members out as soon as their class is over, to reduce congregating? Sweat440 provides all of this and more to our members. Consider what you want from a Covid safe gym in New York City, and then contact Sweat440 with your questions. You're likely to find that we have what you're looking for!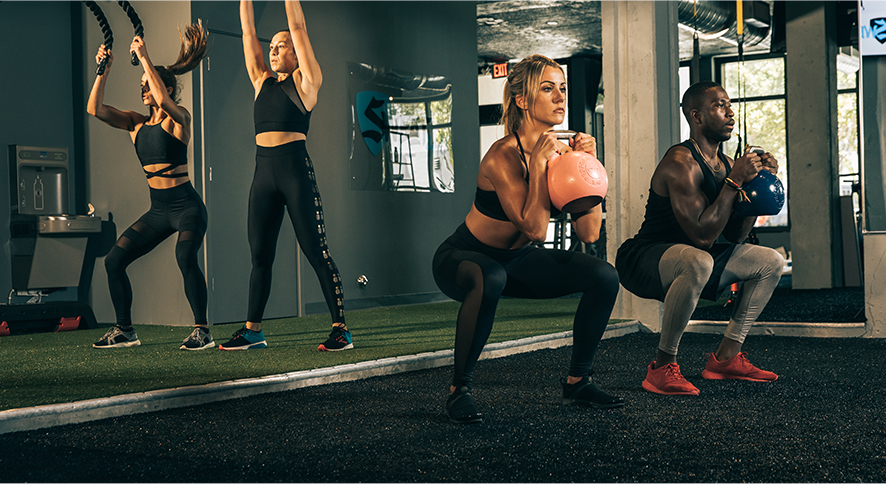 10 Tips for Finding a Covid Safe NYC Gym
10 Questions to Ask the Gym:
Do you follow Covid guidelines for New York City?
Do you sanitize and have a sanitizer station?
Do you monitor capacity and social distancing?
Do you require staff to wear masks?
Do you have ways to wash your hands?
Do you suggest members bring a water bottle?
Do you require face coverings for members?
Do you conduct health screens for staff?
Do you offer a free trial?
Do you meet my specific needs?
10 Questions to Ask Yourself:
Do I want a small gym for contact tracing?
Do I want trainers present for oversight?
Do I want staff to limit congregating?
Do I want equipment sanitized frequently?
Do I want unsafe amenities paused?
Do I want a contract-free gym for flexibility?
Do I want to resume safe fitness classes?
Do I want an inviting atmosphere?
Do I want a gym that's staffed at all times?
Do I want a gym that restores fun and normalcy?