5 Steps to Find a Covid Safe Gym Near Manhattan
1. Inquire About the Fitness Center's Founders
Who created the gym you're considering? Was it a health and fitness enthusiast or a corporate entity? Fitness centers lost money during the pandemic, just like many other businesses. But those that were founded by fitness experts are interested in more than recouping those losses. Sweat440 FiDi was founded by renowned personal trainers, Matthew Miller and Cody Patrick, who want to resume their calling: helping others achieve optimal health. Our primary goal is to provide a covid safe gym near Manhattan that our members can confidently return to.
Our founders, and all of our instructors, missed their members and the camaraderie of working out together. We would never compromise your safety by cutting corners to maximize income, like some gyms are doing. In fact, we go above and beyond the CDC's recommendations, using several deep-cleaning tactics, like Protexus electrostatic sprayers, in addition to regular sanitizing. At Sweat440, the greatest loss was the connection to our members, not financial loss, and we promise your safety will always take precedence in everything we do.
2. Ask if Members and Staff Wear Masks
If the fitness center is vague about their stance on masks or face coverings, it's best to look elsewhere. Whether they require masks or are mask-optional, it's important that they make that clear and enforce mask usage if it's required. Most Manhattan gyms now allow you to remove your mask while actively exercising, to enhance your ability to breathe. But make sure the gym spells out their guidelines before you join, and also that they allow ample space to work out so that you are 6 feet away from other members while masks are off.
Generally, instructors should be wearing a mask if they are less than 6 feet from you and not actively exercising, per current recommendations. As these guidelines are subject to change, the most important answer to hear from any gym that you're considering is that they are following the latest recommendations.
3. Determine Their Social Distancing Protocols
Some gyms just post a sign advising members to stay 6 feet apart. Others, like Sweat440 FiDi, make that easy to do, by marking the floors for your safety. We also provide individual workout pods and equipment so you don't have to share anything while you're here. Our gyms were already set up to easily follow Covid protocols, since we're a circuit-based, class-driven gym.
Rather than members roaming around aimlessly throughout their workout, we follow a circuit training path of 4 10-minute stations, each containing 3 sets of 3 different exercises. There is a pattern to our classes that ensures social distancing is never an issue. Some New York City gyms are crowded and chaotic, with members packed into classes or waiting for machines, and no one overseeing proper flow or equipment sanitization. Sweat440 is the complete opposite. With classes every 10 minutes, and staff onsite at all times, we have a well-tuned system for keeping members safe.  
4. Consider a Boutique Gym Before a Large Training Facility
Large gyms might have a lot of equipment, but they also have a lot of people passing through, and a higher staff to member ratio. That means there's less oversight and more people touching each thing you touch in the gym. While oversized fitness centers might sound appealing at first, on closer inspection, you'll notice that you won't use most of the equipment, yet you're paying for the space that holds it anyway.
Some New York City gyms admit people of all ages, but during a pandemic, that means there's more risk, since some children are not eligible for vaccination, and some older adults have weakened immune systems. As vaccination requirements continue to change, it's important to choose a gym that stays compliant. Less people in a given space equals less exposure, so consider a boutique gym where capacity is lower and trainers can oversee the facility for cleanliness and member compliance.  
5. Press Pause on the 24 Hour New York City Gyms
It sounds like a great idea: 24 hour gym access. But in reality, it's a problematic concept, even prior to the pandemic. Most 24 hour gyms don't stay fully staffed around the clock. That means you might be letting yourself into an empty gym in the middle of the night. In addition, remaining open for 24 hours doesn't allow time to properly sanitize the gym.
At Sweat440, we make fitness convenient by offering classes every 10 minutes, rather than staying open 24/7. Our high-impact HIIT classes take just 40 minutes, so you can squeeze in a class, no matter which shift you work. We close for certain periods of the day to conduct deep-cleaning with Protexus electrostatic sprayers and antimicrobial defogging machines to further sanitize our gyms. All of our cleaning supplies are EPA-approved and hospital-grade to protect you without using harsh chemicals. Choose the gym that accommodates your schedule without cutting corners: Sweat440 FiDi! Try a free class today to see how we protect our members. Give us a call, book online, or stop by our Covid safe gym near Manhattan right by Fulton St. Station.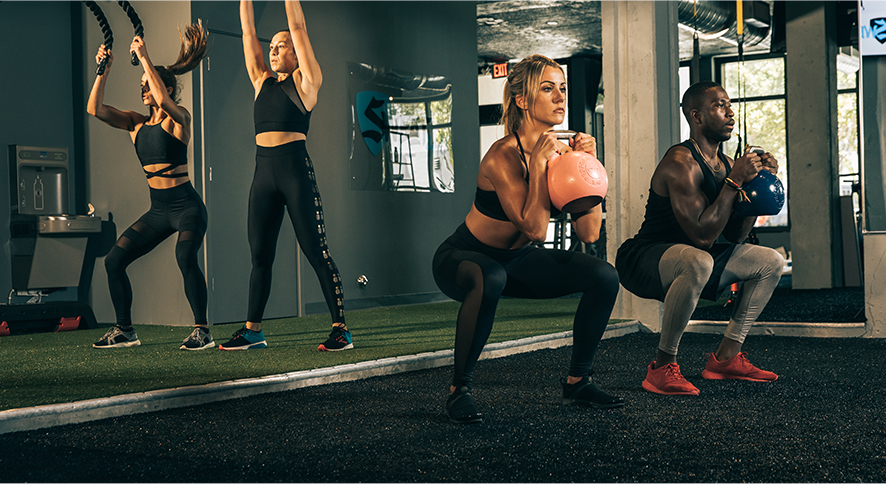 5 Keys to Finding a Covid-Safe Gym Near Manhattan
5 Factors to Consider in Fitness Centers:
Consider who the founders are.
Consider their stance on face coverings.
Consider their social distancing rules.
Consider a boutique gym before a big one.
Consider opting out of 24 hour gyms.
5 Safe Sweat440 Classes in New York City:
SHAPE- for upper or lower body + core
SWEAT- full body conditioning
SHRED- for lower or upper body + core
WARRIOR- total body workout
OUTDOOR- for extra Covid safety