Brickell - Miami, FL
25 SW 9th St. G100 Miami FL, 33130 (888) 507-9328
*First class free for local residents only.
Coral Gables - Miami, FL
301 Altara Ave. Suite 111, Coral Gables, FL 33146 (888) 507-9328
*First class free for local residents only.
Miami Beach - Miami, FL
1916 Bay Rd. Miami Beach FL, 33139 (888) 507-9328
*First class free for local residents only.
Miami Lakes - Miami, FL
6766-6774 Main Street Miami Lakes Fl 33014 (888) 507-9328
*First class free for local residents only.
Chelsea - New York, NY
600 6th Ave, New York, NY 10011 (888) 507-9328
*First class free for local residents only.
Financial District - New York, NY
80 John St, New York, NY 10038 (888) 507-9328
*First class free for local residents only.
Madison - Alabama
10878 County Line Rd Madison, AL 35756 (888) 507-9328
*First class free for local residents only.
Austin - Texas
110 Jacob Fontaine Ln Austin, TX 78752 (888) 507-9328
*First class free for local residents only.
No studios available near you
Unfortunately we were not able to find any studios in , .
6 Points to Address About a Covid Safe Gym Near Jean Talon
1. How Is Social Distancing Enacted?
Social distancing- it's a phrase we're all a bit tired of hearing, yet it's essential to our health and safety. Some fitness centers mention it on signage in the gym or on their website. But what are they doing to enforce it or simplify it for their members? It's not like we can carry a measuring tape around with us while we work out! At Sweat440 near Jean Talon, we marked our floors clearly for members to know where to stand. We divided our gyms into individual workout pods to minimize close contact. Our gyms are staffed at all times, so there's always a professional there to make sure members are giving each other enough space to safely exercise. Look for a gym that puts the phrase into action, rather than simply recommending social distancing.
2. What Are the Cleaning Procedures?
Simply wiping things down occasionally with a damp cloth isn't what the CDC means by sanitizing your gym. Ask what the gym's actual cleaning procedures are before you join. At Sweat440, we sanitize equipment after each use, and we also close twice a day to perform a deep cleaning with Protexus electrostatic sprayers, supplemented by an antimicrobial defogging procedure once a week. We provide cleaning spray and cloths to all of our members so you can feel completely confident in the cleanliness of your equipment. We advise staff and members to wash hands often and bring their own water bottles to refill, rather than drinking out of our fountains. When necessary, we also pause the use of community amenities like showers and lockers until cases in the city decline. We have proper ventilation and even offer outdoor classes to maximize air flow.
3. Is It Walking Distance from Work or Downtown Montréal?
Why does walking distance matter in a gym? There are several reasons. First, it means your time spent on public transportation is minimized, which limits how many people you come in contact with each day. Second, it shrinks your circle of exposure, since the people who work out at your gym are more likely to live and work nearby as well. Third, it cuts down on the time you spend away from work, which is helpful if you have endless Zoom meetings to attend. Fourth, it increases the odds that you'll go to the gym, since it's so convenient and you don't have to fight traffic to get there. Consistent exercise is key to maintaining a healthy body and mind, and that includes your immune system. Sweat440 Montréal is walking distance from many places of business, including Aréna Bill-Durnan, the SPCA, RBC Royal Bank, BAM Strategy, IO Solutions Call Center, Police Station #26 and the MADA Community Center.
4. Is It Near Other Errands Like Jean Talon Market?
Why does a gym near your home or usual errand locations help with Covid-19? First, it minimizes your time away from home, which is beneficial if you have children learning from home or older loved ones to care for. Second, it helps ensure you can squeeze in a workout, which is essential to maintaining your mental health during stressful times like a pandemic. Third, it makes contact tracing easier, since you'll follow a predictable route and make familiar stops. Sweat440 is located near several neighborhoods and Jean Talon Market, as well as several schools, including Académie Beth Rivkah Pour Filles School and École des Nations School, so you can grab a quick workout right after school drop-off or on the way to the market.
5. Is There Someone Who Stays Actively Engaged in Updates?
One thing is certain about Covid-19- the guidelines are always changing. You want a gym with a manager or owner who stays actively engaged in these updates to make sure you stay safe. The recommendations in May 2020 are not the same ones gyms must follow in November 2021. It's important that the gym stay on top of the current mandates and recommendations to provide a healthy environment. Choose a gym like Sweat440 on Jean Talon, whose founders are personal trainers, committed wholeheartedly to your health.
6. How Do You Identify a Covid Safe Gym Near Jean Talon?
The best way to determine if the gym is Covid safe is to visit it in person. Gyms can make a lot of claims, but you'll need to witness their statements in action. Don't join a gym that doesn't offer a free trial for you to see how they run things during the pandemic. Some gyms will try to lock you into a contract before you see what they're all about. But Sweat440 Montréal offers free trials for everyone and we're totally contract-free. That means you don't have to sign up for a year, or even 6 months, to see how you like our gyms. Simply pay for each class you take, after your free trial. You can quit at any time. Once you see how Sweat440 protects our members, we are certain you'll want to come back!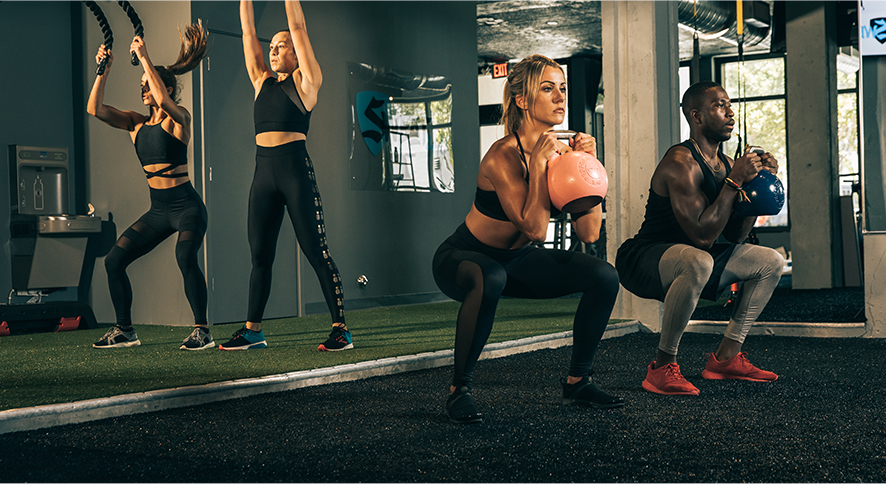 6 Thoughts to Consider About Covid Gym Safety:
How is social distancing enacted?
What are the cleaning procedures?
Is it walking distance from work or downtown Montréal?
Is it near other errands like Jean Talon Market?
Is there someone who stays actively engaged in updates?
Can you have a free trial to view safety procedures?
SWEAT- core + conditioning
SHAPE- upper body + core
SHRED- lower body + core
SHAPE- lower body
SHRED- upper body + core
WARRIOR- total body conditioning