Is There a COVID Safe Gym Near Jean Talon?
8 Reasons Sweat440 Is the Top COVID Safe Gym on Jean Talon
1. Sweat440 Montréal Follows Public Health Regulations
You might have heard of some gyms in Montréal or Québec City defying government regulations to remain closed. However, they're promptly fined, ticketed, or shut down, and kept under close observation. If the gym is dishonest toward the government and in business practices, can you trust them to be honest with you? Sweat440 follows all public health guidelines from the Québec government in the interest of your health and safety. We can't wait to welcome members back, but we'll do it safely and legally.
2. Sweat440 on Rue Jean Talon Facilitates Social Distancing
Our gyms don't just recommend social distancing, we promote it by making it easy to follow. Our gyms are clearly marked for where to stand and remain at a safe distance. We encourage members to leave quickly after class, and to arrive no more than 5 minutes prior. You don't have to guess if you're 6 feet apart. We assign you to a workout pod with your own workout equipment, so there's no question about your safety.
3. Sweat440 Montréal Sanitizes at a Superior Level
If there's a sanitizing step, we're taking it. We exceed all of the recommendations for COVID safety. We don't just clean our gyms, we use antimicrobial fogging disinfectant, Protexus electrostatic sprayers, and EPA-approved, hospital grade chemicals for cleaning. Yes, we wipe down all equipment between uses, but we go so much further than that. Our ventilation system is designed to keep air quality pure and our instructors oversee each class to ensure cleanliness and sanitation.
4. Sweat440 on Jean Talon Takes COVID-19 Pandemic Precautions
Each gym member and staff member is fever-checked with a touchless thermometer before coming into the gym. In order to step inside, everyone must have a mask on and wear it at all times. Our employees wear gloves and PPE for the duration of their shift. We symptom-screen our employees and ask both staff and gym members to stay home if they tested positive for COVID-19, were exposed to it, or have any illness symptoms.  
5. Sweat440 on Rue Jean Talon Offers the Safest Amenities
We know what you need for a killer workout, and we also know what might pose greater risks during the COVID-19 pandemic. That's why we aren't offering showers, lockers, or towels right now, and we're offering water fountains only as bottle refilling stations. Bring your water bottle and towel and we'll take care of the workout! Our equipment is cleaned after each use and also sprayed twice a day with electrostatic sprayers, so anything you touch in our gym is thoroughly cleaned. Our top-tier trainers deliver the best workout near Jean Talon with state-of-the-art HIIT equipment. There's no better amenity than that!
6. Sweat440 Has Built-in Capacity Limits
Many gyms don't have a good system for managing capacity. They might not notice how often people come and go, or track members to see how long they've stayed. Sweat440 has a unique 10-minute class rotation schedule, so every 10 minutes, a group of people exits the building. All of our classes are exactly 40 minutes, so there's no guessing how long each person's session lasts. This provides our members with endless timeslots, so there's always a class when they need one. But it's also an efficient way to make sure we're never overcrowded. In addition, we reduced our already small class sizes, so you're getting the most impactful workout with the least exposure.  
7. Sweat440 Montréal Is a Trainer-Led Fitness Center
One thing that makes us distinctly safer during COVID-19 is the fact that all of our HIIT sessions are small group classes led by qualified trainers. That means you're never alone in the gym with other members who might not take your safety seriously. We provide constant oversight, assistance, accommodations for physical limitations, and inspiration. In addition, we make sure others respect your social distancing boundaries. With our fitness experts at the helm, you don't need to worry. You can simply immerse yourself in the workout and enjoy your time in the gym.
8. Sweat440 Is Near Several Public Transportation Stops
Health experts recommend keeping a tighter circle when you leave the house to limit exposure. They suggest minimizing how many different transit stops you make and how many places you visit each day. Sweat440 Montréal, at 5000 Rue Jean Talon Ouest, is conveniently located near multiple transit stops so everyone has a direct route to our gym. We're right near Jean Talon bus stops No/5000 and No/5005 and we're walking distance from École des Nations School, Académie Beth Rivka Pour Filles School, and the MADA Community Center, so you can get here on foot with zero exposure. We're also close to Jean Talon Market and your other errand locations so you can consolidate your outings.
Try Sweat440's Gym on Rue Jean Talon for Free!
The best way to test a gym's COVID safety is to see it firsthand. Sweat440 Montréal offers all newcomers a free class to see how it's done. This allows you to get a feel for our HIIT method, innovative equipment, and awesome trainers and classmates. But it also allows you to see why we're the top choice for COVID safety when you work out. See you soon!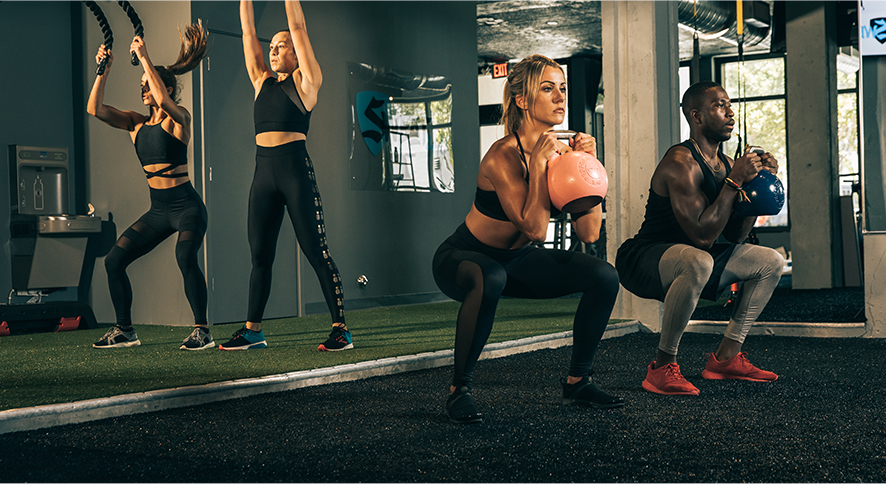 How to Choose a COVID Safe Gym Near Jean Talon
Follows public health regulations
Facilitates social distancing
Sanitizes thoroughly
Takes pandemic precautions
Restricts risky amenities
Controls capacity
Provides safety oversight
Easily accessed by public transportation
Disregards government guidelines
Packs gym with members
No sanitizing protocols
No precautionary measures
Permits community amenities
Doesn't limit capacity
No monitoring of member behavior
Requires multiple transit changes