9 Ways Sweat440 Is the Most Covid Safe Gym near Gables
Safety isn't just something we want, it's actually a basic human need. This year, COVID-19 challenged that sense of security physically, financially, and mentally, for far too many. One of the best ways to guard our physical, financial, and mental stability against such attacks is to remain healthy and active.
Sweat440 is thrilled to reopen our gyms with the highest standards of COVID-19 safety so you can reclaim that sense of security. We exceed what's required by the government to be a COVID safe gym near Coral Gables, FL, adding additional safety measures for our valued members. Take a look at 9 reasons to trust Sweat440's fitness centers with your wellbeing.
1. Sweat440 Exceeds the Sanitization Standards
The CDC requires gyms to clean and disinfect regularly with sanitizers. But Sweat440 exceeds that standard by cleaning our gyms with electrostatic sprayers twice a day and antimicrobial foggers twice a week, in addition to cleaning equipment and surfaces throughout the day. We don't just have sanitizer available, we also give members their own individual spray bottle and cloth to clean their equipment for extra safety.
2. Sweat440 Exceeds the Social Distancing Standards
Gyms are expected to monitor social distancing among staff and members and mark the floors with 6 ft. spacing guidelines. Sweat440 goes above and beyond, assigning members to workout pods with their own equipment, so there's no confusion about how to stay socially distant. This was an easy step for our gyms, since we've always prioritized personal workout space, rather than packing too many people in. It's not only a more enjoyable way to work out, now it's also safer.  
3. Sweat440 Exceeds the Capacity Standards
Fitness centers in Coral Gables, FL are asked to limit capacity to 50%. Sweat440 keeps our fitness classes smaller than ever to minimize occupancy while you're in the gym. We ask members to arrive no more than 5 minutes before their workout, and head out as soon as they're done. We make sure you have minimal exposure to anyone else while you're in the gym.
4. Sweat440 Exceeds the Ventilation Standards
Our fitness classes are designed to make you sweat!! So, we've always used exceptional ventilation systems, fans, and filters to keep the air clean and clear. Now, those features take on extra importance. We also have outdoor options for members who are interested in open-air workouts.
5. Sweat440 Exceeds the Masking Standards
Some gyms are only requiring staff members to wear masks or PPE (and some aren't even doing that). At Sweat440, we require masks of everyone while they're within the walls of our gyms. We know it's not anyone's favorite, but it keeps all of us safer, and also allows us to remain open and exercising together (finally!) when we all comply with this safety measure.
6. Sweat440 Exceeds the Screening Standards
The CDC suggests temperature checks for staff, but Sweat440 requires it. We also use touchless temperature screening to eliminate contact. We ask our staff about symptoms prior to each shift, and ask our members to stay home if they aren't feeling well or are exposed. We don't penalize staff or charge members when they have to miss a class. Stay home and get well so you can rejoin us soon!
7. Sweat440 Exceeds the Fitness Classes' Standards
Sweat440's fitness classes operate at reduced capacity, which already limits the number of people with you in the gym. But we go even further with our 10-minute class rotation. Every few minutes, some people are rotating out of the gym, so occupancy is always as low as possible. In addition, our classes can be scheduled online so you can choose a time that's appealing to you, if you want to skip the more popular timeslots.  
8. Sweat440 Exceeds the Surface Contact Standards
Our team regularly sanitizes touchable surfaces like countertops, sink faucets, door handles, and gym equipment, including dumbbells, kettlebells, and cardio machines. We minimize your surface contact by offering scheduling apps and assigning you individual equipment and cleaning supplies. Our staff wears PPE while they train you and refrains from touching your equipment or giving high-fives while you work out.   
9. Sweat440 Exceeds the Community Space Standards
The CDC recommends limiting access to community spaces and suggests closing off things like water fountains and showers. Sweat440 takes those suggestions seriously, and we've suspended the use of towels, showers, lockers, and water fountains (except to refill a bottle you brought). Feel free to bring your own mat and water, but also pack lightly, because we're not using lockers or allowing lots of personal items to pile up in the gym at the moment. We hope it will only be a bit longer until we can offer all of our amenities again, but we take prevention of virus transmission very seriously.
Try Free Fitness Classes at Our COVID Safe Gym Near Gables
Want to see for yourself how we prioritize COVID-19 safety? Come try Sweat440 for free! All of our classes are free to new members and don't require a contract or initiation fee, whether you visit our Miami Beach, Brickell, or Coral Gables gym near Merrick Manor. So, come shred your upper body, shape your lower body, and sculpt your core safely! We do it all with the highest level of sanitization at Sweat440 in Coral Gables, FL.
​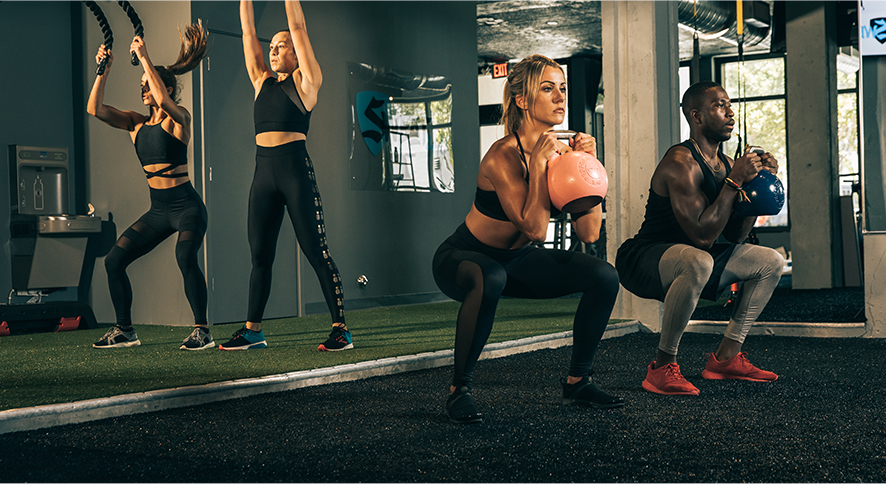 Other Gyms vs. Sweat440's COVID Safety
Other Gyms in the Gables:
Might not require masks
Might not do symptom screening
Might not limit capacity
Might not suspend shared amenities
Might not reduce class sizes
Might not sanitize thoroughly
Might not enforce social distancing
Might not provide sanitizer
Might not refund classes if you're sick
Requires masks of staff and members
Uses touchless temperature/symptom checks
Limits capacity at all times
Suspends shared amenities
Smaller classes that rotate every 10 minutes
Sanitizes + electrostatic and antimicrobial sprays
Marks social distancing and assigns fitness pods
Gives each member their own sanitizing spray
Never charges for classes you miss