Covid Safe Gym near Doral with Free Fitness Classes
These days, everything requires extra consideration. Did you pack sanitizer? Did your kids bring their masks? Is everyone following social distancing protocols? It can be a bit overwhelming. Fitness centers are your place to de-stress, get fit, and work through your frustration. So, choose a COVID safe gym near Doral that does all of that planning for you. Sweat440 offers free fitness classes so you can see that we've covered all of the bases of COVID-19 safety. Here's why that's so important.
Why Are Free Fitness Classes Important During COVID-19?
CDC guidelines and Miami Dade regulations require certain things of gyms to reopen. These encompass everything from masks for staff, to occupancy limits, to equipment spacing, to social distancing protocols like floor markings and regulatory signage. However, some gyms are slipping by without adhering to these guidelines. Whether they pack members into classes to earn more money, or skip symptom screening to prevent staff outages, some Miami Dade gyms simply aren't complying.
It's important to join a gym that offers a free trial so you can see if they back up their safety claims. Sweat440 has always believed free classes should be provided to new members, that's why it's always been our procedure (in addition to refraining from annual contracts). But it's even more important to size a gym up, with no financial obligation, during a pandemic.
Are Fitness Classes Safe During COVID-19?
Research shows that mask usage, capacity limitations, and cleaning procedures dramatically reduce the risk of COVID-19 transmission in public places like gyms and restaurants. Sweat440 goes even further, providing individual workout pods in smaller classes with your own fitness equipment. We rotate members out every 10 minutes to keep capacity at a minimum.
We clean our equipment after each use and also clean our gyms two times a day with Protexus electrostatic sprayers. We follow that with a twice weekly antimicrobial disinfectant fogging procedure that's both hospital-grade and EPA-approved for maximum sanitization. We also provide members with their own sanitizers to use throughout the workout.
Our instructors are fever and symptom checked and wear PPE, keeping a safe distance from members while you work out. We eliminate unnecessary risk by keeping community areas like lockers and showers closed for now, while still enjoying the community benefits of safe group fitness.
So, the answer to whether fitness classes are safe depends on which gym you join. At Sweat440, we implement the highest level of disinfection and social distancing protocols for your protection. Please note that not all gyms act accordingly. Don't take chances with a gym that doesn't put your safety first. Sweat440 is committed to optimal fitness for everyone, which includes state of the art equipment, expert trainers, and superior sanitization in all of our fitness centers.  
What Should I Expect at Sweat440's Free Classes?
Sweat440 isn't just the "COVID safe gym near me in Doral" you've been looking for, it's also the most effective gym! Our high-intensity interval training (HIIT) sessions pack 3 sets of 12 different exercises into 40 fun-filled minutes. You'll use every muscle you've got, with special attention to certain muscle groups on different days of the week. You get a full-body workout every time, including a core-crushing session in every class.
Our stations alternate 45 seconds of high-intensity exercise with 15 seconds of rest to maximize fat burn and muscle growth, while keeping your form intact. Each of our classes includes free trainers, so you don't have to figure things out on your own. Each station also has a digital animation of the exercise on a screen, so you can see what to do without talking to our trainers if you want to stay more isolated during COVID-19.
You won't burn more calories anywhere else in Doral, plus, you build muscle while doing so, thanks to our state of the art compound cardio machines. Our sweat sessions are safe for all fitness levels, and we'll accommodate any physical limitations you have. But we'll also help you push past your perceived (vs. actual) limits, and show you what you're really capable of! Spoiler alert: you're more powerful than you believe!
How Can I Try a Free Class at Sweat440?
Trying a free fitness class is super easy at Sweat440 in Doral, conveniently located near Downtown Doral Park. With additional locations in Brickell, Miami Beach, and Coral Gables, our gyms are everywhere you need them to be! We don't ask you to sign a contract, pay an initiation fee, or buy a package in order to try a class!
We don't just offer one specific class to try for free. Our classes start every 10 minutes, 7 days a week, and you can try any time slot you like! You can sign up online, give us a call, or simply stop by and we'll get you started. When you see how we protect our members against COVID-19, you won't look anywhere else for fitness!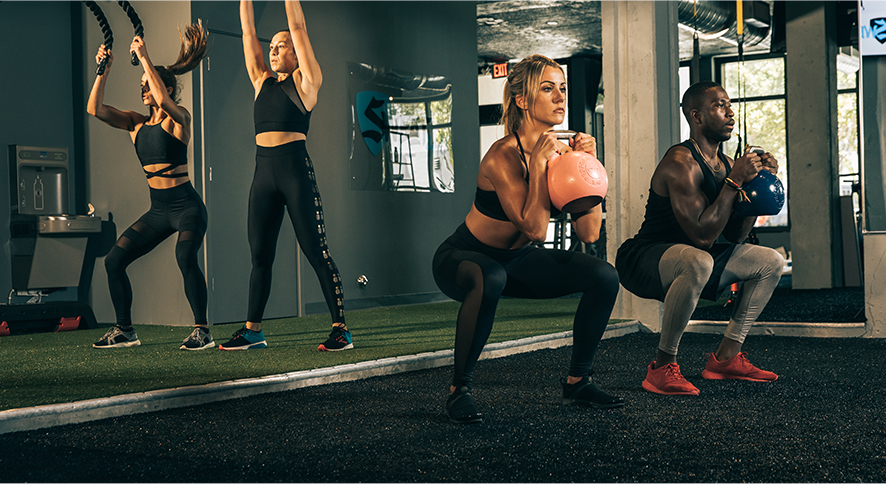 What Free Classes Indicate About Gyms During COVID-19
Why Sweat440 Offers Free Classes:
We prioritize COVID safety
We care about your satisfaction
We won't bind you with a contract
We're proud of our sanitizing procedures
We believe in our HIIT fitness method
We welcome all fitness levels
We follow social distancing protocols
Gyms That Don't Offer Free Classes:
They might not prioritize COVID safety
They don't care if you like their gym
They want to lock you into a contract first
They might be hiding safety shortcuts
They might not believe in their product
They might not be right for all fitness levels
They might not follow social distancing rules