Looking for a COVID Safe Gym Near Brickell? Try Sweat440!
The wait is finally over. Your favorite gym is back! Sweat440 has gone to great lengths to reopen as the ultimate COVID safe gym near you in Brickell! While safety has always been a driving force behind our fitness philosophy, we've made it our mission to take sanitization and safety procedures to the highest level. Here are the answers to some questions you might have about staying healthy at the gym. Don't hesitate to contact us with any additional questions! See you soon!
What Are Sweat440's Sanitization Procedures?
We took the concept of clean and cleaned it up even more! Yes, we wipe down all equipment between each use, and wipe down all touch points like doorknobs and bathroom faucets frequently. But we follow that by blasting our gyms twice a day with hospital-grade Protexus electrostatic spraying machines, so no germ has a chance to linger. In addition, we purify our gyms with antimicrobial disinfectant foggers twice a week, and we provide individual sanitizer bottles and wipes for you to wipe down anything you want for extra peace of mind. Our cleansers are not only CDC-approved, they're also EPA-approved, so they kill germs without harming the air quality or the environment.
How Does Sweat440 Protect Its Members?
Sweat440's goal is to improve everyone's health. We take every step to make sure our members are safe when they workout. That includes clearly marked social distancing guides on our floors. It also means we keep class sizes smaller than ever to limit your exposure. We've postponed the use of things that could spread germs, like water fountains (except for refilling bottles of your own), towels, showers, and lockers, until it's prudent to use them again.
Our personal trainers keep a safe distance from class members but also keep a watchful eye to make sure social distancing is practiced. Most gyms don't have personal trainers overseeing each class, but that's just one of the free perks of joining Sweat440 in downtown Miami! Our trainers not only keep you safe from injury, but also from virus exposure.
We give our staff and members touchless temperature checks and require masks while you're inside. We ask both staff and members to stay home if they aren't feeling well, and we don't charge for classes you have to miss. And we're also monitoring occupancy, encouraging members to head out as soon as their class is over. We look forward to the day when we can linger and chat before and after each session, but for now, we're putting safety first!
What Can I Do to Stay COVID-Safe at the Gym?
In addition to the steps we're taking, we want to share some tips you can use for an extra measure of safety in the gym. Keep these in mind when joining a "COVID safe gym near me in Brickell."
Skip the gym if you're sick or exposed to COVID-19: Even if you haven't tested positive yet, it's best to isolate yourself if you've been in contact with someone who's sick or if you have symptoms of any illness. Sweat440 won't charge you for any classes you've scheduled, so don't hesitate to cancel if you aren't feeling well.
Wash your hands twice: Lather up before you hit the gym to reduce your risk of spreading germs to others. And then give your hands a good wash after your workout too, to limit your risk of infection.
Bring your essentials: Sweat440 loves providing convenient amenities for members like towels, water, showers, and lockers. But for now, it's safer to bring your own water bottle and towel, and to pack light since we're not using lockers quite yet. Grab a shower at home for now. We're all hopeful these changes are only for a bit longer. The good news is, the best part of gyms is the workout and our classes are going stronger than ever at Sweat440!  
Use reminders to avoid touching your face: Gloves aren't a total safeguard against picking up germs, especially if you touch your face with your glove. So, make a tiny mark on your glove or on top of your hand, or wrap a band-aid around your index finger– something that catches your eye when you draw your hand toward your face, so you remember not to touch it until you've washed your hands.
Carry tissues or use your elbows: COVID-19 isn't the only thing that can make you cough or sneeze. Allergies, exertion, and ceiling fans can cause a tickle in the throat or nasal passageways while you're exercising. If the urge to cough or sneeze strikes in the gym, move away from others and cover your mouth and nose with either your inner elbow or a disposable tissue or paper towel that you can flush or throw away, even though you're wearing a mask. This will keep others safe from potential pathogens, and it's also polite since others may be worried about infection.
Throw those gym clothes in the wash: Studies show that surfaces don't spread the virus as well as close contact with another person. But don't take the risk by re-wearing clothes you wore in public. Go ahead and throw your gym clothes in the wash, even the hoodie you wore as an outer layer before your workout. They might not pose a huge risk, but is there really a downside to freshly laundered gym clothes?
How Do I Find a COVID Safe Gym Near Me in Brickell?
Finding a gym that's safe during COVID-19 isn't as easy as taking their word for. Make sure they back up their claims with legitimate evidence. The owners and personal trainers at Sweat440 would be happy to show you all of our safety procedures. We also offer a free class to every newcomer, so you can check out our sanitization first-hand, with no financial obligation whatsoever. Scroll down to find Sweat440's COVID safe gyms in Brickell, near the Brickell City Centre, as well as in Miami Beach, and throughout Miami Dade County.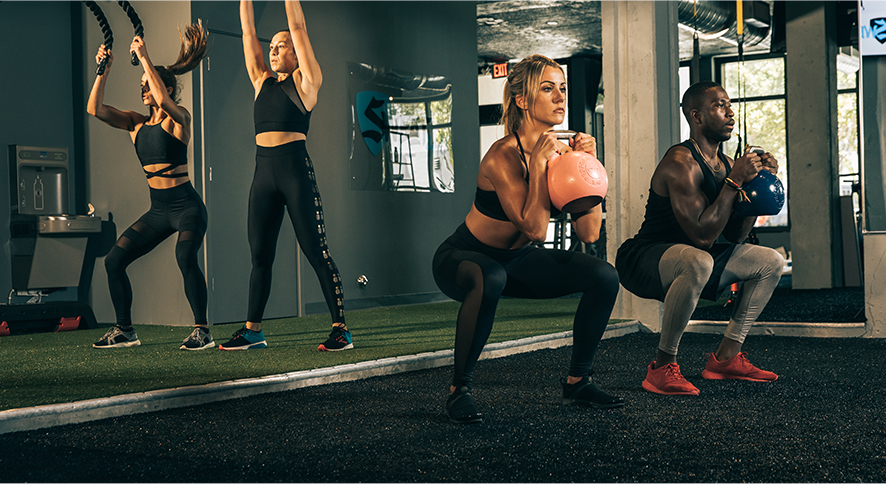 Tips for Choosing a COVID Safe Fitness Center
Look for These Safety Standards:
Touchless temperature checks and PPE
Enforced social distancing
Hospital-grade sanitizing
Smaller classes and monitored occupancy
Trust These Sweat440 Gyms Near Brickell:
Sweat440 Brickell: 25 SW 9th St., Suite G100
Sweat440 Miami Beach: 1916 Bay Rd.
Sweat440 Coral Gables: 301 Altara Ave., Suite 111
Sweat440 Doral: 8403 NW 53rd St.