Are Contract Free Gyms Near Me too Good to Be True?
​If you're dipping your toe into the fitness pool, trying out a new gym, the last thing you want is a binding contract to lock you in. It's a little nerve-wracking to try a new gym, and you want the comfort of knowing you don't have to stay if you're not a fan.
More importantly, you don't want to get stuck paying for a gym if you're no longer able to go. Moving, injuries, and finances might mean you need to cancel or freeze or your membership. Some gyms claim to be contract free or have low membership costs. But, as with most things in life, some offers are too good to be true. It's important to read the fine print! Take a look at some inexpensive gyms and see what their claims really mean.
Planet Fitness: Contract Free Means No Perks
Planet Fitness has a few membership options. But only the members who sign a minimum 12-month contract receive the Black Card Membership, which grants access to the gym's amenities. This contract is not only binding, it also includes a start-up fee and membership fees that are twice as high as the basic membership plan. It's a little like buying a car and realizing you have to pay extra for seats, tires, and a steering wheel.
There's only so much you can do with the basic membership. Planet Fitness gets you in the door with the promise of low rates, but you get what you pay for- and it's not much. Their mantra is a "judgment free zone," however they can't actually control whether you face judgment at their gyms. With the basic membership, no one is with you when you work out– no trainers, no classmates, no instructors… you're on your own. So, there may be no judgment, but also no results.
Gold's Gym: Bare Bones but Not Bargain Pricing
Gold's Gyms are notoriously basic, designed for the "no-frills" athlete. But their pricing is surprisingly higher than other basic gyms. They offer monthly memberships, short-term, and long-term memberships, as well as a paid-in-full option. But each option has the caveat that "some restrictions apply."
With each level of membership there is a hefty annual fee or initiation fee. While they indicate that membership gives you "access" to specialized classes and personal trainers, those things cost extra. Don't assume membership grants you all the privileges or even a spot on a machine. It only gets you in the door.
Sweat440: Our Gym Memberships are Truly Contract Free!
Sweat440 is completely contract free. After all, it's a contract– there should be no gray area or confusion for members. At Sweat440, we don't use them. Period. You aren't locked into an annual membership, and there is no minimum purchase. You can buy one class at a time, and membership is month-to-month. You can buy in bulk or as little as 10 classes at a time.
And best of all, your first class is free! Unlike most gyms, you aren't required to sign up before you give us a try! You can stop by anytime, and our front desk staff will work you into a class. Our classes start every 10 minutes, so you can try one today! If you need to cancel at any time, it's simple. There are no cancellation fees, penalties, or extended wait periods to close your membership. Some gyms bully you into sticking around, but at Sweat440, our members can't get enough of our gyms, and we let them decide how long they stay.
Sweat440's Contract Free Gyms Include Free Personal Training!
You might wonder if our lack of contracts or low monthly rates mean we're cutting corners on cost. But it's quite the opposite. Our founders are highly sought-after personal trainers with extensive experience in the industry. Over time, they've listened to clients and conducted research to determine what gym members actually want. So, they designed a gym that gives you everything you deserve and eliminates unnecessary waste.
Some gyms charge for square footage used for swimming pools, spas, or cafes. But research shows that the people most satisfied with their gyms are the ones who are getting results. That muffin and smoothie you buy at the gym might taste nice, but they don't actually burn calories.
So, at Sweat440, we invest in state-of-the-art equipment, highly qualified trainers, top-notch facilities, and the #1 fitness method– high-intensity interval training (HIIT). We're located on the same block as all your favorite coffee shops, juice bars, and spas, so you can get your fix. But with our contract-free memberships, every penny is invested in your fitness!
One way we achieve superior fitness is by providing free personal training in every HIIT class! Come see why Sweat440 gyms are the only legitimate "contract free gyms near me," and why you'll stick around even without a contract!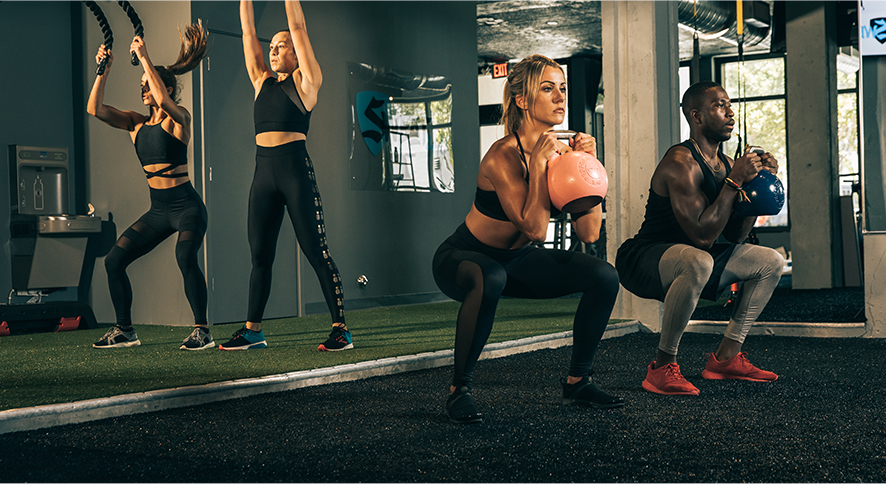 Beware of False Claims from Some Fitness Centers
How Contract Free Gyms Can Be a Scam
Some gyms have no-contract options that don't include amenities.
Some gyms have contracts that vary by location with no clear guidelines.
Some gyms offer low rates but have additional club dues.
Some gyms claim no "annual" contract but require 6 months or more.
Some gyms without contracts use initiation fees and annual fees instead.
Some gym's contracts include "access" to classes and trainers but charge extra.
Why Sweat440's Contract Free Gyms are Legit
Sweat440 is contract free with ALL levels of membership.
Sweat440's membership grants access to all classes.
Sweat440's personal training is free in every class.
Sweat440 allows you to buy as many or as few classes as you like.
Sweat440 allows you to cancel at any time without penalties or holds.
Sweat440 has multiple options and free classes so everyone can join.