The Best Concept Fitness Gym Near Me
When you join a gym, you don't want to get fit in concept or in theory… you want to get fit in reality! So, why join a gym that uses fitness concepts or theories that don't yield results?
But Sweat440 uses the #1 fitness concept— the one that's been proven through multiple studies and scientific research to yield superior results: high-intensity interval training (HIIT). When you join Sweat440, your fitness is guaranteed and backed by factual evidence, not just theories or concepts. Here's why HIIT is the #1 concept in fitness, and why Sweat440 is the #1 gym for HIIT!
Why HIIT is the Best Concept in Fitness
Efficiency– Experts agree, interval training allows you to make better strides in fitness in less time than steady-state cardio. That means you get fit more quickly, which increases your motivation to stick with your routine. Its efficiency is also more desirable for people with busy schedules, or who can't work out for long durations.
Inclusivity– HIIT is designed for all fitness levels, since you work at your own pace in each station. Since intervals are broken down into seconds, there's always a break around the corner. Whether you're brand new to the concept, or a seasoned pro, you can work to the best of your own ability.
Dynamics– HIIT keeps things changing through various equipment so your body never gets complacent. Unlike the coasting you do in spinning or jogging, HIIT doesn't let you mail it in. Your body goes through quick transitions that keep you on your toes for superior sculpting.
Compound Cardio– Since HIIT fuses cardio with resistance, you get the best of both worlds in half the time! Compound cardio circuits with equipment that strengthens while burning calories yield the greatest calorie expenditure and allow you to keep burning calories long after your workout.
Safety and Form– HIIT is challenging, so you need to practice it with a certified instructor– but when you do so, it's safer than many workouts. Since you switch between muscle groups frequently, you prevent exhaustion and muscle fatigue and the improper form that comes with excessive focus on one muscle group. HIIT trainers can keep you in perfect form and switch things up when they sense your fatigue.
Why Sweat440 is the Best Gym for HIIT
We Are a HIIT Specialty Gym– Sweat440 specializes entirely in HIIT, since it's the #1 concept in fitness. That means we know HIIT inside and out, and have all the best tips to achieve results. We have a proprietary method of ideal intervals of intensity. Our founders are personal trainers who have studied the method and know how to properly execute it. Unlike other gyms who have an occasional HIIT class that uses random intervals, we lead the industry in HIIT execution.
We Only Hire Qualified HIIT Trainers–Each of Sweat440's trainers is a certified HIIT instructor who teaches HIIT all day long. They stick with you every step of the way, making adjustments and accommodations as needed. They customize each workout to keep you safe and reach your greatest potential. They're also backed by animated demonstrations at each station, so you always know exactly how to perform each exercise.
We Have HIIT Schedules for All–Our HIIT classes start every 10 minutes, so everyone can get fit with HIIT! We're not only the #1 concept fitness gym near you, we also have classes available all day long! Each of our classes is suited to all fitness levels, so no need to pick a certain one. Just find a time that works for you and stop by– we'll fit you in!
We Have the Most Innovative Equipment– Since Sweat440 is a dedicated HIIT gym, we have the most state-of-the-art equipment. From Assault Bikes, to Ski Ergs, to Versa Climbers, to slam balls, we have all the equipment to maximize your efforts. You could run at different intervals on a treadmill, but you won't achieve anything close to the results you get from our compound cardio equipment. Our machines build muscle as well as they blast fat, for the most efficient workout.
We Let You Try HIIT for Free– HIIT is a new concept for some, so your first class is always free! Come see what it's like– we promise you'll fit right in! Unlike most gyms, we don't rope you into a membership before you've had a chance to see what you think! Trust us, you're going to love it! Check out our 5-star reviews on Google, Yelp, and Classpass!
We Offer Flexible Memberships– Once you give it a try, you'll be hooked, and we offer many ways to join. You can buy as little as one class at a time or buy in bulk. And guess what? We don't have contracts or extra fees! Anyone can join the top concept in fitness gyms– HIIT!
No matter where you are on your fitness journey HIIT is the top fitness concept in gyms! When performed under the guidance of qualified trainers at Sweat440, it yields incomparable results! Try HIIT for free today at a Sweat440 near you, and bid farewell to inferior fitness concepts and theories forever!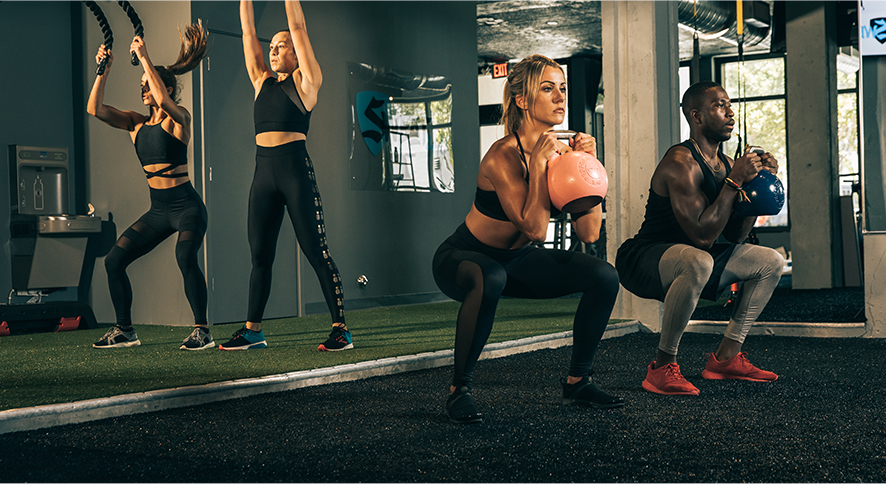 Choose the Concept Fitness Gym With the Proven Concept
Not all Fitness Concepts Prove True
Some gyms offer HIIT but aren't trained in it.
Intervals alone aren't effective- you need the proper intervals.
Intensity should be monitored by a professional HIIT instructor.
Steady-state cardio doesn't match HIIT for results.
You burn calories with cardio, but HIIT maxes out calorie burn.
At other gyms you work longer for inferior results.
Some gyms provoke injury and exhaustion with improper intervals.
Separate cardio and resistance waste time, unlike HIIT's compound cardio.
Sweat440 Uses the #1 Concept in Fitness
Sweat440's instructors are all trained in HIIT.
Sweat440 teaches HIIT all day, every day.
Sweat440 has a proprietary interval sequence for quicker results.
Sweat440 has classes every 10 minutes for instant access to HIIT.
Sweat440's HIIT classes are designed for all fitness levels.
Sweat440 targets your VO2 max so you burn calories for hours.
Sweat440's HIIT classes include free personal training.
Sweat440 supplies animated HIIT demos for perfect form.
Sweat440 has free classes and no contracts so everyone can try HIIT.