The Closest Gym Near Me With Free HIIT Classes
Have you thought about trying a new gym, but aren't sure if you'll really like it? There's a big range in fitness centers, everything from limited gyms, to big chains with crowded classes and waiting lists. How do you know which is right for you? Many gyms require you to sign a year-long contract or pay an initiation fee to give them a try. It's often difficult to get out of the contracts if you're unhappy at the gym.
But Sweat440 brings a breath of fresh air to the fitness scene. Our gyms incorporate all of the good things about different gyms, but none of the bad. We have a variety of state-of-the-art equipment and diverse training tools. But, we also maintain the boutique feel by keeping our classes small and providing luxury amenities like free personal training in each class. Best of all, at Sweat440, there are no contracts! In addition, your first class is free! So, you can try a high-intensity interval training (HIIT) class risk-free and decide if it's right for you.
​Why Sweat440 Believes in HIIT
So, what is HIIT exactly? It's the most efficient way to burn calories, while also building muscle. Backed by extensive research, HIIT is proven to be the most effective way to get fit fast! It capitalizes on intervals of intensity, interspersed with brief intervals of rest, to maximize your oxygen consumption during a workout (VO2 max). As a result, you burn more calories in a shorter period of time, and continue burning them for hours after your workout.
Since you work at your own ability level in each Sweat440 station, there's no limit to the fitness heights you can reach! We pack 3 exercises into 4 10-minute stations, and repeat each of them for 3 sets. While each class is a full-body workout, we devote specific focus to different areas each day, so you can safely train at Sweat440 daily without overdoing it. Our members rave about the rapid results, the free personal training, and how quickly our classes fly by. With our diverse compound cardio circuits, you'll switch things up just when you think you're maxed out, so your body performs at the optimal level.
Why Sweat440 Believes in Free HIIT Classes
Often the hurdle to our success is the anxiety of the unknown. How often do we stick with something that's not really working, since it's familiar? At Sweat440, we understand that trying a new gym or fitness routine can be intimidating. That's just one of the reasons we believe in providing free trial classes for everyone.
We believe in our HIIT method, and also in a better gym philosophy. We aren't about intimidation, exclusivity, or elitism. We know that if you try our classes, you'll see why we're different. Our classes are fueled by upbeat music, top-notch personal training, and a vibe of positivity and inclusion. We welcome new members with open arms. We don't stick beginners in the back of class, or leave them to figure things out on their own like Gold's Gym or Equinox.
Our members are inspiring and include all fitness levels. We give each other high-fives between stations, push each other past plateaus, and celebrate successes together. Make no mistake, Sweat440 delivers a killer HIIT workout- the best workout you'll find anywhere. But it's so fun, dynamic, and expertly paced, that you'll never know how hard you just worked.
We know how much you'll love it here, but we also know that you need to see that for yourself. Come try a free class today! Or even just come see how it works! There are classes every 10 minutes, and each class is designed for all fitness levels. Just stop by and we'll fit you in!  We promise you'll want to come back!
Why Sweat440 Doesn't Believe in Contracts
One thing that truly sets us apart is that we don't use annual contracts. We don't want to strap you into a year-long commitment or make it a hassle for you to quit, like most gyms do. We understand that life is complicated. If you have to move, or give birth, or face circumstances like Covid-19, you shouldn't be charged for a gym you can't go to.
We want everyone to have the opportunity to get fit. That's why we offer affordable memberships and multiple memberships options. You can buy as little as one class at time, or buy them in bulk. You don't have to book classes months in advance or pay for classes if you need to cancel.
At Sweat440, we don't believe in bullying you into sticking around. We designed our gym to be a place you WANT to stick around, and our 5-star reviews reflect that. You can quit or rejoin at any time. We have locations around the globe, and we can help you find the closest Sweat440 to you, if life takes you in a different direction. We never want the weight of a contract to get in the way of your health and fitness. Choose the gym where you can try a free class, and start or stop whenever you like. We promise it will make a dramatic impact on your fitness!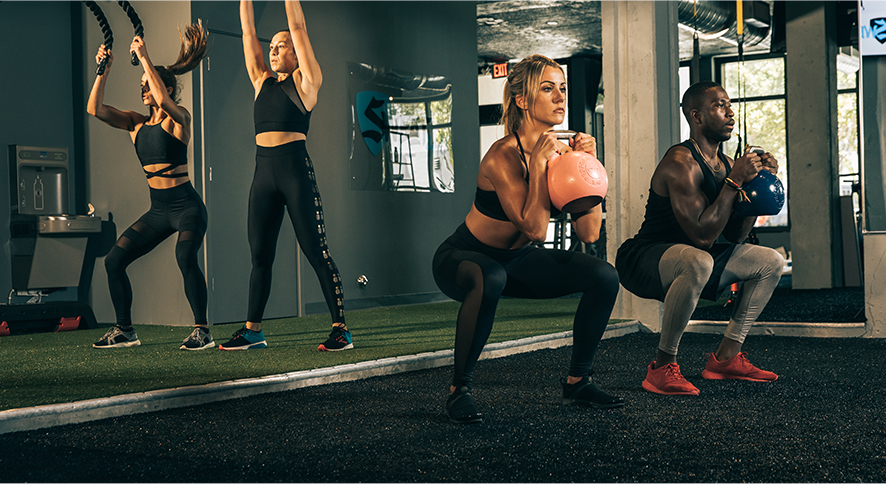 The Closest Gym Near Me With Free HIIT & Personal Training
Why You Should Try a Free HIIT Class
Don't commit to a gym without a free trial.
HIIT is legit! It's the most efficient workout!
Try HIIT to jumpstart your fitness.
HIIT is safe for all fitness levels with our trainers.
HIIT is addictive- try it for free and see!
With no burden of a contract, try it worry-free.
HIIT gets results you have to see to believe!
Sweat440's classes include free personal training.
HIIT prevents boredom and plateau.
Sweat440 is the closest gym near me with HIIT!
The Closest Gym Near Me With Free HIIT
In Brickell at 25 9th St.
In Coral Gables at 301 Altara Ave.
In Doral at 8403 NW 53rd St.
In Miami Beach at 1916 Bay Rd.
In Kendall at 4293 SW 152nd Ave.
In Palm Beach at 3201 N. Miami Ave.
In NYC at 600 6th Ave.
In NYC at 80 John St.
In Austin at 507 Pressler St.
In Montréal at 5000 Rue Jean-Talon O.