Sweat440: The Closest Gym With Free Personal Trainers
No matter what you want to achieve, you won't get there if you quit. This is particularly true with getting fit. We all know how much easier it is to gain a few pounds than to lose them. And it's harder to start working out once you've taken time off than to stick with it when you're making progress. That's why it's especially important to stay consistent. Two of the easiest ways to stay consistent are choosing a gym nearby and working with a personal trainer. Guess what? Sweat440 is the closest gym to you, and it also provides free personal training in each class!
How the Closest Gym Keeps You Consistent
What are your fitness excuses? It's too late; you're too tired; you have too much to do today; or maybe you just don't feel motivated? One of the biggest hurdles to consistent fitness is choosing a gym that's inconvenient. If you only have 45 minutes to squeeze in a workout, you don't want a gym that's 30 minutes away. And if you're tired after a long day of work, the idea of fighting rush hour traffic to get to the gym isn't appealing. Choosing the closest gym makes a huge difference in consistent attendance.
Sweat440 brings fitness to your doorstep with locations in metropolitan and residential areas. If you live near Miami, we have locations right downtown in Brickell and Coral Gables, as well as in the heart of Miami Beach. We also have outposts in Kendall, Doral, and Palm Beach, so you can hit the gym after work, on your morning commute, or on a Saturday with ease. In New York, pop into our Chelsea location or crank out a workday session in our FIDI gym. We're popping up in cities around the world, everywhere from Austin, TX to Montréal, QC. Find the clubs near you today to make consistency easy!
How Personal Trainers Keep You Consistent
Have you ever hit a fitness plateau? Have you ever been bored of your workout? Have you ever tried for months without seeing results? Most likely, you answered "yes" to more than one of those questions. Chances are, you've mastered many things: closing business deals, brewing the perfect cup of coffee, making fresh guacamole, finding the best prices online… you're a capable human being!
So why is it so hard to master the art of fitness? It's because optimal fitness requires expertise we don't all possess, and also because there's no one-size-fits-all routine. In fact, the perfect routine for each individual should keep changing as you progress. Not only that, variety is the spice of life, including fitness- it keeps us from getting complacent. We don't have enough time in our day to constantly create new, safe routines for ourselves.
That's why personal trainers are an essential asset to achieving consistent results. The best personal trainers are not only highly trained in exercise science, they also stay ahead of the curve, by following the latest research on fitness. Trainers know how to customize a routine to blast through plateaus, push past perceived barriers, and exceed your fitness goals. And most importantly, they're trained in observing the safest practices, to prevent you from overdoing it. They're also adept at knowing when you're slacking and giving you the motivation to press on.
Why Sweat440 is the Key to Consistency
Sweat440 provides the perfect combo to keep you consistent: convenience and free personal training. Here's how we make fitness possible for everyone.
Convenience:
Our gyms are only steps away from your home, workplace, and social activities. Our high-intensity interval (HIIT) classes are just 40 minutes, but pack the punch of a much longer class at other gyms. We load 4 10-minute stations up with 3 sets of 3 exercises each, to provide a full-body workout that focuses on different body parts each day. And our HIIT class schedule is revolutionary- our classes start every 10 minutes! How's that for convenience? No matter when you want to work out, there's a class starting in a few minutes!
Free Personal Training:
Each one of our classes includes free training from our certified instructors! They circulate through each small group class, assisting at every station. They provide customized solutions and adaptations for every fitness level. If you have any limitations like injuries, pregnancy, or recent surgery, they'll accommodate your needs.
While HIIT is a powerful workout, it's also been proven safe and effective even for cardiac rehab patients, when performed with a qualified trainer. At Sweat440, you are guided and motivated by a fitness expert, and also inspired by our awesome class members and positive environment. That's a win-win!
Not only is training free in each class, but your first class is totally free! No need to sign up or book months in advance. Just stop by and our friendly front desk will fit you into a class. If you've never worked with a personal trainer, isn't it time you gave yourself the jumpstart you deserve? At Sweat440, we offer a stress-free solution. Free training, no contracts, and no minimum purchase- just guaranteed fun and fitness! Get started today for free!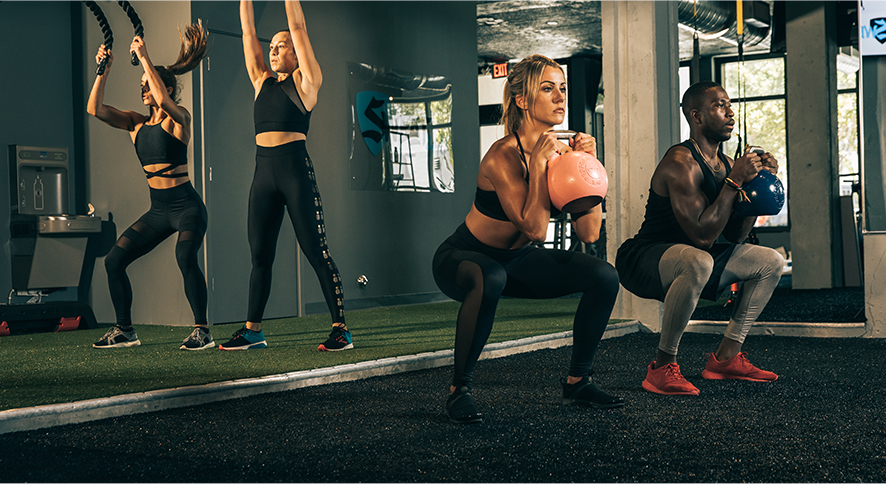 Pick the Closest Gym with Free Personal Training to Succeed
Why a Gym's Proximity Matters
It's easier to squeeze in a quick workout.
You won't skip when rush hour traffic is an issue.
You'll connect with local coworkers and neighbors.
You'll have less excuses to skip.
You can fit exercise in with social life and errands.
You can work out while kids are at school, avoiding kids club fees.
You can maximize your time in the gym, instead of the car.
Why Free Personal Training Matters
Personal trainers keep you accountable to show up.
Personal trainers are experts at generating results.
Personal trainers push you past plateaus.
Personal trainers know your limits and keep you safe.
Personal trainers provide diversity to prevent boredom.
Personal trainers inspire you when you're unmotivated.
Personal trainers aren't always affordable- at Sweat440 they're free!