Looking for the Closest Anytime Fitness? Read This First!
The "closest Anytime Fitness" sounds like a good thing to search for. You can work out whenever you want, close to where you live. But before you sign on at Anytime Fitness, there are some things you should know. A 24-hour gym isn't always what you'd expect, or all it's cracked up to be. In fact, you can achieve "anytime fitness" at Sweat440 gyms more quickly and effectively. Here's why fitness anytime at Sweat440 is better than Anytime Fitness.
Fitness Anytime at Sweat440 is Better than Anytime Fitness
Sweat440: Classes Every 10 Minutes vs. Anytime Fitness: Few
Anytime Fitness has access around the clock, but what do you get with that access? A solo workout. Some Anytime Fitness gyms have a few classes only during peak hours, depending on where you join, but they are minimal and are typically basic cardio or Zumba. At most locations, personal training and group classes cost extra. But Sweat440 has classes every 10 minutes, so you can literally get fit anytime. No matter when you step in our gyms, you're minutes away from a high-intensity interval training (HIIT) class, led by a certified personal trainer.
Sweat440: Free Training vs. Anytime Fitness: Extra Fees
Sweat440 incorporates free personal training in every class! You don't have to pay extra for the expertise you deserve when you join our gyms! Our certified personal trainers circulate to perfect your form, push you past plateaus, and safely guide you to optimal fitness. Sweat440's trainers ensure that you take what you started and stick with it for maximum results. They help you set your plan, based on individual fitness levels and goals, and achieve what you never thought possible. At Anytime Fitness, trainers cost extra, have varied expertise, and are only available in limited time slots.
Sweat440: Staffed at All Times vs. Anytime Fitness: Not Fully Staffed
Anytime Fitness cuts corners by not staffing their gym around the clock. They charge extra for keys and activation so you can access the gym on our own. This presents certain dangers, since you might find yourself completely alone at late hours in the gym, without even front desk staff. You're also left to your own devices to figure out the equipment or handle injuries or emergencies. At Sweat440, we have a team of trainers who work around the clock, keeping your workout safe and productive. And our supportive staff state is always at 100%. Our front desk team is ready to sign you in, show you the ropes, or find you a spot in a class, no matter when you come in.
Sweat440: State of the Art Tools vs. Anytime Fitness: Basics
Sweat440 employs the latest technology and innovative equipment to guarantee the best workout. Our compound cardio machines like Ski Ergs, Versa Climbers, Assault Bikes, and TRX equipment maximize calorie burn while maxing out muscles simultaneously. We provide the most powerful workout in the shortest amount of time, which is something you're not likely to achieve on your own in an empty Anytime Fitness gym. You can remain stuck at your current fitness level today or reach heights you never imagined in Sweat440's HIIT classes.
Sweat440: No Contracts vs. Anytime Fitness: Contracts & Fees
Sweat440 is unparalleled in member customer service. We don't use contracts or unnecessary fees, like upcharges for basic services. We don't have hidden annual fees or initiation fees. Our pricing is very transparent. You can stop coming at any time or cancel a class without a penalty. Unlike Anytime Fitness, we don't lock you into year-long contracts. We let you decide how long you want to stay. And chances are, you'll stay a while! Our 5-star reviews are the proof.
Sweat440: Near Major Cities vs. Anytime Fitness: Scattered
If you live in a busy city like Miami or New York City, the location of the club really matters. When you fight crazy traffic or have countless meetings, you have to fit in a workout whenever you can. Anytime Fitness has scattered locations but not in major cities like these. But Sweat440 brings fitness right to your doorstep. For those in NYC, we have 2 locations right near Chelsea and FIDI. In Miami, you have access to 6 gyms nearby. We're growing throughout metropolitan areas in other states like Texas and even internationally. We place our gyms right where you need them to achieve anytime fitness.
Sweat440: Flexible Memberships vs. Anytime Fitness: Binding
Sweat440 has a customized membership for each individual. You decide how many classes you take, from once a month, to unlimited. We don't have minimum purchase requirements, and we offer frequent ways to save. At Anytime Fitness, you're locked in by annual memberships, annual fees, initiation fees, and additional fees like key activation and personal training. But Sweat440 makes membership inclusive and attainable for all. Stop in today to learn more about our club and current promotions!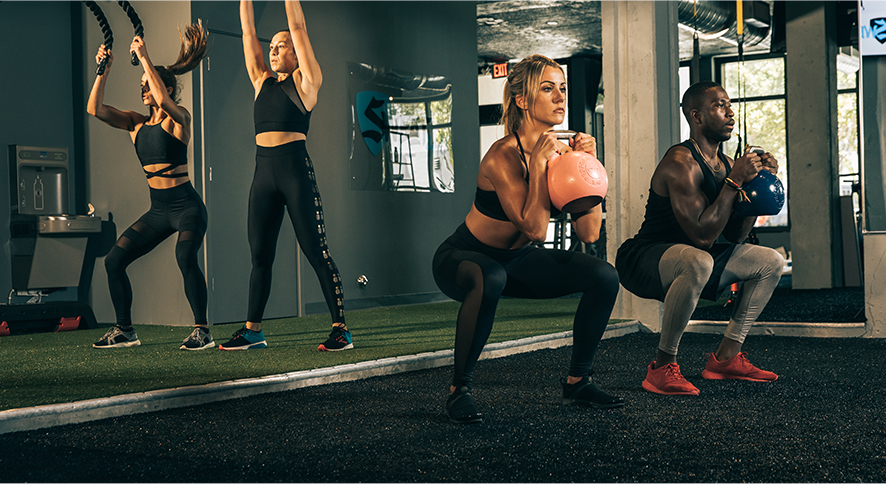 How Sweat440 Makes Anytime Fitness Possible
What Sweat440 Offers All Day Long:
Classes that repeat all day, every 10 minutes
Free trainers in every class for maximum impact
Fully staffed front desk and support system
Innovative technology that assists your workout
A schedule that aligns with your busy schedule
Locations that are convenient to busy cities
Flexible memberships, no contracts, or hidden fees
A full-body workout with concentrated focus
Workouts that change each day so you can come anytime
Perks like showers, locker rooms, and selfie stations
Sweat440's Locations for Anytime Fitness:
Brickell- 25 9th St., Suite G100, Miami, FL
Miami Beach- 1916 Bay Rd., Miami Beach, FL
Coral Gables- 301 Altara Ave., Suite 111, Coral Gables, FL
Kendall- 4293 SW 152nd Ave., Miami, FL
Doral- 8403 NW 53rd St., Doral, FL
Palm Beach- 3201 N. Miami Ave., Suite 10, Miami, FL
Chelsea- 600 6th Ave., New York, NY
FIDI- 80 John St., New York, NY
Austin- 507 Pressler St., Austin, TX
Montréal- 5000 Rue Jean-Talon O, Montréal, QC