Tips for Choosing the Right Gym for You
Importance of Choosing the Right Gym 
Venturing into fitness is a monumental commitment, and a crucial aspect of this journey is picking the right gym. Your gym choice significantly impacts your workout routine, enthusiasm, and overall fitness evolution. A gym is more than just a fitness space; it's where you strive, break boundaries, and transform. It's not merely about the nearest gym or the one boasting high-end equipment. It's about aligning with a place that fits your requirements, preferences, and lifestyle – a gym that drives you, makes your workouts pleasurable, and equips you with the necessary tools and environment to reach your fitness aspirations. In this guide, we will illuminate the critical factors to consider while choosing your perfect gym, making your decision easier and well-informed.
Location 
Your gym's location plays a significant role in maintaining your workout consistency and motivation. Ideally, your gym should be within easy reach. Consider SWEAT440's Chelsea location, nestled at the heart of Manhattan at 600 6th Ave. For those residing or working in and around Chelsea, this location is highly convenient. Be it from the Flatiron District, Greenwich Village, or the Meatpacking District, reaching SWEAT440 Chelsea requires a short commute. Easily accessible via F/M, L, 1/2/3 subway lines, and PATH, your journey to SWEAT440 is effortless. With popular eateries and stores in close proximity, post-workout meals or errands are a breeze. A conveniently placed gym like SWEAT440 Chelsea can revolutionize your fitness regime.
Hours of Operation 
Ensure that the gym's operational hours match your schedule. If early-morning or late-night workouts suit you, your gym should cater to these preferences. With SWEAT440's policy of classes every 10 minutes, you can slot a workout into your routine at any time. The #NeverLate approach eradicates time-related hindrances, encouraging you to sustain a regular workout schedule. Always ensure the gym's hours resonate with your lifestyle to foster consistency.
Types of Equipment 
A gym equipped with diverse fitness machinery caters to myriad workout styles and fitness levels. Scrutinize if the gym provides an assortment of cardio machines, strength training equipment, and functional training gear. SWEAT440, for instance, prides itself on its comprehensive selection of top-notch fitness equipment, ensuring your workouts are dynamic, challenging, and productive. Also, confirm if they have adequate machines to avoid prolonged waiting times, especially during peak hours.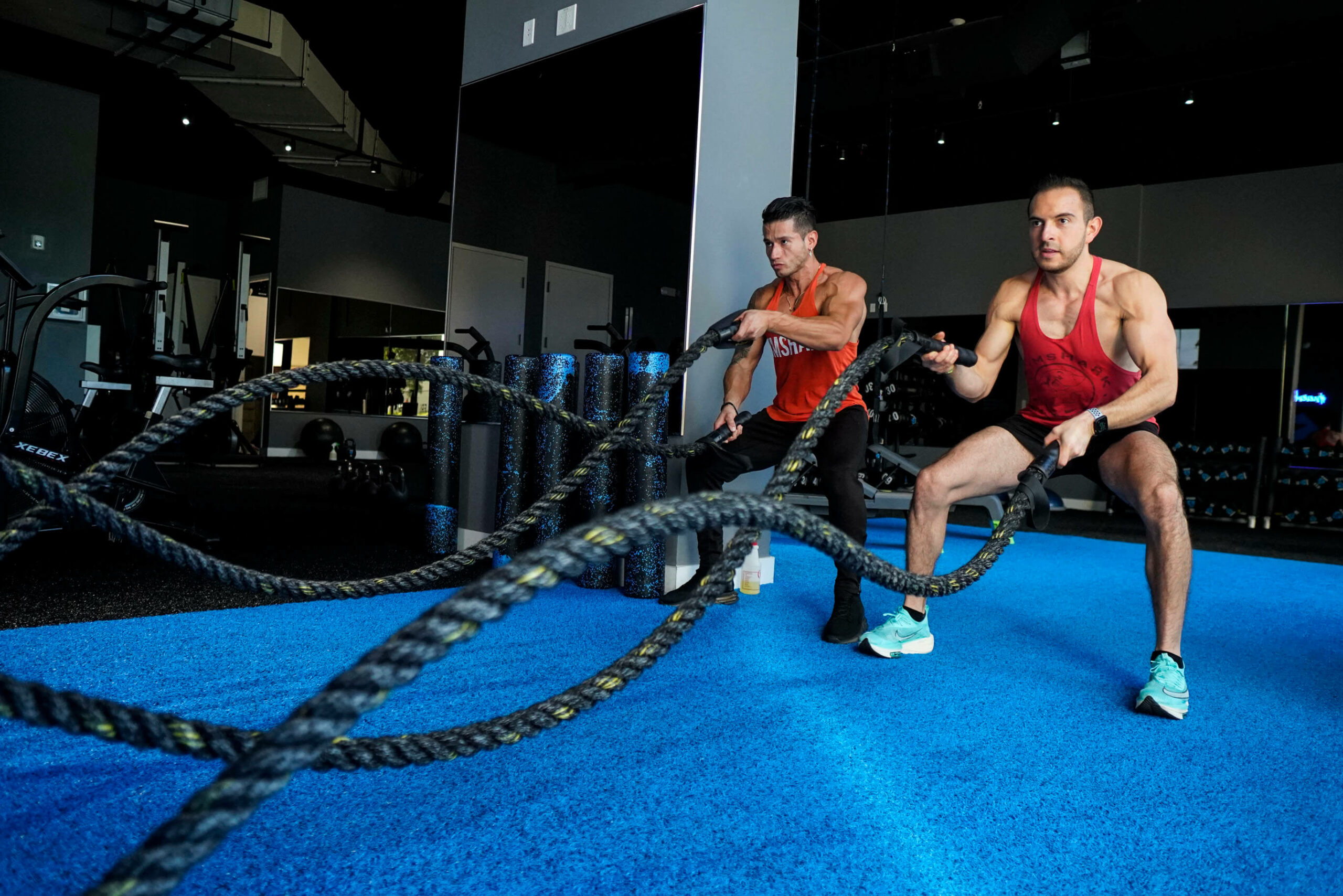 Cleanliness and Safety 
In the contemporary health scenario, cleanliness and safety take the forefront. Check if the gym adheres to stringent hygiene regulations and if they maintain their equipment and locker rooms efficiently. Safety aspects such as first aid availability and emergency response protocols are also crucial. At SWEAT440, we prioritize our #440Squad's health and safety, strictly following cleanliness guidelines and ensuring a secure workout environment.
Staff and Services 
The competence of the staff and the range of services significantly enrich your gym experience. Opt for gyms with professional, amiable staff who can assist and guide you. At SWEAT440, our professional trainers and support staff ensure a seamless, enjoyable workout experience. Assess the array of services on offer, such as personal training, group classes, and fitness assessments. Services like SWEAT440's personalized workout plans can amplify the value of your membership.
Membership Options and Fees 
Gyms provide various membership options, ranging from monthly to quarterly to annual. SWEAT440, for example, offers flexible membership packages to accommodate different needs and budgets. Verify if the membership costs correlate with the value provided. Also, scrutinize for any additional charges or contractual terms. A gym membership is an investment in your health, so consider the overall value, not just the cost.
Trial Workouts
Experiencing the gym environment, workout style, and services before making a commitment can be advantageous. SWEAT440 acknowledges this by offering a free initial class to all new members. This provides you with an opportunity to explore the state-of-the-art facilities and engage with the high-end equipment. Additionally, you can experience the vibrant, high-intensity, 40-minute workout routine that distinguishes SWEAT440. Bring your local ID, and you can avail of this offer. This trial session provides a glimpse into life as a #440Squad member, enabling an informed decision about your fitness journey.
Choosing the right gym extends beyond a membership—it's about selecting a companion for your fitness journey. It's about discovering a space that makes you feel comfortable, driven, and supported. The ideal gym offers more than a workout space—it gives you a community, a support system, and resources to reach your fitness objectives more efficiently. SWEAT440 embodies these traits, offering a unique fitness experience tailored to your needs. So take your time, research, and pick a gym that aligns with you. Fitness is a lifelong journey, and the right gym can make it an enriching experience. You're not just choosing a gym—you're investing in your health, well-being, and future. Choose wisely, and here's to a healthier, fitter you!
Why You Should Join a Gym
Expert Guidance

Personalized Plan

Cost-Effective

Variety of Equipment

Personal Support
Health Benefits

Social and Emotional Benefits

Friendly Environment

Consistency and Commitment

Confidence Boost