5 Tips for Choosing the HIIT Workout That's Right
for You
1. The Best HIIT Classes Are at Dedicated HIIT Gyms
Many gyms offer a version of high intensity interval training (HIIT), but it's rarely legitimate. Everyone knows that HIIT burns fat and builds muscle faster than most workouts, so gyms are eager to latch onto the phrase. But true high intensity interval training is a specific formula that very few gym classes follow. It's not just a matter of using high intensity or training in intervals. The right ratio involves maximizing your efforts for 45 seconds, followed by 15-second rest periods, for 40 minutes. You must also change the exercise you're doing every few minutes, and use the right reps and resistance to hit your VO2 Max with HIIT classes. 
Many gyms get all of that wrong and also neglect a key component, which is combining cardio with resistance. We'll explain more about what makes the ultimate HIIT workout in this article, but if you want to skip straight to your workout, try a free HIIT class at Sweat440 in FiDi today! Our gyms are 100% HIIT gyms. We teach HIIT classes all day, every day, so you're in the best hands at Sweat440!
2. The Top HIIT Training Program has Qualified Instructors
Another important step in choosing a HIIT workout is determining whether the instructor is qualified. At many gyms, instructors teach a variety of classes like aerobics, yoga, and HIIT without being trained in each method. This makes a huge difference in terms of safety and fitness results. HIIT exercises require several key components to actually count as high intensity interval training. 
Many of the HIIT workouts you find in gyms and online are missing several of these components. A qualified instructor will make sure you're getting everything you want out of your HIIT workout. At Sweat440 FiDi, we keep classes small, so our instructors can circulate and give personalized instruction to every class member. 
Unlike other fitness centers, we know that each class participant needs different resistance, reps, and accommodations to achieve their particular goals. HIIT classes with the wrong instructors are ineffective at best, and potentially harmful. Maximize your workout by choosing a gym with trained HIIT instructors. 
3. A HIIT Weight Training Circuit Fused with Cardio Is Best 
One of the things many HIIT classes neglect is the fusion of cardio with resistance. Muscle is what burns fat while you're at rest, so HIIT exercises that combine those maximize calorie burn while you're in the gym, and for several hours afterward. Reaching maximum oxygen consumption during your workout (VO2 Max) is what enables your body to stay in fat-burning mode and lose weight quickly. 
That's not accomplished by simply riding a stationary bike for 30 minutes. You need compound cardio circuits that add resistance to your cardio, and conversely, cardio to your strength training, to reap the full benefits of HIIT. Sweat440 achieves this with cutting-edge tools like VersaClimbers, SkiErgs and Assault Bikes that build muscle and burn calories equally well. For some classmates, bodyweight exercises provide enough resistance. Others need to add dumbbells, kettlebells, or plates to their aerobic exercises. That's why choosing educated instructors is key to superior results.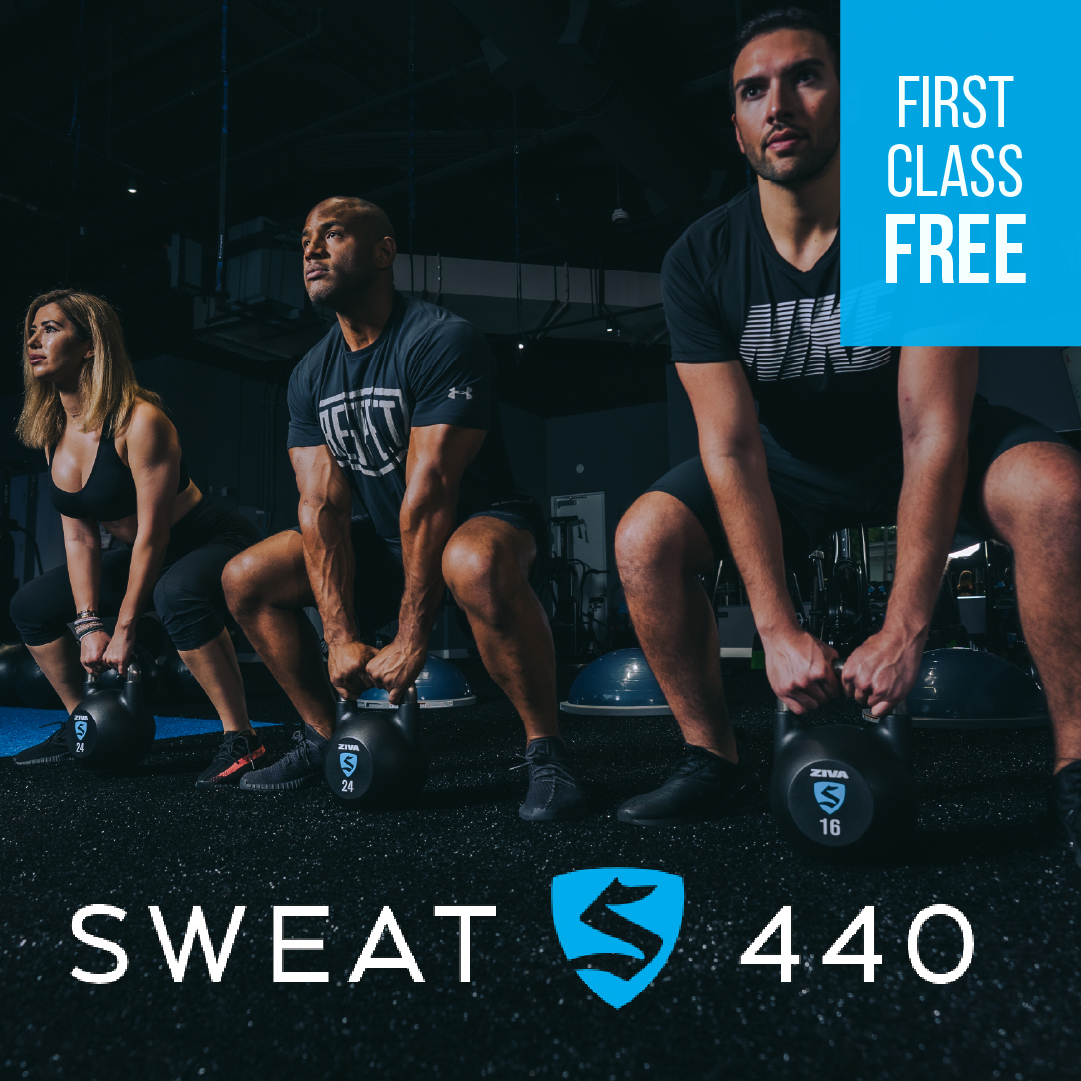 4. The Top Strength Training and HIIT Workout Plan Is Precise
Going all out for the entire workout isn't the point of HIIT. In fact, it's counterproductive, since it keeps you in an aerobic state and leads to poor form and burnout. It's not sufficient to simply use high intensity in your workout. You need the right variation between high and low intensity to maintain your effort and form for the duration of the workout. 
When you take a few seconds to catch your breath, you're able to work harder for longer without injury. In addition, this type of metabolic conditioning keeps your body guessing, which prevents plateau. Taking too long between sets is ineffective as well, since your heart rate will drop too low to keep you burning fat. So, stick with HIIT classes where the instructors know exactly how much rest is enough. 
5. The Best HIIT Gyms in NY Offer Free HIIT Classes
Some gyms label their HIIT classes things like "HIIT workouts for women," or "HIIT workouts for men." Or they divide their classes between beginner, intermediate, and expert. This is a clue that either they aren't trained in HIIT, or their classes are too large for individual instruction. HIIT is a circuit workout, where you do your personal best in each station. Everyone's fitness level improves with HIIT, regardless of gender or previous workout experience.  
At Sweat440, our small group classes are led by expert HIIT trainers who assist you every step of the way. They recommend the right reps, resistance, and pace, and offer alternatives for exercises you can't do. They offer this personal training for no additional fee, which makes Sweat440 a very affordable workout. Our classes are inspiring, since the members are at different points on their fitness journey, but like-minded in reaching their goals. 
When you join Sweat440 in FiDi, you won't feel like a beginner, because our trainers are so informative, and our stations have demos for you to follow. You don't have to take our word for it. We offer free HIIT classes for everyone, so come see for yourself risk-free! If you want to return, and we're sure you will, our memberships are contract-free and available at several price points. That makes Sweat440 FiDi, near the NYSE, the most affordable gym for HIIT in NYC! 
Sweat440: The HIIT Workout That's Right for You
Why Sweat440's HIIT Classes Are Best:
Sweat440 gyms teach 100% HIIT classes.

Sweat440 trainers specialize in HIIT workouts. 

Sweat440 offers free HIIT classes for all.

Sweat440 is for all genders & fitness levels.

Sweat440 classes help you lose weight faster.

Sweat440 ensures you hit your target heart rate.

Sweat440 burns more calories in just 40 minutes.

Sweat440 is a contract-free gym.
Where to Try a HIIT Workout Near Me:
Visit Sweat440 in the Financial District near

The New York Stock Exchange at 80 John St.

Call us at (888) 507-9328 to try free HIIT classes!
Visit Sweat440 in Chelsea near Union Station

at 600 6th Ave. Call us at (888) 507-9328 to

try free HIIT classes!