If you're looking to join a Chelsea gym, we're super excited for you! Nothing matters more than health, and exercise is an investment in yourself that yields lifelong returns. Not to mention, better fitness boosts self-esteem, cognitive function, and even improves your sleep! If you're looking for a workout for weight loss or to build muscle mass, you're in luck! Chelsea is home to some of the most innovative gyms in New York City. But not every style of training delivers the same results, and research shows some are far more effective than others. Take a look at why HIIT gyms like Sweat440 deliver superior results.
Why HIIT Gyms are a Hit in Chelsea
High-Intensity Interval Training (HIIT) checks every box on the checklist of excellent workouts. Studies show that HIIT is equally effective at building muscle, burning fat, and improving cardio endurance. HIIT increases your metabolic rate, so you burn even more calories after your workout is done. Not to mention, it's far more efficient. 27 minutes of HIIT training 3x a week burns the same amount of calories as 60 minutes of cardio 5x a week. Who wouldn't sign up for that?
HIIT also burns off more fat along with calories, since burning fat requires oxygen, and HIIT increases your body's oxygen production. Burning fat is far more appealing than burning muscle, which is what some cardio workouts do. HIIT actually helps your body create more HGH, so you build and sustain more muscle while shredding fat. But a workout is only effective if you stick with it, which is another way HIIT prevails. HIIT classes at Sweat440 are packed with versatility, so you can push past mental barriers, increase your stamina, and max out your potential, without getting bored of your routine.
Countdown of the Top 5 Chelsea Gyms: Why Sweat440 is #1
Chelsea gyms offer everything from group fitness classes, to personalized training, to barre classes and swimming pools. Before you sign up, ask yourself, "Is there a class near me? Does it provide an affordable workout? What kind of training does it provide? Is it known to deliver results?"
Some memberships are crazy expensive and lock you into lengthy contracts. So, decide what you're looking for and don't settle for anything less. If the location is inconvenient or the classes are always full, you're just paying to carry a membership card in your wallet. Here's a countdown of the top 5 Chelsea gyms- see why Sweat440 hits the mark.
Some memberships are crazy expensive and lock you into lengthy contracts. So, decide what you're looking for and don't settle for anything less. If the location is inconvenient or the classes are always full, you're just paying to carry a membership card in your wallet. Here's a countdown of the top 5 Chelsea gyms- see why Sweat440 hits the mark.
Equinox- This gym is known for luxury like steam rooms and spa treatments, but the money you put in doesn't equate to the results that come out. Amenities are nice, but they don't actually sculpt your abs, pump your biceps, or blast fat off of your thighs. It's no wonder it consistently receives mediocre reviews. At Equinox, you're just a number- a line item on their statement, not a person they invest in.
Chelsea Piers- Wondering what a Chelsea Piers membership costs or how much a day pass to Chelsea Piers is? Memberships range from $150-$250 a month, plus initiation fees, depending on your level of membership. Day passes are $50 for non-members, but don't come with all the perks. All those extras? Yeah, you have to pay for those. Chelsea Piers caters mostly to athletes, featuring square footage most gym members will never use. What is there to do at Chelsea Piers? A bowling alley, sand volleyball court, swimming pool, golf club, daycare, preschool, ice rink, and maritime center are just a few of the things housed in the 1.2 million square feet. So, if you're looking for the best workout in Chelsea, don't pay for real estate and event spaces you won't use.
Blink Fitness- This is a classic case of "you get what you pay for." And sometimes, you even pay for what you don't get. Blink offers bargain pricing, but look out for the hidden fees that help them pay the bills. At Blink, you're on your own unless you want to pay for a personal trainer, since there are no group fitness classes or fitness instructors circulating during your workout. Self-motivation is awesome, but we all need a little help getting amped up sometimes. Blink costs less, but it's just money down the drain if you don't actually enjoy going or push yourself once you get there.
NYSC Lab- If you're wondering, "What is NYSC Lab? Is that a typo?" It stands for New York Sports Club, and it includes classes like yoga, pilates, Zumba, and boot camp. However, they all come with a catch. You have to pay high monthly fees and reserve classes well in advance, which doesn't work in real life. The classes are offered infrequently, for example, on Tuesdays at 1:00. So, if you miss your timeslot, you pay for a class you can't go to. The instructor quality varies since they are not trained in the same method. So, you may get a decent teacher for one class, but an ineffective one the next time.
Sweat440- Sweat440 has everything you're looking for, including things you don't even know that you need! An affordable gym with classes starting every 10 minutes, Sweat440 makes fitness easy to fit into your life. Our team of instructors assist in every HIIT class, supplemented by digital demos, so you always stay in best form. Our classes cater to everyone, and produce the optimal results HIIT is known for in an energetic and upbeat environment. You never have to miss a class, or wait around for a machine. The quick-change dynamics and crazy-good music make your workout fly by. Bet you didn't know you needed a high-five today, but we did. Come on in and get one! Bet you didn't know you deserved props for your efforts, but we did. Hop in our selfie booth to capture your post-workout glow!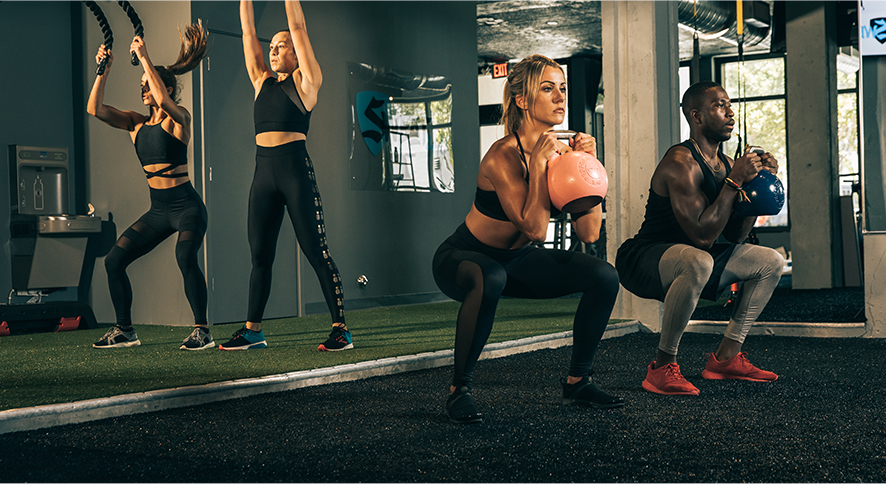 The Pros and Cons of the Top 5 Chelsea Gyms
Pros of Chelsea Gyms:
Equinox- Luxury, spa treatments, elite status
Chelsea Piers– Large, event space, sports facilities
Blink Fitness– Cheap, non-intimidating environment
NYSC Lab- Traditional workouts like Zumba and Burn
Sweat440- Affordability, convenience, variety, versatility, efficiency, effectiveness, enthusiasm, group dynamic, class availability
Cons of Chelsea Gyms:
Equinox- Overpriced, overcrowded, uninviting
Chelsea Piers– Costly, charges for square footage and facilities you don't use
Blink Fitness- Bare bones, no classes or instructors, might as well work out at home
NYSC Lab– Infrequent classes, inconsistent instructors, outdated training methods
Sweat440– If you're looking for a marina or bowling alley, you won't find it here
The founders of Sweat440 know what comprises an outstanding gym experience. Spoiler alert: it has nothing to do with mammoth square footage or ice skating rinks. Our gyms always have a class waiting for you, without reserving months ahead of time, and trainers ready to coach you. Shouldn't that be a non-negotiable when you're a member of a gym? Stop in and see why thousands of people on Classpass give us 5 stars. Come try a free class in our convenient location at 600 6th Avenue. What are you waiting for? The next class starts exactly 9 minutes and 59 seconds from…now!