Exercise is meant to be healthy, empowering, energizing, and fun. But some gyms manipulate the desire to be fit by charging exorbitant prices and offering pricey amenities that have nothing to do with exercise. The irony is, those gyms don't deliver the same results or return on investment as more affordable gyms. Research shows that 38% of people quit their gym because of the price. Those most likely to stick with their fitness routine are the ones who aren't overburdened by the fees. High rates and iron-clad contracts keep putting money in gym owner's pockets, but they don't actually get you in shape. So, if you're looking for a cheap gym near you in Montréal, you're already on the right track.
Are All Affordable Montréal Gyms Cheap?
It's not enough to look for a lower price, you still have to be careful what you pay for. Some cheap gyms in Montréal are… cheap. They cut costs where they shouldn't, and that means dirty or broken equipment, overcrowded facilities, lack of group fitness classes or personal trainers, and unqualified instructors. No matter how low the price is, pay attention to what the facility includes. It's money wasted if the gym doesn't provide what you need. If the gym instructors aren't certified and the facility isn't well maintained, then it could cost you a bundle in injuries and health issues sustained on faulty equipment.
It's important to know how the gym uses your membership fees. Do they spend it on massive real estate for the facility? Do they use it to fill the owner's wallet? Or do they use it to purchase state-of-the art equipment and hire the best instructors for a variety of classes? Not every facility includes a diverse selection of group fitness classes, cardio, strength training, and personal training. In fact, some cheap gyms offer zero customer service or fitness instruction, and leave you to figure things out on your own.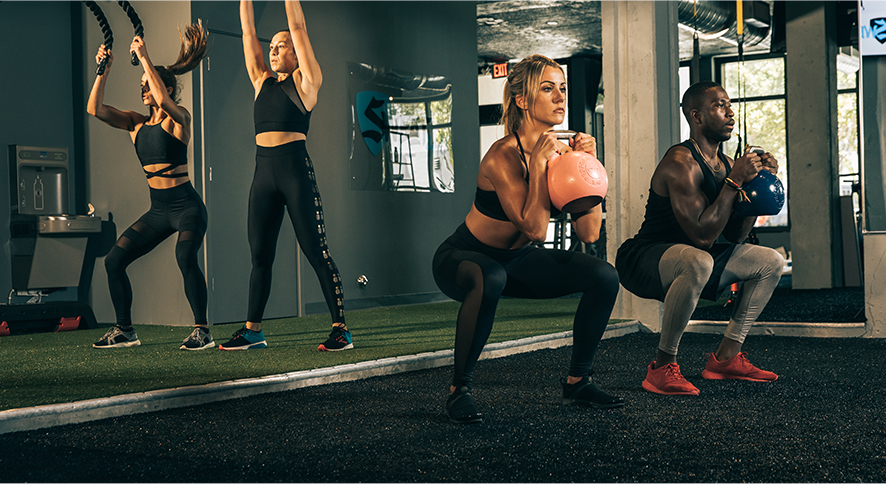 What is the Most Affordable Gym in Montréal?
To differentiate between cheap and affordable, think about what you can actually afford. This is broader than taking a look at your bank account. Can you afford a gym with unsafe equipment, and the injuries you might incur? Can you afford a membership you never use because the gym is too crowded or unappealing? Can you afford to waste time on waiting lists when classes are full or don't fit into your schedule?
The most affordable gym is the one where the price is right, but it also adds value to your life. An affordable gym doesn't break your budget or force you to quit if money gets tight. But it also doesn't shortchange you on important features like safety, certified instructors, a variety of classes, or the latest equipment and technology.
 Most boutique fitness studios don't strike that balance, but that's why Sweat440 is different. We provide the latest technology, like animated demos at every fitness station and an app for easy scheduling. We offer classes every 10 minutes, so you always get a spot. We hire only the most certified instructors, and our owners are highly sought-after trainers themselves. Many gym owners are just absent investors who don't understand fitness or care about their members. But our founders started with the mission of putting customers first, which includes fair pricing and maximum results. That's why we offer the most effective high-intensity interval training (HIIT) classes available. Our classes have personalized training included in the price, so we don't upcharge for what you deserve.
Why is Sweat440 the Best Cheap Gym in Montréal?
We believe fitness should be available to everyone, and cost shouldn't prohibit healthy living. We don't cut corners or sacrifice safety or service- in fact, our gyms lead the industry in customer experience. But we provide an affordable rate by spending our money where it counts. We don't use a 50,000-square-foot warehouse with tons of empty space; we utilize every square inch of our gyms. We don't charge you for training or treatments; we invest in coaches who produce results. Our thousands of satisfied customers agree, this is one gym where you get more than your money's worth. And right now, you can try Sweat440 for one week free, and just $28 per month after that! We offer a price that's cheap, because we invest wisely. But there's nothing "cheap" about us.
What Does Membership at Sweat440 Include?
One of the things that sets us apart is how our pricing works. You can always try our classes free, and purchase one class at a time, if you'd like. We don't lock you into contracts or force you to pay for classes way in advance. We offer multiple packages, so you can buy as many or as few classes as you'd like. All of our classes incorporate HIIT methods, so each workout is the best you can find in Montréal. Research by the University of Montréal found HIIT to be effective at improving metabolic risk factors and body composition even in patients with conditions like diabetes and heart disease.
Every class includes individual attention to your form, fitness goals, and comfort level from our highly experienced instructors. Whether you like yoga, pilates, rock climbing, weight lifting, cycling, or running, you'll find elements of everything you love in our 40-minute high-impact classes. Rather than joining multiple gyms to meet all of your needs, make Sweat440 your daily routine. Our classes are different every day, and each class is suited to all fitness levels.
How Cheap Gyms in Montréal Measure Up
Beware of The Cost-Cutting Gyms in Montréal
For a low rate, you have to show a lease, tax return, and private documents.
Has limited hours and personal training costs extra
Classes and training cost extra and there are only 2 HIIT classes per week
Bare-bones, no-frills facility that costs twice what other gyms charge

Unsafe equipment and atmosphere with incredibly low reviews
Trust Sweat440's Affordable Fitness Philosophy
Sweat440- Doesn't lock you into contracts or charge for classes you miss
Sweat440- Doesn't waste money on square footage or outdated equipment
Sweat440- Doesn't cut back on classes or safety protocols to pay themselves more
Sweat440- Doesn't charge for ineffective classes, but teaches research-backed HIIT
Sweat440-

Doesn't have limited resources, but offers something for everyone
When it comes to cheap gyms in Montréal, Sweat440 is the best bang for the buck. While it's priced to accommodate your budget, you don't sacrifice anything for the price. In fact, it offers more than the priciest gyms, with its ideal schedule, optimal workouts, and personalized instruction. Come try Sweat440 for free!