Top 5 Cheap Gym Memberships Near Me
Who doesn't love a great deal? No matter what you're shopping for, it's smart to comparison shop. You want to get the best bang for your buck. It's no different with gym memberships. No one wants to overpay for an inferior gym! But how do you determine if a cheap gym membership fee is a good deal, or just a bad idea? No matter how great the price, if a gym isn't sufficient, it's still a waste of money. Take a look at 5 "cheap gym memberships near me" and see why Sweat440's membership ranks #1!
The Ranking of 4 Popular Cheap Gym Memberships:
4. Planet Fitness
Coming in 5th place is the Planet Fitness gym chain. While it won't make a big dent in your wallet, you might as well work out at home. This gym has the basics, but you're really on your own. Most outposts have no fitness classes, no trainers, and no amenities. The membership costs are low, but Planet Fitness uses contracts to keep you paying membership fees, even though you'll likely stop going.
In fact, that's their whole philosophy. If it's cheap, most members won't bother to actually quit, so it doesn't really matter what they provide in the gym. They actually bank on you not showing up, since that saves them money. There is also an annual fee plus additional fees if you want to work out at multiple locations. It lacks the energy, inspiration, and instruction necessary to reach your fitness goals, which means you're not actually saving money.
3. 24 Hour Fitness
24 Hour Fitness, like Anytime Fitness, is less staffed and available at all hours of the day. In addition to the monthly membership fee, there's an initial fee and an annual fee to pay. Members have access to a small schedule of classes, if they can get a spot. But they teach more basic methods like steady-state cardio, cycling, martial arts, and yoga, rather than newer, more effective techniques.
The 24 Hour Fitness membership plan is complicated and not inclusive. You can pay a monthly fee, initiation fee, and annual fee for a year-long contract, or no initiation fee but higher monthly fees and annual fees for a year-long contract, or a high monthly fee plus the additional fees for a month-to-month contract, or even higher fees to access all their locations. It's a system that leaves you wondering if you're actually getting the best deal- even with the most basic membership.
2. LA Fitness
LA Fitness ranks 3rd because they are fully staffed and offer classes and trainers. However, those perks cost extra- a training session is often more than the monthly membership. The LA Fitness gym chain also has a steep joining fee, and an ironclad contract that requires letters in writing and long waiting periods to quit.
While they're often large in size, you're also paying for things you may not use like a swimming pool and juice bar. The equipment is outdated and basic- bikes, treadmills, and weight machines. And the classes are sparse and outdated too- teaching things like beginner's yoga and dance classes, rather than effective methods like HIIT. So, if you're looking for low membership costs where your money buys things that benefit you, LA Fitness isn't a fit.
1. Sweat440
Sweat440 has the best "cheap gym memberships near me" with all the perks you deserve! We offer multiple membership options with a simple format based on how many classes you want to buy. We have NO CONTRACTS and NO INITIATION FEES! We have no minimum purchase and no cancellation fees if you miss a class.
But the even better deal is we include FREE TRAINING in every class! Our certified instructors circulate through every class, correcting form and customizing your workout to help you reach your goals. We only teach the most effective method- HIIT- so you always get your money's worth!
We keep membership costs low by not making a huge carbon footprint with square footage, or spending on things no one uses. We're within walking distance of juice bars, spas, and popular restaurants, so we don't charge you to have those in our gyms. You can buy one class at a time, or unlimited classes, and everything in between.
At Sweat440, we're passionate about saving money for our members by keeping the perks and trimming the nonsense. We have lockers, showers, state-of-the-art equipment, and classes every 10 minutes. We even have a selfie station to capture your post-workout glow! At Sweat440, you get a great deal on membership costs without sacrificing a thing!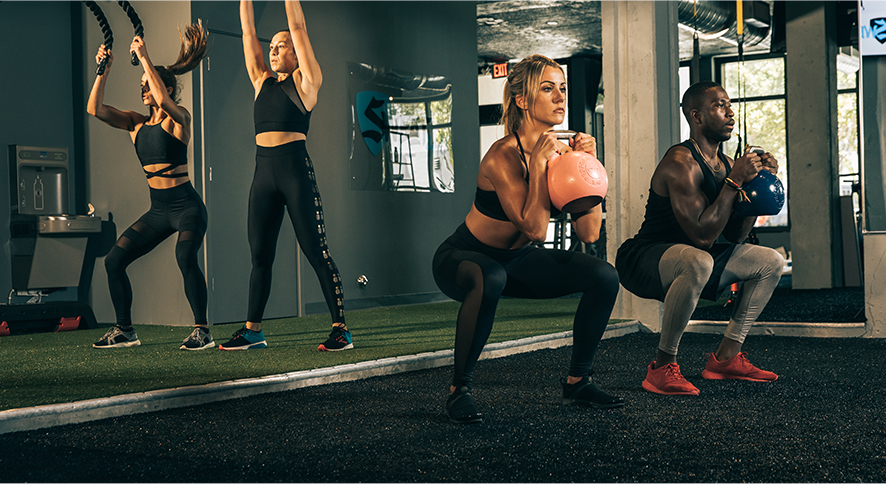 How to Choose Cheap Gym Memberships Near Me
Gyms that cut nonsense and waste, not corners
Gyms that include perks like free training
Gyms with flexible membership options
Gyms with no contracts or hidden fees
Gyms with state-of-the-art equipment
Gyms with plenty of classes
Gyms with certified trainers
Gyms that waste money on useless amenities
Gyms that lock you into lengthy contracts
Gyms that aren't staffed around the clock
Gyms with insufficient equipment
Gyms without classes or trainers
Gyms with outdated class methods
Gyms with initial fees and annual fees