Sweat440's Breakthrough Method vs. Breakthrough Fitness Gyms
Are you in need of a fitness breakthrough? Are you stuck in a plateau, or losing weight only to gain it back? Have you tried every diet available and every cardio machine at the gym? Don't lose hope- it's not that you can't overcome fitness hurdles. It's just that you haven't tried Sweat440's breakthrough fitness method with guaranteed results. Some gyms go by the name "Breakthrough Fitness," but their methods aren't actually groundbreaking. Sweat440 uses the proper methodology and technology to blast past plateaus and generate a dramatic breakthrough in fitness.
Breakthrough HIIT Method vs. Breakthrough Fitness Centers
Breakthrough Fitness in New York and Breakthrough Fitness Center in South Carolina have names that suggest a new way of getting fit. But they don't actually offer anything new, and their formats aren't revolutionary. The gym that actually redesigned fitness is Sweat440. Sweat440 uses groundbreaking technology, innovative scheduling, state-of-the-art equipment, and scientifically proven HIIT methods to achieve incomparable results.
6 Keys of Sweat440's Breakthrough Fitness Philosophy:
1. Our Scientifically Proven Method: HIIT All Day!
Sweat440 only teaches the method that guarantees fitness results. High-intensity interval training (HIIT) is backed by scientists, medical researchers, and fitness experts around the world. It's adaptable to the most competitive athletes, and the most fragile cardiac rehab patients. Each of our classes is packed with HIIT, so you aren't confined to one certain time slot each week.
2. Our Innovative Schedule: Classes Every 10 Minutes
Classes that fit members' schedules, instead of classes you can't get a spot in? That's certainly a breakthrough in fitness centers! Our classes start every 10 minutes and repeat all day, so you don't have to fight traffic, hire a sitter, or miss a meeting to fit in a workout. Come whenever it works for you- we're here and ready to work!
3. Our Personal Training Breakthrough: Free for Everyone
Personalized workouts are crucial to success. Generalized class instruction doesn't account for fitness levels, injuries, or limitations. Nor does it let you soar beyond the pace of your other classmates. Personal trainers are essential in motivating you to cross your hurdles, push past perceived boundaries, and achieve your best physique. That's why our founders, who are trainers themselves, devised the fitness breakthrough of free training in every Sweat440 class!
4. Our Groundbreaking Equipment: High-Tech Compound Cardio
You won't find yourself plodding along on a treadmill for hours at Sweat440. We use compound cardio circuits with innovative tools like Ski Ergs, Versa Climbers, and Assault Bikes. Our classes are never boring, and our equipment is never outdated. We use the best technology to maximize your workout with peak efficiency. Tools like animated demonstrations at each station, scheduling apps, and state-of-the-art machines guarantee superior results.
5. Our Unique Focus: Each Class Customized for Each Member
Our 40-minute classes consist of 4 10-minute stations, with 3 sets of 3 exercises each. That means, each participant works at their own pace, with customized speeds, resistance levels, and reps. You don't have to sign up for a "beginner" class, or "expert" class- each class works perfectly for everyone. Our trainers circulate through every class to keep you in top form. A gym where every class is for everyone? That's just one more fitness breakthrough you'll find at Sweat440.
6. Our Flexible Membership Plans: No Contracts or Fees
At Sweat440, we don't use contracts, and we don't have minimum purchase requirements. In fact, your first class is FREE, so you can give it a try without spending a dime. We have plans that fit every budget and memberships that make fitness affordable for all. Boutique fitness that won't leave you broke? That's a much-needed fitness breakthrough!
How Other Breakthrough Fitness Centers Compare:
1. Their Various Methods and Certification Levels
Other "Breakthrough Fitness" centers offer a variety of classes and trainers with different levels of expertise. While all of Sweat440's instructors are HIIT experts, at other gyms, you'll find teachers leading classes they aren't specialists in, and classes that don't guarantee results. Some classes are even unsafe for certain people. Stick with Sweat440 for certified trainers with a wealth of experience in the top fitness method.
2. Their Upcharges and Additional Fees
Breakthrough Fitness gyms charge higher membership fees than Sweat440, and those prices don't include much. If you want personal training or access to amenities, you have to pay extra. Memberships lock you in for months, or even a year at a time, and require a lengthy notice to exit the contract. Hidden fees and upcharges? That system is played out. You deserve the breakthrough that puts members first with transparent pricing at Sweat440.
3. Their Sparse Classes
Most gyms only offer a class once a day or even once a week. Often, you have to book way in advance or get stuck on a waiting list. Most gyms called "Breakthrough Fitness" only have one location, which further limits class availability. But Sweat440 has multiple locations in FL, NY, TX, and QC, so everyone gets a spot in the class!
4. Their Limited Focus
Many gyms focus on a particular type of athlete, like bodybuilders, cyclists, or dancers. Others offer classes that aren't safe for beginners like CrossFit, or powerlifting. Some of these gyms don't welcome newcomers and don't even show them the ropes. At Sweat440, our classes are super-welcoming, and led by instructors who assist at every station.
No matter where you are on your fitness journey, you can jump in a class at Sweat440! Try your first class for free today and see how Sweat440's breakthrough fitness philosophy delivers results!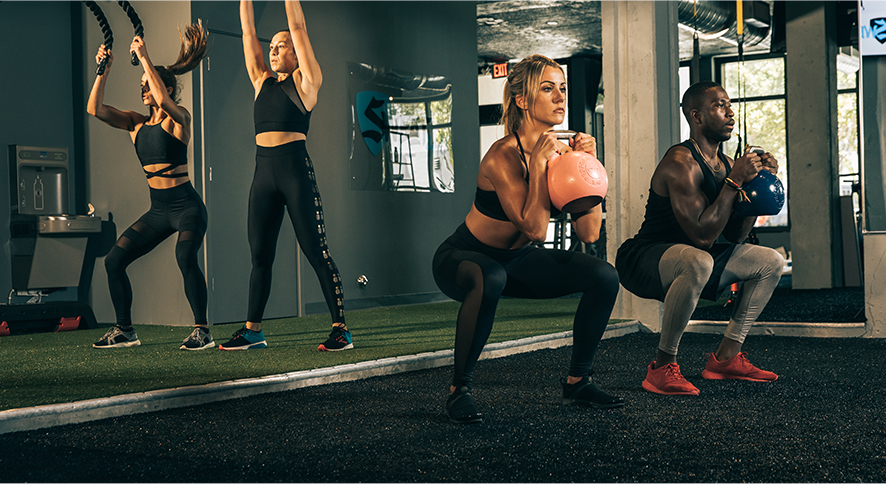 How Sweat440 Breaks Through Fitness Barriers
Sweat440's Breakthrough Fitness Philosophy:
Scientifically Proven Method: HIIT All Day!
Innovative Schedule: Classes Every 10 Minutes!
Personal Training Breakthrough: Free for All!
Groundbreaking Equipment: High-Tech Tools!
Unique Focus: Each Class is Customizable!
Flexible Memberships: No Contracts or Fees!
How Other Breakthrough Fitness Centers Fail:
Ineffective Workout Methods
Various Levels of Trainer Expertise
Additional Fees for Classes and Trainers
Limited Classes
Exclusive Focus on Certain Athletes
Pricy Memberships