7 Ways a Boutique Training Center Near Me Improves Fitness
What are your fitness goals? Do you want to win an Ironman competition, slay a Tough Mudder race, or walk in your first 5K? Are you looking to lose 100 pounds, 20 pounds, or those stubborn 5-10 pounds? Whatever your fitness goals are, Sweat440 is the gym that will help you crush them!
Sweat440 is a unique boutique training center that offers all of the luxuries of boutique gyms and none of the nonsense. No elite attitude, no costly memberships, and no long waitlists for classes. Sweat440 is the boutique gym that puts members first and delivers incomparable results. Take a look at 7 ways our boutique training centers take fitness to the next level.
1. Sweat440 is the #1 HIIT Training Center
Sweat440 utilizes the method proven to provide the best results in the shortest amount of time. High-intensity interval training (HIIT) burns fat while simultaneously building muscle for a workout that takes half the time. Our proprietary blend of intervals and intensity ensure you burn the most calories possible, and continue burning them after you're done. We do it all in just 40 minutes, burning more calories than hour-long classes at other gyms.
2. Sweat440 is Safe and Effective for All Fitness Levels
Since we implement interval training, each station is customizable for all fitness levels. Sweat440 uses a series of 45-second exercises followed by 15-second rest periods, incorporating multiple exercises in 40 minutes. Elite athletes can pile on the resistance or crank out tons of reps, while beginners can start slowly and build up as they acclimate. Trainers assist at every station, so you never over or underperform. Safety and results are our top priorities, and we help each individual max out their potential.
3. Sweat440 Includes Free Personalized Training
Ever felt like slacking off at the gym- skipping that last set, or dialing down the intensity? Who hasn't? That's where a certified instructor comes to the rescue! A trained instructor knows whether you really need a break or whether you can push a little harder. They offer motivation, inspiration, and most importantly, safe guidance on how to perform. At our boutique gyms, personalized training is included for FREE in every class! Amplify your fitness with superior trainers who help you push past plateaus at Sweat440.
4. Sweat440 Uses the Latest Technology
Animated video demonstrations of each exercise? Yep, Sweat440 has that. You never have to wonder how to perform a move or maintain form- our trainers are supplemented by demos at each station. We also offer convenient and fun tech like our scheduling app and selfie stations to capture your post-workout glow! Our equipment includes the newest, high-tech construction for superior results. Ski Ergs, Versa Climbers, Assault Bikes, TRX, and the latest techniques for peak fitness are incorporated in every class.
5. Sweat440 Makes Fitness Convenient
Sweat440's classes start every 10 minutes, every day! Yes, you read that right. So, that means you can fit a workout in whenever it works for you. No need to book months in advance or rush to a class that's only offered once a day. Our classes not only start every 10 minutes, they're also offered all day long, so you have plenty of chances to torch your core, tone your thighs, or build your biceps, no matter how busy your day gets. Each day, we provide a full-body workout but focus on different areas, so Sweat440 is your one-stop shopping experience for gyms!
6.  Sweat440 Makes Fitness Fun
Want to improve your physique? Make sure your gym is enjoyable. Consistency is the key to lasting fitness, and you won't want to quit a gym that you love! Our quick, powerful workouts are accompanied by top-level trainers, upbeat music, and awesome classmates who thrive on positivity and high-fives. Our members are thrilled by how quickly classes fly by and how quickly they see results. They can't get enough of Sweat440! Check out our 5-star reviews!
7. Sweat440 Makes Luxury Affordable
When you're grinding it out in the gym, don't you want a little reward? Sweat440 offers big rewards in the form of affordable luxury. Our memberships are priced below other boutique gyms and are available in multiple levels. You can buy as little as one class at a time, or as many as you'd like! Best of all, we have NO CONTRACTS OR HIDDEN FEES! Try finding that at any other boutique gym in town! Our TRAINERS ARE FREE, and we NEVER CHARGE FOR MISSED CLASSES! We offer all the perks you'd expect in a luxury spa or shopping experience: men's and women's apparel, personal attention, showers and locker rooms, and plenty of space to enjoy your experience.
Sweat440 is the Boutique Training Center for Everyone!
The best boutique training center near me is the one that shares the mentality of a nonprofit organization. Sweat440 invests each of your membership dollars into improving your health and fitness, not padding the owner's wallets. Our founders created Sweat440 to be a different kind of boutique gym- one that prioritized its members' individual schedules and budgets. We keep our costs lower than other boutique gyms by investing in what makes a difference, like state-of-the-art equipment, qualified trainers, and technology that simplifies your workout. Our classes are safe and effective for all fitness levels, and the first class is free! Come see what Sweat440 can do for you- we can't wait to meet you!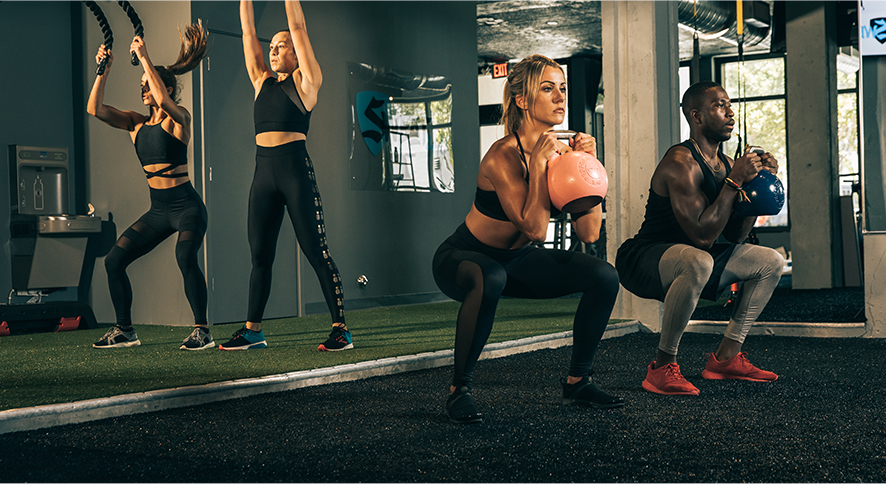 Why Sweat440 is the Best Boutique Training Center Near Me
Perks of Sweat440's Boutique Training Centers:
No contracts or hidden fees
Flexible membership options
Classes are safe for all fitness levels
Free personal training
Instruction in the #1 method- HIIT
The latest equipment and technology
Multiple convenient locations
An inspiring, upbeat environment
Affordable luxury amenities
Classes every 10 minutes
Sweat440's Boutique Training Centers Near Me:
Brickell– 25 9th St., Suite G100, Miami, FL
Coral Gables– 301 Altara Ave., Suite 111, Coral Gables, FL
Downtown Doral– 8403 NW 53rd St., Doral, FL
Miami Beach– 1916 Bay Rd., Miami Beach, FL
Kendall– 4293 SW 152nd Ave., Miami, FL
Palm Beach– 3201 N. Miami Ave., Suite 10, Miami, FL
Chelsea– 600 6th Ave., New York, NY
FIDI– 80 John St., New York, NY
Austin– 507 Pressler St., Austin, TX
Montréal– 5000 Rue Jean-Talon O, Montréal, QC