What Are Fitness Boutiques? FAQs About Boutique Personal Training
In recent years, the boutique fitness industry has undergone a massive boom. New boutique fitness studios have been popping up around every street corner. But what is boutique personal training, and how is it different from a standard gym? And where can you find the best boutique fitness studios?
Sweat 440 is a group of state-of-the-art boutique fitness studios specializing in HIIT workouts for men and women. We have boutique fitness gyms across the United States, including New York, Texas, and Florida. In this article, we answer your questions about boutique fitness studios and describe the locations of your nearest Sweat 440 fitness studios.
What are fitness boutiques?
In the world of fitness, "boutique" has become a popular buzzword. But what exactly is a fitness boutique? A fitness boutique is a small, independent fitness studio that offers a variety of specialized fitness classes. These studios are usually owned and operated by a single fitness professional or a small team of fitness experts.
Fitness boutiques typically have a more intimate and personal feel than large commercial gyms. They often have unique personalities and offer a more specialized range of classes than your average gym. For example, you might find a fitness boutique specializing in Pilates, yoga, or even dance-based workouts.
If you're looking for a more personalized and intimate fitness experience, a fitness boutique may be the right choice for you. These studios often offer unique amenities and services you won't find at a large gym, such as merch shops. Fitness boutiques typically have a close-knit community feel, which can be great for motivation and accountability.
What's the difference between a gym and a fitness studio?
If you're considering joining a gym or a fitness studio, you may wonder what the difference is between the two. Both gyms and fitness studios offer a place to work out, but they have different atmospheres and offer different classes.
Gyms are often large, with various cardio and weight machines, free weights, and other equipment. You can usually pay a monthly fee to use the gym and equipment whenever you want during gym hours. Some gyms offer group fitness classes, personal training, and other amenities.
Fitness studios are smaller and typically only offer group fitness classes. The classes are usually led by a certified instructor and are based around a certain type of exercise, such as yoga, Pilates, spin, or TRX. Fitness studios usually require you to sign up for classes in advance, and they may have a monthly or per-class fee.
Sweat 440, however, combines the camaraderie of group fitness classes and the flexibility of open gyms. Our fitness studios are designed according to a unique format that allows new members to join a class every 10 minutes, so you're literally never late for a class. Unlike traditional group fitness classes, you don't have to schedule your class in advance.
What is HIIT training?
HIIT, or high-intensity interval training, is an exercise that alternates between short periods of intense activity and periods of recovery. HIIT can be done with any type of exercise but is most commonly done with cardiovascular activities such as running or cycling. However, Sweat 440 offers HIIT classes that combine cardio and strength training to help you lose weight and build muscle simultaneously. HIIT training can improve cardiovascular fitness, increase calorie burn, and improve insulin sensitivity.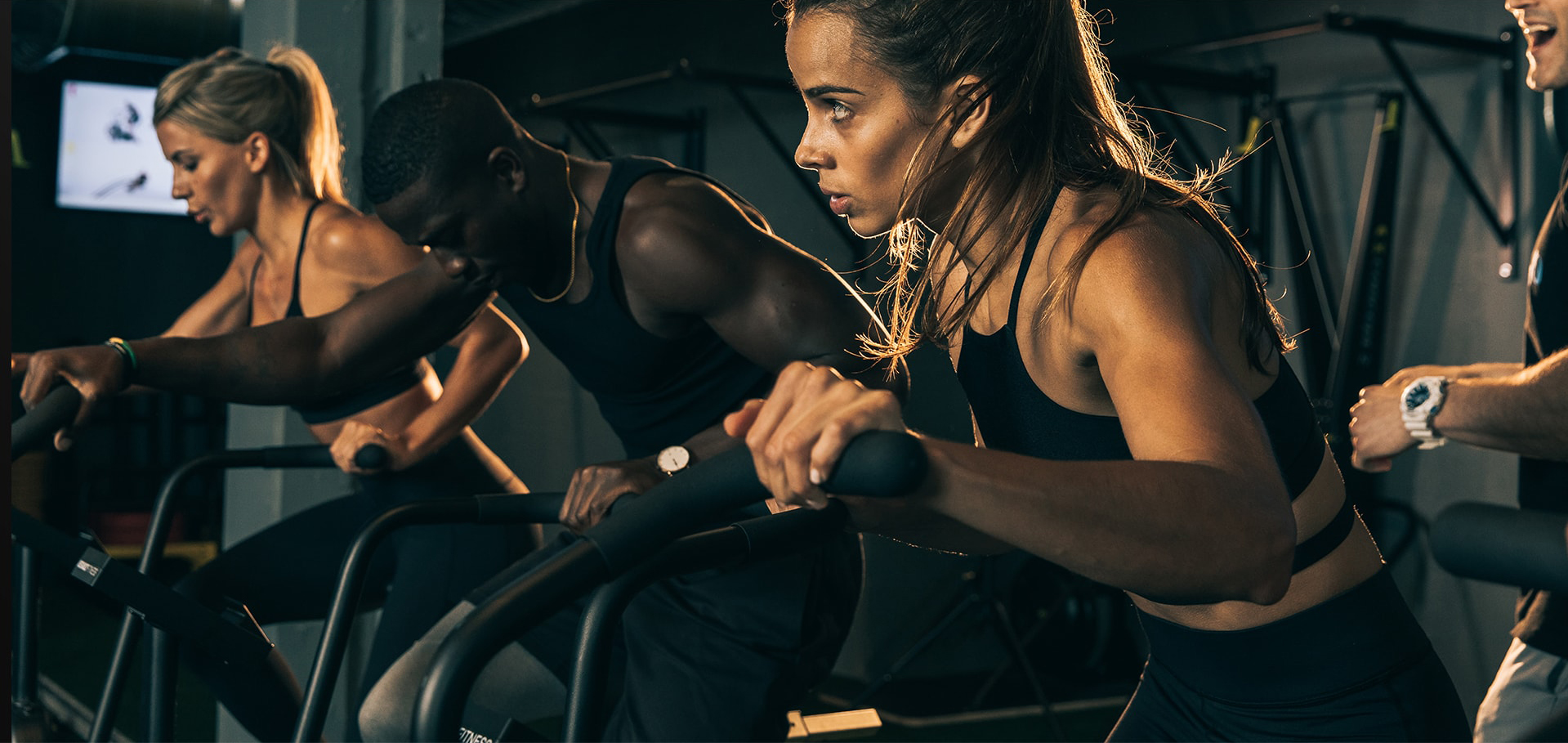 Is a HIIT class good for weight loss?
HIIT is a great option for people looking to lose weight because it is an incredibly efficient way to burn calories. In fact, you can burn more calories in a HIIT workout than you would in a traditional workout because of the intensity level. HIIT workouts are typically shorter than traditional workouts, so they can be a great option for people who are short on time.
Sweat 440: find the best boutique fitness studios near your location
Sweat 440 is a group of fitness studios specializing in HIIT classes with strength training components. Sweat 440 classes are designed in a unique format. Each 40-minute class takes you through four 10-minute fitness stations with different exercises. After every 10 minutes, you have to move to the next fitness station, opening up the previous station for a new group. This format allows new members to join the group fitness class every 10 minutes, so there's no need to book classes in advance — you can show up whenever you want!
We have state-of-the-art boutique fitness studios across the United States and Montreal, Canada. You can find our fitness centers in Florida (Brickell, Miami Beach, Downtown Doral, Coral Gables, Coral Springs, Miami Lakes, Deerfield, Biscayne, and Coral Landings), New York City (Chelsea and Financial District), Texas (Austin), and Alabama (Madison). If you're in Canada, you can find our boutique fitness studio at 5000 Rue Jean-Talon O Montréal. We are currently offering free trial classes to new members — please visit your nearest boutique fitness studio to claim your free HIIT classes.
Boutique Personal Training
Benefits of Sweat 440 Boutique Fitness:
New classes start every 10 minutes

Dynamic HIIT classes with elements of strength training and cardio

Cutting-edge workout equipment

Group fitness classes are led by certified trainers

Receive personalized attention from trainers

Burn fat and build muscle simultaneously

Improve cardiovascular health and muscle endurance

Flexible memberships without legally-binding contracts

Free trial classes for new members
Locations of Sweat 440 Boutique Fitness Studios:
Brickell, Florida

: 25 SW 9th St. G100 Miami FL, 33130

Miami Beach, Florida

: 1916 Bay Rd, Miami Beach, FL 33139

Downtown Doral, Florida

: 8405 NW 53rd St Suite #E 104, Doral, FL 33166

Coral Gables, Florida

: 301 Altara Ave Ste 111, Coral Gables, FL 33146

Coral Springs, Florida

: 6206 W Sample Rd, Coral Springs, FL 33067

Miami Lakes, Florida

: 6766 Main St, Miami Lakes, FL 33014

Deerfield, Florida

: 248 South Federal HWY Deerfield Beach FL, 33441

Biscayne, Florida

: 6916 Biscayne Blvd Miami, Florida, 33138

Coral Landings, Florida

: 6206 W Sample Rd. Coral Springs, Florida, 33067

Chelsea/Flatiron, New York City

: 600 6th Ave Chelsea, New York, 10011

Financial District, New York City

: 80 John St New York, New York, 10038

Austin, Texas

: 110 Jacob Fontaine Ln Austin, Texas, 78752

Madison, Alabama

: 10878 County Line Rd Madison, Alabama, 35756

Montréal, Quebec, Canada

: 5000 Rue Jean-Talon O Montréal, Quebec, H4P 1W9