Why Are Boutique Gyms Near Me in Coral Gables
Better Than Big Gyms?
What is the Number 1 Gym Near Coral Gables and Why?
South Florida has several gyms to choose from. But South Florida also has several residents. Big box gyms are overcrowded, inattentive, and have insufficient classes and equipment. It's common for residents of Coral Gables to join a big box gym and immediately want to quit. Long lines for machines, group fitness classes without openings, and hidden fees are just a few of the reasons. The worst part is they're often locked in a complicated contract.
Sweat440 in Coral Gables eliminates all of those hassles with small classes offered every 10 minutes, so you always get a spot. We offer contract-free memberships, transparent pricing, and personalized training for free in every single class! We also teach HIIT exclusively, so our workouts burn more calories than any other gym in Coral Gables. Try a free class today at one of our multiple locations, and see why Sweat440 is the number 1 gym in the Gables! 
Why Should I Choose a Boutique Group Gym Near Me?
A top reason to search for a "boutique group gym near me" is the individualized attention you'll receive. Sweat440 has a superior ratio of trainers to class members, so you get personalized training without booking a training session. Personal training can be outrageously expensive in South Florida, so choosing a boutique gym with attentive instructors provides the most affordable workout. 
Boutique gyms offer a more pleasant fitness environment. The owners typically have better oversight, and they focus more on the members' experience than the margins. At gyms like Sweat440, the equipment is better maintained, the facilities are cleaner, and customer service is a top priority. In addition, boutique gyms provide socialization through smaller group fitness classes. This is increasingly valuable after the pandemic. It makes exercise an uplifting experience, not an isolating chore.
It's important to choose your Coral Gables boutique fitness center carefully, however. Smaller doesn't automatically mean better, and some boutique gyms are just as overpriced as big box gyms. Choose a gym with clear gym membership pricing and a variety of equipment and exercises. Some boutique gyms have limited methods, like yoga studios and spin studios, which don't provide the best return on your investment. Learn why below.  
Why Is a HIIT Workout Gym Near Me Best?
When searching for "boutique gyms near me," focus on HIIT gyms. High intensity interval training isn't just the best at burning calories and building muscle, it's also the most versatile. When you choose a cycling studio, yoga studio, or boxing gym, you're stuck with the same routine, which leads to burnout and plateau. 
Many people find themselves joining multiple gyms when they choose one that's too limiting. Sweat440's HIIT classes are different every day of the week, and we rotate you through 3 sets of 12 different exercises in each class. There's no chance to get bored or complacent with our high intensity playlist and energized instructors. 
You'll never plod along on a treadmill in our group fitness classes. You'll hop from machine to machine every few seconds. You might be on a VersaClimber one minute, then pushing a sled the next, then throwing battle ropes or gliding on a SkiErg a few seconds later. Our full body workouts are a perfect fusion of strength training and cardio, so you burn fat and build muscle in just 40 minutes! HIIT gyms are the best boutique gyms!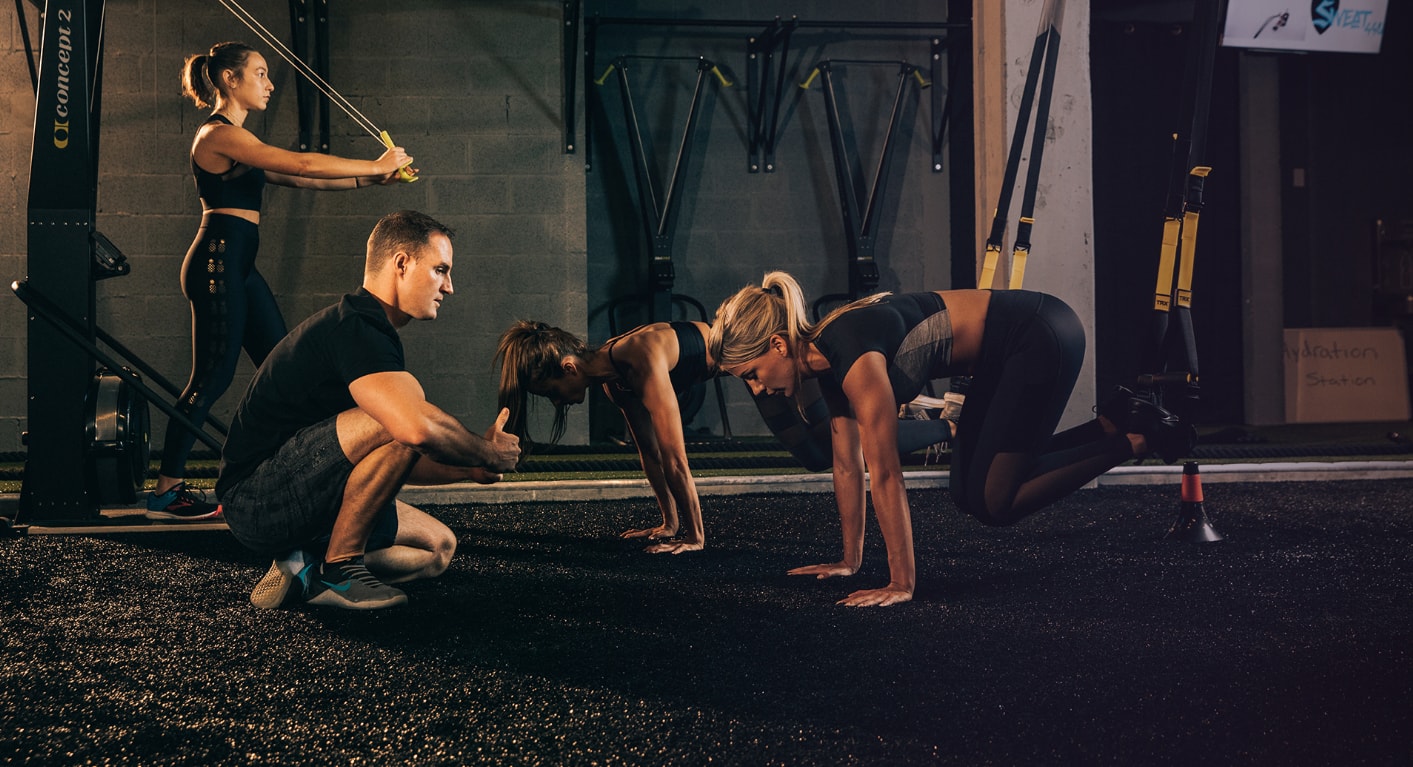 What Should I Look for on a Gym Membership Website?
If you are wary of joining a boutique gym, it might be because of the word "boutique." It's true that some boutique gyms charge boutique prices, so read the gym membership website closely. Look for the purchase requirements, length of the contract, penalties for quitting, and any additional fees throughout the year. Investigate which features cost additional money, including parking, lockers, towels, yoga mats, cycling shoes, trainers, fitness classes, and water. If the website doesn't mention any of these, call and ask before joining. 
The best gyms offer a boutique atmosphere to drive better results for their members– not so they can overcharge them. In fact, high membership fees and low results make people quit the gym. Sweat440 takes the opposite approach. Our boutique studio offers several membership levels and doesn't require contracts or minimum purchases. There are no hidden fees, annual fees, or cancellation fees. You simply pay for the classes you take. 
You aren't even charged for the classes you cancel, which is unheard of in Coral Gables! We just apply that credit to your next class. The result is that our members absolutely love our gyms! They stay for the individualized attention, fun classes, and remarkable results, not because they're bound by a contract. If you want the benefits of boutique fitness studios without a higher price tag, choose Sweat440!
Where Can I Try the Best Gym Classes Around Me for Free?
Want to give boutique fitness a try without committing right away? Every Sweat440 fitness studio offers free classes for beginners! You don't have to choose a "beginner's" class either. The beauty of high intensity interval training is that it's highly customizable, so you can try any class you want! Visit us at Sweat440 Coral Gables near Merrick Manor. Sweat 440 delivers the "best gyms near me" for both HIIT fitness and boutique fitness in Coral Gables!
How to Choose a Boutique Fitness Studio in Coral Gables
8 Things to Look for in the Boutique Gym:
HIIT method (skip yoga & spin studios)

Individualized attention 

Free personalized training

Updated machines and clean facilities

Multiple locations

Several class options

Free class trial before joining

Qualified instructors
8 Things to Look for in the Gym Membership:
Contract-free memberships

No annual, cancellation, or joining fees

No fees for amenities like lockers and towels

Different tiers of membership

No fees for classes you miss

No minimum purchase requirements

No lengthy exit period

Evidence that members are happy there