The Best Boutique Fitness Studios in Doral
Doral is quickly becoming one of the most popular places to get in shape in South Florida. With so many great boutique fitness studios to choose from, it can be tough to decide which one is right for you. Here are our top picks for the best boutique fitness studios in Doral:
Sweat 440

: Our studio offers a unique mix of strength training, cardio, and functional fitness classes. We also have a great selection of fitness equipment and a team of experienced trainers to help you reach your goals.

Sweat 440

offers dynamic 40-minute workouts that target all your muscle groups and include all elements of fitness to help you burn fat and build muscle simultaneously. If you want to get in the shape of your life, visit our boutique fitness studios in Doral for your HIIT classes.

OrangeTheory Fitness

: OrangeTheory is a science-backed workout that aims to burn calories and improve your fitness level. They have a great studio in Doral with top-of-the-line equipment and experienced coaches. However, OrangeTheory Fitness memberships can often be too rigid.

CycleBar

: CycleBar is a great option if you love indoor cycling. They have great classes for all levels, and their studio is spacious and well-equipped. However, CycleBar is only meant for indoor cycling and cardiovascular exercises, which only address one aspect of fitness. If you want to lose weight and build muscle, you also need strength training.
Sweat 440 has a state-of-the-art boutique fitness studio at 8405 NW 53rd St, Suite #E 104, Doral, conveniently located to family-friendly locations like Downtown Doral Park and Downtown Doral Charter Elementary School. We also offer free trial classes to new members — please visit our fitness center to claim your free HIIT classes in Doral.
What is a boutique fitness studio?
You've probably heard the term "boutique fitness studio" before, but maybe you're not quite sure what it means. In short, a boutique fitness studio is a small, independent fitness studio that offers specialized classes or services. These studios are usually owned and operated by one or a few people, and they often have a more intimate and personal feel than a large gym. 
Boutique fitness studios usually have a niche focus, meaning they specialize in one particular type of fitness or exercise. For example, you might find a studio specializing in yoga or another focusing on Pilates or spin classes. Some studios also offer a combination of different types of classes.
What sets boutique fitness studios apart from other gyms or fitness facilities is the focus on providing a high-quality, customized experience. This might mean smaller class sizes, more personal attention from instructors, and a more intimate and supportive community atmosphere. Sweat 440 is one of the best boutique fitness studios committed to HIIT classes in Doral.
What is high-intensity interval training?
High-intensity interval training, also known as HIIT, is a form of cardiovascular exercise that alternates between short periods of intense anaerobic exercise followed by less-intense recovery periods. HIIT is a popular workout routine for many people because it is a time-efficient way to improve cardiovascular fitness and burn calories.
One of the main benefits of HIIT is that it helps you burn more calories in a shorter time than other types of cardiovascular exercise. This is because HIIT workouts are very taxing on your body, which causes your body to continue burning calories even after you've stopped working out. HIIT can be customized to your fitness level. Whether a beginner or a seasoned athlete, you can adjust the intensity and duration of your intervals to make the workout more or less challenging.
If you're looking for a workout routine that will help you improve your cardiovascular fitness and burn calories, HIIT may be right for you. Sweat 440 offers highly dynamic HIIT classes that integrate strength training, cardio, and weight training to help you burn fat and build muscle simultaneously.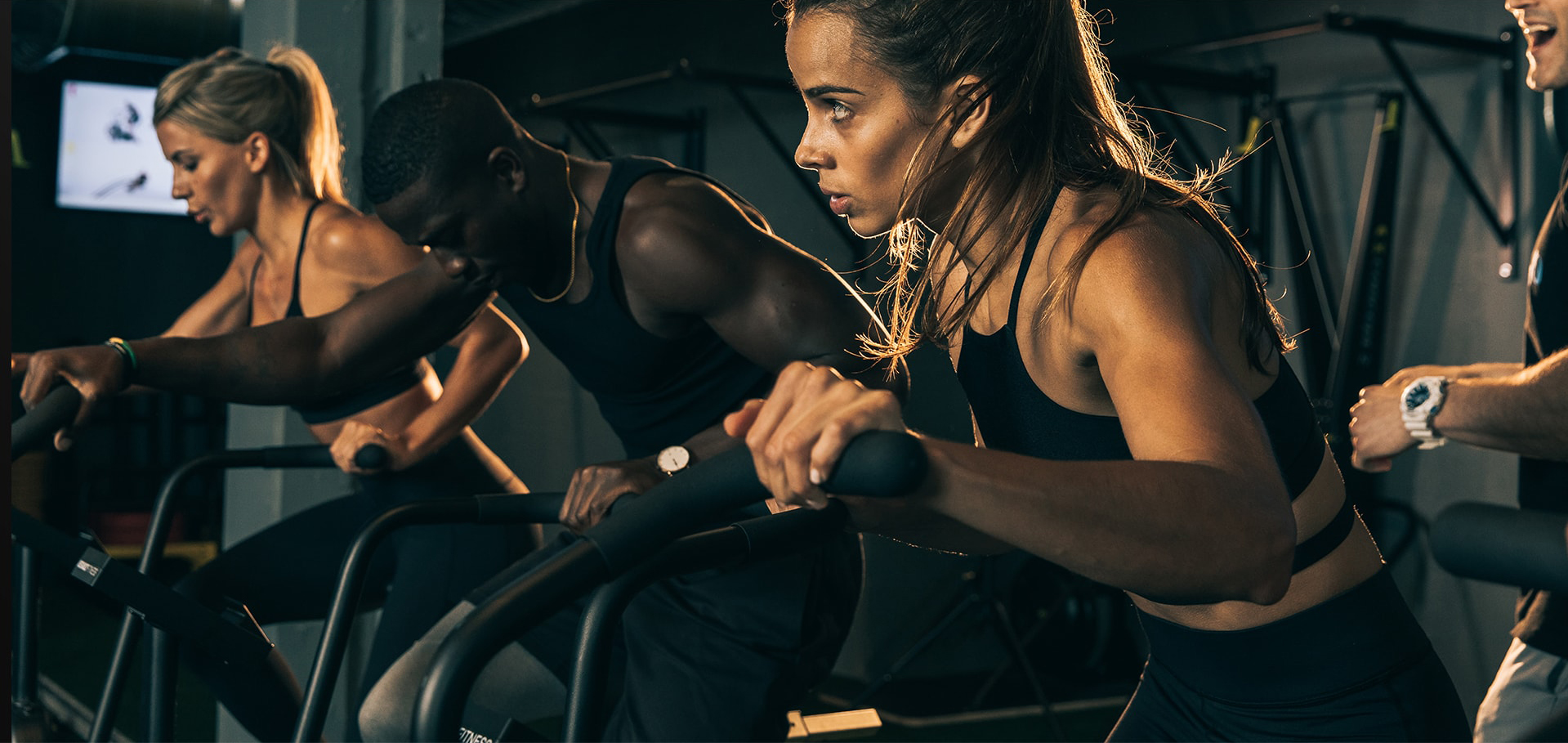 How big is a fitness studio?
Some boutique fitness studios are quite small, while others are quite large. What matters most is not the size of the studio but the quality of the workouts and the instructors. For example, Sweat 440's boutique fitness studios are designed to ensure you receive personal attention from your trainers. We also limit the number of people in each group fitness class to prevent the fitness center from being overcrowded.
Are group fitness classes effective?
Group fitness classes can be an effective way to get in shape and improve your fitness level. They provide a great opportunity to work out with others, which can make the experience more enjoyable and motivating. Additionally, most group fitness classes are led by certified instructors who can provide helpful guidance and ensure that you perform the exercises safely. Sweat 440 offers small-group fitness classes led by highly-skilled trainers who design workout programs that target all major muscle groups and help you achieve your fitness goals.
Looking for the best boutique fitness studios? Sweat 440 offers a dynamic 40-minute workout in Doral
If you're looking for amazing boutique fitness studios, look no further than Sweat 440 in Doral. We offer a dynamic 40-minute workout perfect for anyone looking to get fit and have a great time doing it. With experienced instructors and a fun, supportive atmosphere, you're sure to love Sweat 440. So why not give us a try today? You won't be disappointed!
Boutique Fitness Studios in Doral
Burn more calories in less time

Highly efficient form of workouts

Includes elements of cardio and strength training

Personalized according to your fitness level

Improves muscle endurance

Improves metabolism
Benefits of Group Fitness Classes:
Make workouts fun and engaging

Personal attention from certified trainers

Receive the motivation to give it your best

Interact with a community of like-minded fitness enthusiasts

Ensure better results because of consistency

Benefit from positive peer pressure to push yourself