What are the Best Boutique Classes Near Me for Fitness?​
You may have heard about the recent trends of boutique fitness classes. The fitness industry continues constantly evolving — from old aerobic fitness to big strength training gyms, fitness trends evolve and change. Boutique fitness is one such trend that's recently taken the fitness industry by storm. In this article, we will give you an overview of some of the best boutique classes near me.
However, before we do that, let's start with a brief discussion of boutique fitness in general. "Boutique" is usually used to describe small, fashionable clothing outlets or stores with a niche clientele. The fitness industry has adopted that term to refer to creatively-designed fitness studios that provide a specialized or unique workout experience.
Boutique fines studios usually specialize in one or two areas of fitness. For example, SoulCycle specializes in high-intensity interval training through cycling. 305 Fitness focuses on dance fitness classes. Y7 Studio focuses on a modern-twist on yoga classes. And a boutique fitness studio called P.volve also focuses primarily on booty workouts!
In addition to a high degree of specialization, boutique fitness gyms usually have group fitness classes with an expertly curated schedule. As such, boutique fitness classes provide more structure to your workouts. Most importantly, boutique fitness studios are fun and exciting — in addition to workouts, they have enthusiastic music, a social vibe, and so much more.
Now that you have a brief understanding of boutique fitness studios in general, the following are the three best boutique classes near me.
#3. Work Train Fight — Strength Training Classes
Work Train Fight is one of the best strength training boutique fitness classes in New York. WTF, however, focuses solely on boxing movements. Each fitness class takes you through shadowboxing, bag work, high-intensity interval training, mitt training, and other boxing elements. They have group fitness classes with 15 to 18 individuals per group. While WTF is great for those who want to learn boxing, it doesn't provide overall health & fitness classes, and it's not even sufficient for full-body strength training. Furthermore, with 15 to 18 individuals, the group classes can get crowded.
#2. CITYROW — Rowing Classes
CITYROW is a unique boutique fitness gym that focuses solely on machine rowing. Their group fitness classes focus on machine rowing, imitating crew-style rowing. Since you can adjust the resistance, the classes are extremely scalable. Furthermore, there's no questioning the efficiency of rowing machines. Each row simultaneously targets your entire body — triceps, biceps, shoulders, core, quads, hamstrings, and calves. However, rowing classes don't necessarily target the chest muscles, traps, and back muscles very well. Furthermore, performing the same exercise over and over can be monotonous.
#1. Sweat440 — Overall Health & Fitness Classes
Sweat440 is undoubtedly the best boutique fitness studio for overall health and fitness classes. Sweat440 is a boutique fitness studio equipped with all of the latest workout technologies and equipment. Furthermore, our fitness classes incorporate elements of strength training, resistance training, cross-training, core training, conditioning, and high-intensity interval training. Our schedule also targets all major muscles at least twice a week. As such, Sweat440 is a unique boutique fitness that addresses all of your fitness needs, helping you lose weight and build muscles simultaneously.
At Sweat440, we have 40-minute fitness classes that take you through four 10-minutes fitness stations. In each fitness station, you have to complete three sets of three exercises in clockwork fashion. After you're done with the first station, you move to the next station and the next group takes your place. As such, our fitness classes are designed such that a new group can join the class every ten minutes. This addresses one of the biggest issues with group fitness classes and boutique fitness studios — the need to schedule a class in advance. At Sweat440, you can show up whenever you find the time, without a booking, and join the upcoming class.
Sweat440 Boutique Fitness Schedule
The Sweat440 fitness schedule has been designed by a certified fitness expert. Our fitness classes are divided into four categories — shape, shred, sweat, and warrior. Depending on the day it is, we focus either on strength training, conditioning, cardiovascular exercises, or overall fitness.
The following is an overview of our Sweat440 boutique fitness schedule:
Monday: Shape — Lower Body
Tuesday: Shred — Upper Body/Core
Wednesday: Sweat — Core/Conditioning
Thursday: Shred — Lower Body/Core
Friday: Shape — Upper Body/Core
Saturday: Warrior — Total Body Conditioning
Sunday: Warrior — Total Body Conditioning
Sweat440 Boutique Fitness Classes Locations
Sweat440 boutique fitness studios are in New York and Florida. As such, if you're in New York City or Florida, you can find a boutique fitness studio near your location. In New York, we have boutique fitness studios in Chelsea and Financial District. Our Chelsea Sweat440 gym is extremely accessible, located near the 18th St. and 14th St. Metro Stations. In Florida, you can find a Sweat440 gym in Brickell, Miami Beach, Downtown Doral, or Coral Gables.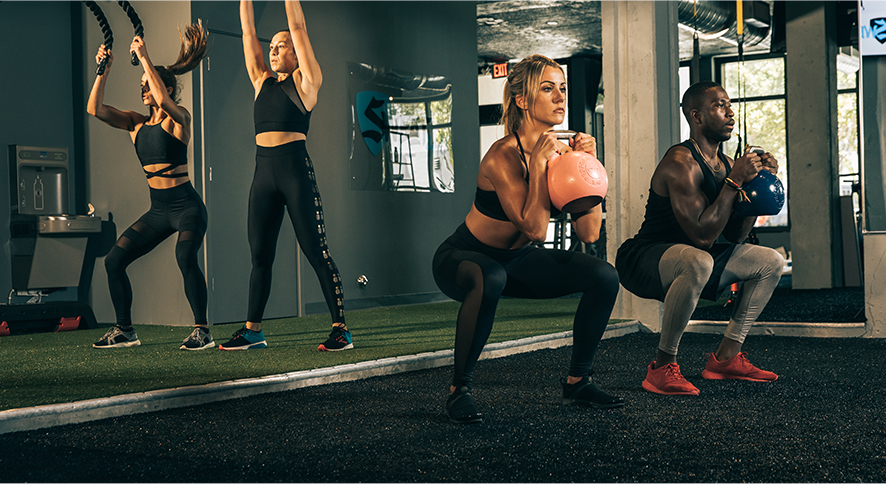 Sweat440 Boutique Fitness Schedule
Monday: Shape — Lower Body
Tuesday: Shred — Upper Body/Core
Wednesday: Sweat — Core/Conditioning
Thursday: Shred — Lower Body/Core
Friday: Shape — Upper Body/Core
Saturday: Warrior — Total Body Conditioning
Sunday: Warrior — Total Body Conditioning
Sweat440 Boutique Fitness Locations