Are you bored of your gym? Are you tired of not getting the results you want? Have you tried barre classes, rock climbing, cycling, yoga, or weight and cardio routines? Have you drained your bank account for personal trainers, expensive health clubs, or costly yoga studios? Have you tried to shake up the routine with muay thai, thai chi, or pilates? Guess what? It's not your fault that they aren't working. While all of these workouts burn some calories, none are the optimal workout. But, you're in luck- Sweat440 is here to deliver everything you've been looking for.
What Determines the Best Workout?
The best workout provides a variety of equipment, exercises, and intervals to keep your mind and body from getting complacent. Yoga may be relaxing, but it doesn't get your heart pumping or your lungs working hard enough to burn sufficient calories. Barre classes may strengthen muscles, but they don't provide enough cardio to strengthen your heart. Cycling burns calories, but it only works the lower half of your body, and allows you to coast without building muscle. You get the picture- none of these fitness routines are the total package. So, it's no wonder you're burning out. It's hard to keep putting the effort in when you aren't getting results. Do you want to know what gets the results you're seeking? Sweat440's high-intensity interval training classes. Doctors and exercise scientists agree.
Why is HIIT the Best Workout in Montréal?
High-intensity interval training (HIIT) is widely proven to burn the most calories in the shortest amount of time. With HIIT, you burn 30% more calories than with other workouts in a third of the time. How does it work? HIIT utilizes intervals of high-intensity exertion, followed by low-intensity rest to target your VO2 max, or the maximum amount of oxygen you can use during exercise. As a result, you burn the most calories, and continue to burn them even after your workout.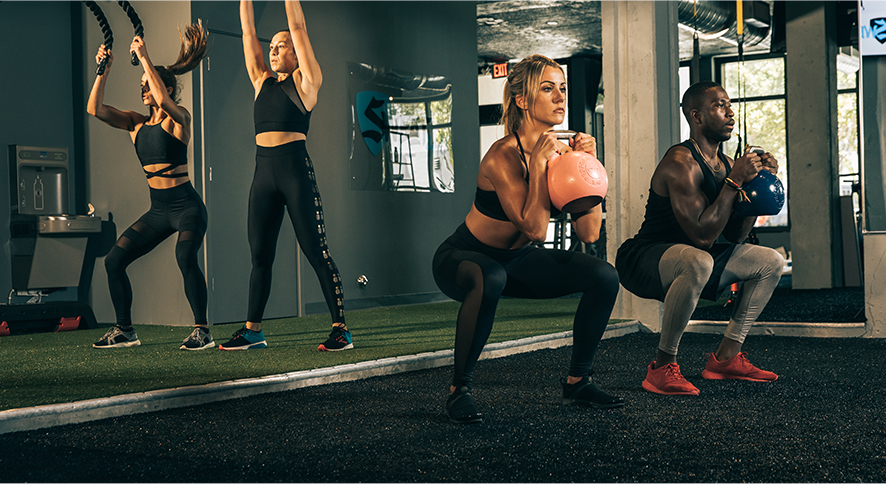 HIIT creates the largest increase in resting energy expenditure, and the largest decrease in respiratory exchange ratio of all workouts, including those that implement high-intensity intervals with cardio alone. Sweat440 combines compound cardio and weight training in HIIT classes unmatched in efficacy. What's more, researchers at McMaster University in Ontario found the effects of HIIT to enhance both body and mind, even improving things like memory.
And studies show that HIIT is ideal for all people, regardless of fitness levels. From the most elite athletes, to patients in cardiac rehab, HIIT is what doctors recommend.
Why Sweat440 Beats Other Health Clubs in Montréal
Sweat440 incorporates the best parts of every exercise and leaves the useless components out. You would have to join 10 gyms to find everything you get under one roof at Sweat440. And our classes start every 10 minutes, which is something you won't find anywhere else! If you're loyal to a certain type of exercise, see why Sweat440 has something for you.
Do You Like Personal Trainers? Come to our classes where personalized training is included in the price and combined with high-energy music and a positive group of classmates to inspire you.
Do You Like Weight Training? Check out Sweat440, where dumbbells, kettlebells, and body weight exercises are fused with compound cardio to build and shred muscle simultaneously.
Do You Like Cycling? Check out our state-of-the-art assault bikes, and mix it up with other cardio equipment so you never hit a plateau.
Do You Like Rock Climbing? Get your fix on our ski ergs and versa climbers, where weather is never an issue. Throw battle ropes instead of top roping to get more fit.
Do You Like Muay Thai? Zen out with our rowers and functional exercises designed for balance and strength in your center.
Do You Like Pilates or Yoga? Increase core strength and flexibility with our classes that focus on core work and muscle-lengthening exercises like sliders.
Do You Like CrossFit? Bring out your inner extreme athlete with our TRX, suspension trainers, weight lifting, slam balls, and sleds.
Do You Like Running? Max out your run with our intense intervals, and mix it up with compound cardio to burn more calories.
Do You Like Fitness Spas? If your idea of weight loss is sweating in a sauna or steam room, we've got you covered. Our classes are guaranteed to make you sweat! And the best part? They burn fat rather than masquerading dehydration as weight loss like saunas do. Capture your glow in our photo booth- you earned that sweat!
Do You Like Your Sofa?

We get it. But Sweat440 is the gym you will actually love coming to. Our classes let you work at your own level and pace, and they're broken up into 10-minute stations that fly by before you know it. Our instructors are with you every step of the way, and our classmates are big on positivity and high-fives. Come see what makes us different. You can start by reading our

5-star reviews

.
Components of the Best Workout in Montréal
5 Things the Best Workout Does:
The best workout burns the most calories.
The best workout adapts to every fitness level.
The best workout provides a variety of exercises.
The best workout keeps you coming back for more.
The best workout enhances your well-being.
The best workout includes experienced, uplifting instructors.
The best workout always has classes available.
The best workout uses methods backed by science.
The best workout is fun!
5 Things the Best Workout Doesn't Do:
The best workout doesn't break the bank.
The best workout doesn't cause plateaus.
The best workout doesn't lack variety.
The best workout doesn't only work certain body parts.
The best workout doesn't feel exclusive or intimidating.
The best workout doesn't have classes you can't get into.
The best workout doesn't charge for classes you miss.
The best workout doesn't offer limited class times.
The best workout doesn't cause fear or dread.
If you are tired of looking for the best workout in Montréal, take heart! Sweat440 is here! We are thrilled to deliver our highly sought-after expertise and innovative fitness concept to our friends in Montréal. We can't wait to meet you! Come try us out for free!