Hello, Montréal! We are new to the city, and we can't wait to meet you! We think you will be thrilled to meet us too, since we are the gym you've been looking for! Sweat440 is a dynamic, high-intensity interval training (HIIT) gym that delivers the most effective workout in just 40 minutes. Guess what else? Our group classes start every 10 minutes, so we have the schedule that finally fits your lifestyle!
One more thing- we offer flexible, affordable memberships with no contract, and your first week is free! Intrigued? You should be! Check out our 5-star reviews to see why you should give us a try! Take a look at what Sweat440 is all about and why we're the best gym Montréal has to offer.
What is Sweat440 Montréal?
Sweat440's founders, Matthew Miller and Cody Patrick, completely innovated the way fitness works when they opened Sweat440 in Florida. Their years as highly sought-after professional trainers taught them about the different hurdles that stand in the way of fitness. Many people sought their expertise after a lack of time, money, results, and convenience created disillusionment with exercise And many were getting locked out of full classes, or locked into undesirable contracts.
So, they created a gym designed for everyone, from fitness fanatics to beginners. They implemented a class schedule with start times every 10 minutes, so gym members were #neverlate, and never paid for classes they had to miss. And they created a fitness routine that is completed in 40 minutes, through 4 10-minute stations. Hence, the name, "Sweat440." It's also a play on words, since you will sweat for forty minutes! Why? Because their classes utilize the HIIT method, which burns more calories than anything else, and continues to burn them after your workout.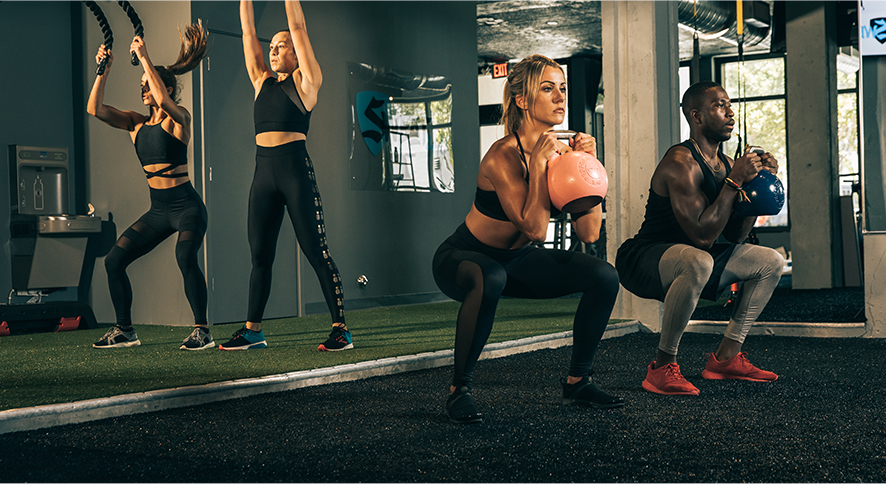 What are Sweat440 Montréal Classes Like?
Here is how we get it done. Our classes are divided into 4 10-minute stations, with 3 exercises per station. Each exercise is performed for 45 seconds, followed by 15 seconds of rest. The max output followed by periods of rest is what keeps your metabolism on its toes. Unlike other gyms, we don't just throw you on a treadmill or stick you in a weight room. Our equipment is state of the art and includes a wide range of tools to prevent boredom, muscle memory, or plateau. Even better, our coaches stay right by your side. Take a look at some things you'll try at Sweat440.
Sleds
Ropes
Kettlebells
Dumbbells
Sliders
Suspension trainers
Slam balls
Assault bikes
Rowers
Ski ergs
Versa climbers
If you haven't tried all of that equipment before, don't worry, you're never on your own. One of our founders' guiding principles is that personal training comes free with every workout. Each class is performed in a group setting, but personal trainers circulate through every class correcting form, assisting with equipment, and spurring you on when you need a boost. We also provide animated demonstrations at every station, so you can see how an exercise is done.
Our classes are offered multiple times each day, so you can come when it's convenient for you. We keep things exciting by making each day of the week different. On Monday, you might shape and tone your lower body, and on Tuesday, you can shred your upper body and core. Our format is designed so that Sweat440 is your go-to gym 7 days a week.
Why are Sweat440 Montreal's HIIT Classes the Best?
One reason HIIT classes at Sweat440 excel is their incomparable outcome. HIIT is backed by medical and scientific research for its potential to hit your VO2 max, which is the body's upper limit for consuming and distributing oxygen for energy production. It's considered the gold standard for determining peak power output, or maximum exercise capacity. Not all HIIT gyms offer the full benefits. Some focus on HIIT elements of running or cycling, and that's a start, but it misses the bigger picture. Sweat440's program doesn't just boost your cardio ability, it builds muscle, burns fat, and torches more calories than any single workout.
But a second, and even more important, reason Sweat440 beats other gyms is our classes are incredibly fun! The unique blend of high-energy music, positive atmosphere, personalized training, and varied stations make our classes fly by. You won't believe how many calories you burn in a class so swift and exhilarating. Why is this so important? Because a gym only works if you show up. Trust us, and all of our fanatical members, you will want to show up to Sweat440!
Is Sweat440 Montréal Affordable?
Sweat440 seeks to make fitness accessible to all. That's why we never lock you into a contract, charge for classes you miss, or make you book classes way in advance. You can even purchase one class at a time and cancel your membership at any time. We combine everything you need in one gym to save you money.
Do you like cycling, martial arts, rock climbing, yoga, pilates, cardio, or weight training? Great! Come to Sweat440 where elements of each exercise are combined in the best 40 minutes you'll find in a gym. And for a limited time, your first week is free, and just $28 per month going forward. That means you get the best possible workout for less than $3 a day! You won't find that combo anywhere else in Montréal.
Why Sweat440 is the Best Gym in Montréal
What Other Montréal Gyms Lack
B52– Expensive, full classes, personal training costs extra
Report Fitness- No free trial, limited classes, classes are only 30 minutes
Victoria Park– Pricey and full of extra fees, with no added benefit to your fitness
Enso Yoga– Offers one type of workout based on the falsehood of sweating out toxins
Le Saint-Jude Gym & Spa

– Member fees mostly pay for spas which aren't exercise
What Sweat440 Montréal Provides
Sweat440- Offers tons of classes to accommodate every member
Sweat440- Provides personalized training in every class at no extra cost
Sweat440- Has free week trials, individual classes to purchase, and no contracts
Sweat440- Utilizes multiple tools and equipment for the most varied workout
Sweat440- Has no hidden fees or amenities you get pressured to buy
Sweat440–

Delivers the best results in the shortest amount of time
We can't wait to meet you, Montréal fitness fans! Whether you're a triathlete or trying a gym for the first time, we promise you'll love Sweat440! Come see what sets us apart!