10 Best Gym Classes in New York
Finding the right gym in New York can be harrowing. Whether you're looking for personal training, strength training, group fitness classes, high-energy dance classes, or HIIT fitness studios, you're overwhelmed with options. In some neighborhoods, you can't go two blocks without stumbling into yet another fitness studio or gym. However, you must find the right fitness studio for your specific needs — whatever they may be. In this article, we review the 10 best gym classes in New York.
#10. Dogpound (Strength Training/ Personal Training)
Have you ever wondered where all those beautiful Instagram influencers, models, and actors go for their workouts? Dogpound, that's where. Dogpound is a strength training and personal training gym. You can join one of its group fitness classes, opt for one-on-one personal training, or simply workout with a friend. Dogpound is a great gym if you want to sculpt those long, lean, and tight muscles.
#9. Work Train Fight (Boxing/ Strength Training)
Work Train Fight (WTF) is a female-friendly boxing and strength training gym in New York. In addition to the punching bags, WTF also incorporates other elements of strength training and real combat boxing sessions. Each WTF session is a combination of shadow-boxing, mitt work, strength training, bag work, and high-energy cardio intense workouts. You can join their group fitness classes, bootcamp sessions, or personal training.
#8. Y7 Studio (Yoga/ Group Fitness Classes)
Y7 Studio is an innovative infrared-heated high-energy yoga class with no mirrors, bright lights, or other typical yoga aesthetics. Y7 Studio rids yoga of its meditative components and, instead, sculpts a high-intensity body-weight workout program that incorporates complex movements set to the tunes of R&B artists like SZA, Frank Ocean, etc. If you enjoy the physical challenge of yoga but don't have the patience for the meditative components, Y7 is worth a shot.
#7. CorePower Yoga (Yoga/ Group Fitness Classes)
CorePower Yoga is a fitness studio with one-hour yoga group fitness classes. Unlike Y7, however, CorePower Yoga is more of a traditional yoga studio, combining mindfulness with core strengthening and strength-training elements.
#6. CITYROW (Rowing/ Group Fitness Classes)
CITYROW provides a head-to-toe machine-driven rowing workout that incorporates strength training and cardio in every high-energy session. The entire workout is based on crew-style rowing, using machines that simultaneously target every muscle group — biceps, triceps, shoulders, core, quads, hamstrings, and calves. CITYROW's group fitness classes are great for those who want to combine strength training with high-energy cardio.
#5. Mile High Run Club (Running/ Group Fitness Classes)
Mile High Run Club is New York's only treadmill-based workout studio that focuses solely on running, be it short sprints or longer marathon-length running. Mile High Run Club is similar to Soul Cycle in that they're both high-energy cardio group fitness classes. The only difference is that SoulCycle focuses on cycling while Mile High Run Club focuses on running. You can choose sessions based on your comfort level, whether you're a beginner or a competitive runner.
#4. Strengthen Lengthen Tone (Cardio/ Strength Training)
Strengthen Lengthen Tone (SLT) combines three workout elements — high-energy cardio, strength training, and Pilates. Their group fitness classes are conducted on Megaformer machines that take you through slow movements, high-energy movements, and core-training. SLT primarily focuses on conditioning and cardio, thus helping you sculpt long, lean, and tight muscles.
#3. 305 Fitness (Dance Class/ Group Fitness Classes)
305 Fitness is a group fitness studio and high-energy dance class designed by Sadie Kurzban. You don't need to have any prior dance experience for the classes, but you do need high energy, stamina, and grit. You can also have two left feet, as long as you maintain the high energy to sweat out all those toxins and get your conditioning in. 305 Fitness primarily provides cardiovascular workouts. The gym itself feels more like a nightclub than a gym, complete with its own live DJ. You can burn around 700 calories in a single 305 Fitness dance class, as long as you maintain the high energy.
#2. P.volve (Glutes Strength Training)
Do you want to sculpt tight muscles in your booty? If so, P.volve is worth a shot. P.volve was founded by Stephen Pasterino, a popular Victoria's Secret trainer. P.volve provides strength training exercises focused on the Glutes since they're the single largest muscle group on the body.
#1. Sweat440 (Best Overall Fitness)
Sweat440 is undoubtedly one of the best gym classes in New York for overall fitness. Sweat440 provides group fitness classes led by a certified trainer, and their workout program incorporates elements of personal training, strength training, conditioning, core-training, and high-energy HIIT training. Furthermore, Sweat440 classes have their workout days divided by training style — shape, strength, sweat, and warrior. As such, through the week, they take you through every module of training, targeting each muscle group twice. Sweat440 is the ideal gym if you want to sculpt long, lean, and tight muscles, while also getting rid of body fat. Sweat440 group fitness classes start every 10 minutes, so you're never late, making it the most flexible type of gym.
Sweat440 has fitness studios in Chelsea and Financial District in New York City. Our Chelsea Sweat440 gym is near the 18th St. and 14th St. Metro Stations, and our Financial District Sweat440 is near the Fulton Street Station. We also provide free trial sessions for first-comers, so claim your Sweat440 session today!
​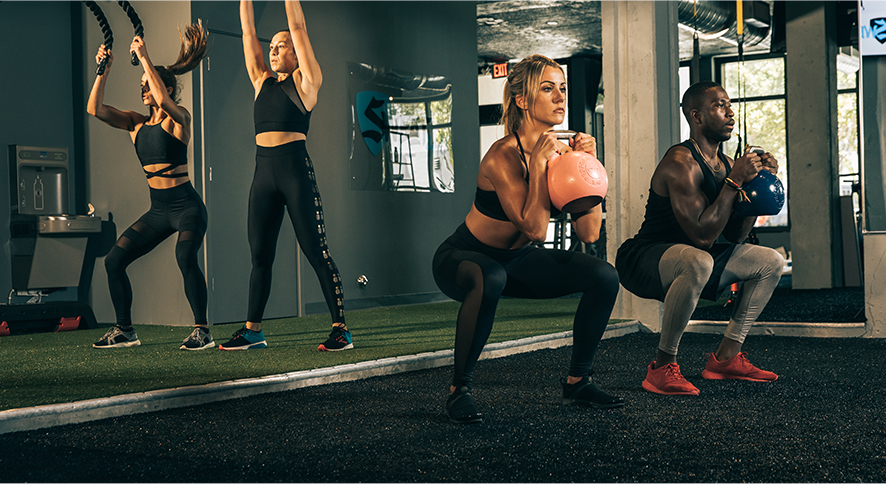 5 Best Gym Classes in New York
#5. Mile High Run Club (Running/ Group Fitness Classes)
#4. Strengthen Lengthen Tone (Cardio/ Strength Training)
#3. 305 Fitness (Dance Class/ Group Fitness Classes)
#2. P.volve (Glutes Strength Training)
#1. Sweat440 (Best Overall Fitness)
Sweat440 Locations in New York